Setting Self Doubt on Fire: Rejection Gets Better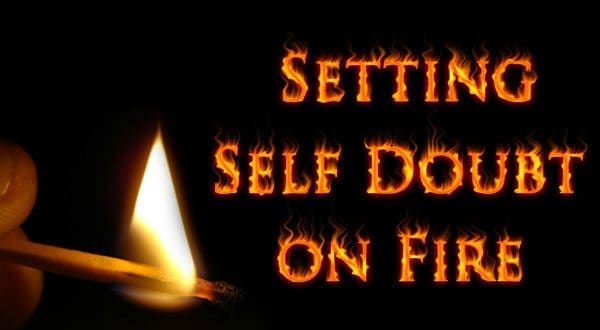 Hi, All! I'm back again with my self-doubt fighting words. So what do I have for you all today? Well, I'm back on to the topic of rejection. As we all know, it's the fear of rejection that helps to feed Mr Self Doubt, and when you do receive a rejection it can feel like Superman has punched you in the gut. However, I won't be talking about the pain of rejection. Instead, I have come to tell you that rejection… gets better. Yes, it really does get easier to handle.
How do I know rejection gets better? Well, I was the type who struggled to deal with rejection. I've lost count how many times I have vowed to quit only to end up writing the next day, but what I have recently noticed is that every time I receive a rejection, I no longer crumple up, and eat lots of chocolate. I still feel disappointed when I do get that huge 'no', but now I simply say, "Okay, I'll have another look later and submit it elsewhere."
So what's brought on this change? Below I have listed five things that may have helped with my battle with rejection:
I am now brave enough to call myself a writer. It has taken me a long time to get to this point, but I finally feel able to tell the world that I write stories, and some of them are disturbing. Yay me!
My perseverance has helped me battle with the rejection blues. Giving up on writing is the only way you will never reach your end goal, so regardless of rejections, you need to keep on writing. Perseverance is key.
My past publishing success and positive comments on my work has boosted my confidence. It's such a great feeling when someone says that they like your work.
I can see an improvement in my writing skills, especially when I compare my current stories to the ones I wrote in 2012.
Gaining support from other writers. I'm now part of a writing group, and so whenever I do get a rejection (or anyone else) we all support each other. However, you don't need to go to a writing group to get support. You can find the same support online.
I can't tell you when rejection will start to get better, but I can tell you that, in time, it will, so don't give up. Keep writing and keep submitting.
To end this post, here is another inspirational quote:
"A rejection is nothing more than a necessary step in the pursuit of success." – Bo Bennett
About the Author
Latest Posts
Nicole J. Simms is a UK horror, crime and fantasy writer. However, she is open to writing in other genres.
Her stories have been published in anthologies, in magazines and on websites. In 2016, she won the Nine Voices' 50-Word Halloween Competition with her story 'Meeting the Parents'. And, her self-published e-book The Book of Drabbles is now available to download for free.
She is also the deputy leader of the Oldbury Writing Group, a West Midlands based writing group. They have published a WW2 anthology together titled From Sunrise to Sunset, and they are now working on their second anthology.
Stephen King, Sharon Bolton, J. K. Rowling, R. L. Stine and Kelley Armstrong are some of her favourite authors. And, when she's not writing, she loves to bake, paint, knit and go on nature walks.
Find out more at:
Website – http://nicole-j-simms.co.uk
Facebook link – https://www.facebook.com/NicoleJSimmsWriter
Twitter link – https://twitter.com/NicoleJSimms1
Goodreads link – https://www.goodreads.com/author/show/19383148.Nicole_J_Simms