Setting Self Doubt on Fire: Don't Let Self-Doubt Make You Miss Deadlines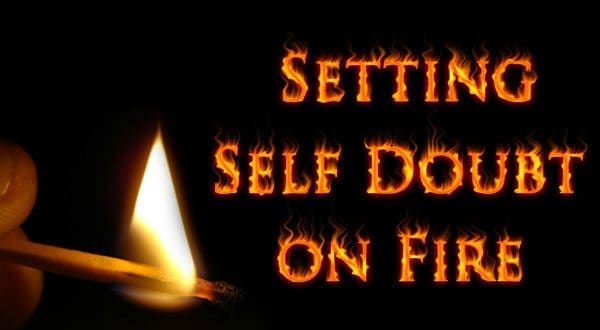 Hi All, I'm back with some more self-doubt fighting words.
So, what do I have for you today? Well, today, I will be talking about writing deadlines, and how self-doubt can get in your way of reaching them.
As a writer, especially when you're starting out, it can be easy to spend years writing one short story and doing nothing else, simply because you don't have a deadline. A deadline can help to motivate us to finish a piece and to send it out into the world. But even with a deadline, you can't guarantee success, especially when Mr Self Doubt pops up to continue tormenting you.
How will Mr Self Doubt torment you? Well, he'll make you doubt yourself and your work. You worry that you won't have time to edit your story properly before submitting. You convince yourself that you shouldn't be submitting anything right now. So what do you do? You miss the deadline, and what goes with it is a chance to be published. How do I know this? Well, I have missed many deadlines due to the fear of not being good enough.
So, what can you do to overcome this? Well, I have listed five ways you can stop self-doubt from making you miss a deadline:
Don't start work too close to the deadline – You want to give yourself enough time to write, and properly edit your story. While a close deadline can work for some, if you suffer from self-doubt, you'll likely decide to hold a piece rather than submit it if you do it this way. For a short story, I would suggest that you give yourself at least a month to work on your story. If you can do longer, then that's even better.
Organise your time – to write and edit a short story you need time, which can be tricky to do when you have other commitments. So make sure you allocate some time each day to work on your story and stick to it.
Aim to submit before the deadline – if you aim to submit your story earlier than the stated deadline, then you will have backup days to use if you need more time to work on your story.
Don't overload yourself – it can be tempting to plan to submit several stories per month, but it's not ideal if you don't have enough time to do that. So instead of trying to submit to multiple magazines and competitions at once, choose the submission calls that you want to do the most, and focus on those, so when the deadline is near you don't fly into a panic. This is something I need to work on because I'm always trying to do too much.
Ignore self-doubt and focus on the positives – you will find yourself plagued by self-doubt, but you need to remember that you won't get published unless you push fear aside and take the leap. It's scary, I know, especially when you fear rejection, but it's worth trying so one day you can get that acceptance.
So there you have it – five tips to help you stop self-doubt from making you miss deadlines. So let's do it, let's beat Mr Self Doubt. Keep writing folks!
To end this post, here is another inspirational quote:
"Dreams without deadlines are dead in the water. Deadlines are really lifelines to achieving our goals." ― Mark Batterson, All In: You Are One Decision Away From a Totally Different Life
About the Author
Latest Posts
Nicole J. Simms is a UK horror, crime and fantasy writer. However, she is open to writing in other genres.
Her stories have been published in anthologies, in magazines and on websites. In 2016, she won the Nine Voices' 50-Word Halloween Competition with her story 'Meeting the Parents'. And, her self-published e-book The Book of Drabbles is now available to download for free.
She is also the deputy leader of the Oldbury Writing Group, a West Midlands based writing group. They have published a WW2 anthology together titled From Sunrise to Sunset, and they are now working on their second anthology.
Stephen King, Sharon Bolton, J. K. Rowling, R. L. Stine and Kelley Armstrong are some of her favourite authors. And, when she's not writing, she loves to bake, paint, knit and go on nature walks.
Find out more at:
Website – http://nicole-j-simms.co.uk
Facebook link – https://www.facebook.com/NicoleJSimmsWriter
Twitter link – https://twitter.com/NicoleJSimms1
Goodreads link – https://www.goodreads.com/author/show/19383148.Nicole_J_Simms