Setting Self Doubt on Fire: Keep the Faith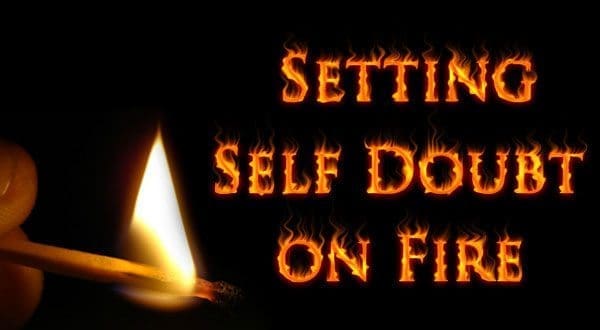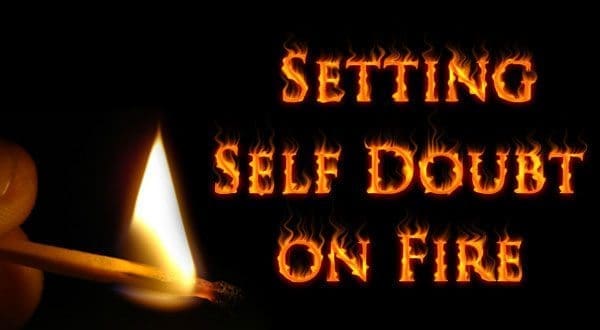 I have a confession to make. I let Mr Self Doubt get me. I know I should lower my head in shame, but the little bugger is so sly I didn't see him coming. Oh, he's enjoyed himself whispering away, spreading his poisonous thoughts, and like a fool, I soaked it all up. In my defence I was vulnerable I had taken a punch to the heart, and man it hurt.
What hit me? Well it was a Usain Bolt rejection; no Usain Bolt didn't reject me. I'm talking about receiving my quickest rejection to date. I know many of you probably have experienced this quick rejection before, and some probably prefer the quick response. For me I don't like the quick response nor do I like a slow one. Too quick to me means an easy no, and too slow grows anxiety, so I prefer a couple of days at least. I know again, this is the real world; you have to take it how you get it, but man I was knocked off my feet. Actually, I was rocket launched off my feet. Even so I was still able to work on my writing, so yay me.
Okay enough about me. So what's the point of this post? By going through this dark period, which has probably resulted in a few extra pounds (sadly not money), I have realised the importance of keeping the faith to get back up from a rejection and keep going, this is a fight after all. So how have I done this, or how am I doing this, well I've come up with 5 random things that I think might help, if it don't it'll give you something to laugh about and laughter is good for the soul.
Readers beware: These points are silly, if you don't like silly then this isn't the post for you lol.
So let's get into these 5 ideas.
Practice your author autograph: Presumptuous I know but the other day a family relative asked me to sign a copy of the anthology my story is in, and that's when I realised I don't have a signature for my author name. Why don't I have one? That's simple I barely see myself as a writer never mind a future published author who does book signings. But the real question is, why don't I? That's the dream right, to get novels etc. published, and have readers love your stories and want your autograph on their first edition. So I'm putting self-doubt aside and practicing because you never know one day I might need it. So go ahead you practice yours there's nothing wrong in being prepared.
Praise yourself: The one thing I've noticed is that I never really praise myself when I achieve anything. I've never really realised how important it is for your self-confidence, but it is. Do you remember when you were small and you got a gold star for doing good work, how did you feel? Great hey, I bet you had an ear-to-ear beam, and that's the reason why you need to praise yourself. Now I'm not talking about praising yourself if you're getting a novel published, even though that is brilliant. I'm talking about everything you do to fight for your dream. If you've finished your first draft, edited and submitted your work. Even if you've come up with an idea, you need to praise yourself. "Well done you." That's what you need to do, if you want to get yourself a sticker then go ahead, go all out. Going for this dream isn't easy the knock backs can hurt but if after all that you are still going, still writing, still improving then you really do need to pat yourself on the back.
I'm a writer: Now this is a little silly but I'm hoping that after this exercise you might believe what you are saying. If you're anything like me, you'll be finding it hard to call yourself a writer. I mean I've heard it so many times, if you write then you're a writer but still I find it tricky. So I'm going to try this exercise, first stand in front of a mirror, and keeping eye contact with your reflection say "I'm a writer!" do this 5 times, and each time you say it will yourself to believe it, try this once a day you never know you might finally start believing it.
Do a fake book signing: This links with the first point. With your author autograph finalised you're going to need to put it into some practice, and what better than a bit of role-play. I known it's silly, hey I did warn you, but while you're doing this you'll remind yourself of your goal, and this is what needs to be at the forefront of your mind, there like a gleaming shield protecting you from the lashes of rejection.
Frame your work: Now with this point I'm not referring to actually framing your work, even though that is a good idea. What I'm referring to is taking pride in your work and any achievement that has come from it. From a short story you've self-published that has positive comments to your first novel out there for the world to experience. You need to crown your work and hang it higher than any rejection you have ever received because it's those pieces that will remind you of what you are fighting for. Those pieces that will remind you that you are indeed good enough and a writer (or author) is what you can call yourself.
So there you have it folks, hopefully at least one of these can help you keep the faith. Enabling you to keep going when giving up seems easier.
Final Note: I referred to a story rejection in my previous post; I was confused on what to do with my rejected story. The feedback left me uncertain of which direction to go in (even though I did appreciate the feedback it's a rare thing to get) and I didn't want to mess with my plot (stamps foot), however an idea randomly came to me and I was like I think this might work better. So I shall be 'tweaking' my story and I'll see what happens with it next. Hey, I can admit it when I'm wrong.
All that's left to say is, let's follow this unrealistic dream.
About the Author
Latest Posts
Nicole J. Simms is a UK horror, crime and fantasy writer. However, she is open to writing in other genres.
Her stories have been published in anthologies, in magazines and on websites. In 2016, she won the Nine Voices' 50-Word Halloween Competition with her story 'Meeting the Parents'. And, her self-published e-book The Book of Drabbles is now available to download for free.
She is also the deputy leader of the Oldbury Writing Group, a West Midlands based writing group. They have published a WW2 anthology together titled From Sunrise to Sunset, and they are now working on their second anthology.
Stephen King, Sharon Bolton, J. K. Rowling, R. L. Stine and Kelley Armstrong are some of her favourite authors. And, when she's not writing, she loves to bake, paint, knit and go on nature walks.
Find out more at:
Website – http://nicole-j-simms.co.uk
Facebook link – https://www.facebook.com/NicoleJSimmsWriter
Twitter link – https://twitter.com/NicoleJSimms1
Goodreads link – https://www.goodreads.com/author/show/19383148.Nicole_J_Simms