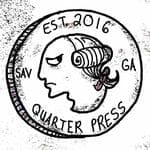 Deadline: June 30th, 2022
Payment: $5 or a contributor's copy
Theme: Show us your spin or retelling of old tales; create some new ones; tell us of your childhood—or current—obsessions.
A Literary Journal with Some Art and Analysis Thrown in for Good Measure
As Quarter Press continues to grow, we're adding another coin to our pocketful of change. We want to offer a space for shorter works to mingle with art and other bits of nonsense, so we bring you The Quarter(ly): It just makes cents.
Each issue will be themed; however, we will consider any interpretation of said themes.
Myths, Fables, and Folklore (June 30)