Setting Self Doubt on Fire: Negative Feedback; the double slap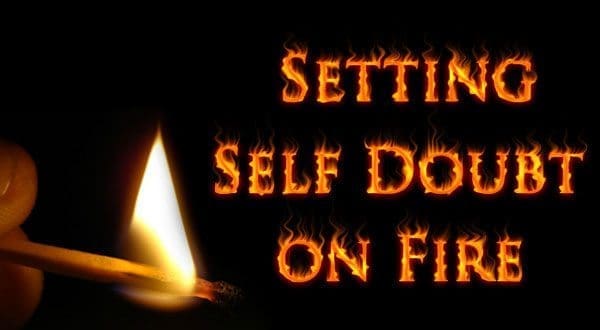 Hi all! I'm back with my self-doubt fighting words, and today's topic deals with something that damages your, already frail, self-belief more than just rejection alone. Shocker, I know, what could be worse than rejection? The simple answer is negative feedback, or comments.
Now let's get into feedback, we all know how valuable it is, how it helps us to improve our work if we get constructive criticism. I have found it helpful when an editor sends you a message just to say what is wrong with the piece you have submitted, but what helps me to see that a story is still workable is just a few words of encouragement, just to let you know that the story isn't a total fail, and you're not wasting your time on this journey. Now while many of us don't even get a rejection let alone feedback, there are some occasions when the feedback you receive is just negative, not necessarily horrible, but having each negative part of your story listed, and no mention of whether there is anything good about your work at all can feel just as bad as your work being called crap. Just imagine a child giving their mother a drawing they are so proud of only for her to tear it up in their faces and say it was rubbish. It would hurt, really hurt.
So the question is, how do you get over this, and fight the urge to quit? Well folks I have some pointers to share with you, and they have helped me through my dark periods of self-doubt.
Remember it's the story that's the issue not necessarily you as a writer.
Remember why you wanted to write the story in the first place. This can be the positive anchor that you need to not lose hope on the story.
Look to your more successful stories, compare that story to them, and look to them to remind yourself that you are not a huge failure.
Keep writing, and keep reading.
Don't read the story too soon after rejection, this will only convince yourself that there is even more faults with the story, which isn't helpful
Remind yourself of your goal and why you are doing this.
Remember this journey is a snail pace rollercoaster, there will be downs but there will also be ups.
You can improve and get better, you just need to keep going.
The pain of rejection never eases, that I have realised, but what does change is the way you deal with it. Overtime you will heal quicker and continue marching through because folks if you are in this for the love of it the only time you will stop is when you draw your last breath.
So come on folks let's continue following this yellow brick road because we cannot allow Mr Self Doubt to win.
To end this post, here is another inspirational quote:
"I seek strength, not to be greater than other, but to fight my greatest enemy, the doubts within myself"― (P.C. Cast)