Setting Self Doubt on Fire: Dealing with Fear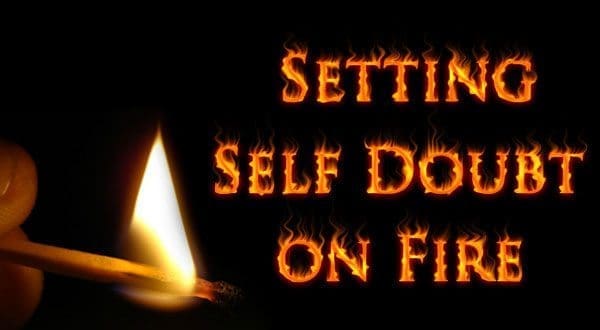 Hi all, I'm back. I'm sure some of you have noticed my absence last week, well I've finally taken the plunge, and decided to stop talking about it and start writing that novel. I'm now 16,500 words into my novel, and with my fingers and toes crossed I'm hoping to cross over the 20,000 word threshold by Sunday. For all those who have previously read my posts, you will know that I was planning to death. However, I had taken control and given myself a deadline, I never did finish my planning, I'm doing it as I'm writing, and the strangest thing is, it works, I'm even adding scenes that I had never planned, and even changed ones that I had. I've allowed my characters to lead me, and I have to say not knowing exactly how things might work out allows me to create suspense for myself, as I write. I can't wait to write The End, and hold my finished manuscript in my hand, even though that wouldn't be the end, no it'll be the beginning.
Even though I'm enjoying writing my novel, there's something that is stopping me from totally losing myself in the experience, and that my friends is fear. I've felt self-doubt, and felt the B slap of rejection, but this fear is new to me. It wasn't until I wrote Chapter One on the page that this fear began to grow. So today, I thought I might share some of these fears with you, and hopefully realise that they aren't as scary as I/we think.
What if I can't complete the novel? This is down to you, as long as you are prepared to put the work in, you will complete the novel. Also you'll be surprised how the word count grows even from the smallest of ideas.
How am I going to deal with the rejection for this when I've put in so much time and effort? You just have to deal with it like you do for the short stories. Remember the reasons for rejection aren't always about the novel being rubbish. Also the feeling of an acceptance outweighs the rejection. If that don't work, you might want to treat yourself, just not too much.
What if this becomes a discarded novel, never allowed to see the light of day? Your first novel won't necessarily be your first published, that's even happened to Stephen King. So while that novel might be stuffed away in your drawer, you must remember everything can be improved, even after ten years of neglect you can pull that novel back out, and get it back out there.
What if I'm a one hit wonder? It might happen, even though I don't think I know of any author this has happened to, yet I fear it lol. However, as long as you are prepared to grow and develop, your next book should be better than your first, so hopefully we won't have that one hit wonder issue.
How can I juggle a growing writing career with my responsibilities? It's tough, I've read that some published novelists still have to keep the day job. However, if this is your dream, you'll be amazed how well you can juggle, I can't lie it won't be easy.
There's so much to learn about publishing. That's why we have the internet lol.
Will anyone buy my book? If you have impressed an agent, and then a publisher the odds are somebody will buy your book. How much one cannot be sure.
What if I'm just meant to write short stories? You'll never know until you give the novel a go.
As you can see many of these questions are due to Mr Self Doubt, but there's other things that are just not in your control. The only thing you can do is write the best book you can, and get it out there. You can always do better every story can be improved. One mustn't let fear block them from their goal, and a lot of the time you don't really have anything to fear.
So folks, I'm off again, going to push fear aside, and get that novel written. Keep writing and keep the dream alive.