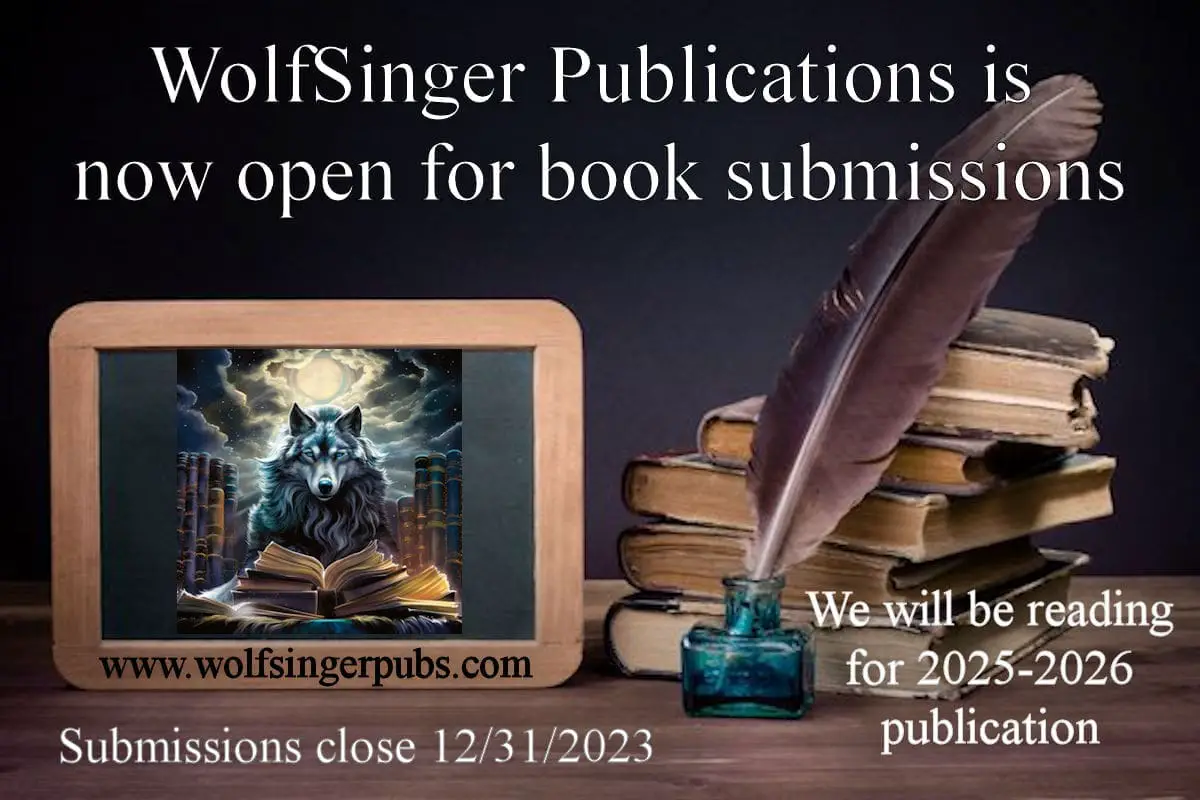 Deadline: December 31st, 2023
Payment: $75.00 and 10% of the cover price for print books, 40% of the cover price for eBooks with an optional $25 advance and 5% for audio rights
Theme: Primarily Science Fiction and Fantasy Novellas and Novels
All material must be submitted as a .rtf document.

Please follow standard manuscript formatting when submitting:

Manuscripts should be double-spaced.
Indicate scene breaks with # or another symbol – but please be consistent throughout.
Please use tabs or paragraph settings to indent the first line.

Make sure you include your contact information on the first page of the manuscript.

The body of your email should include the following information:

Contact information
Title of manuscript
Approximate word count
Genre
Brief Synopsis of the story
A general idea of how you will be marketing and promoting your book.

We are looking primarily for Science Fiction and Fantasy Novellas and Novels, but will consider other genres except children's and erotica. For YA – we prefer books that are geared for older teens that might also appeal to adult readers as well.

Our minimum word count is 25,000 and our preferred maximum word count is 80,000 words.
Please note 80,000 words is the preferred maximum – it is not a hard and fast limit.
Prefer stories to have a PG-13 rating – but this is not a hard requirement.

We will only be publishing a maximum of 10 print titles per year.

Submit the complete manuscript to [email protected].
Please put 'WolfSinger Submission – "the title of your submission" – your last name' in the subject.

While we are primarily a royalty press, authors will receive an initial up front payment of $75.00 for books (contributors to anthologies will receive $15.00). Books and anthologies will start to earn royalties after initial production costs are earned back from all revenue received through book sales. 

Once a book earns back its production costs royalties will be calculated as 10% of the cover price for print books, 40% of the cover price for eBooks.
We also offer an addendum to the primary contract for audio rights. For authors who accept this addendum there is an additional $25.00 advance and they will receive 5% of the cover as royalties for sales of audio books.

These payment amounts are effective for new contracts offered in 2022 – previously contracted books will remain at the contracted amounts.

Production costs are defined as:

Initial up front payments
Contracted work such as:
Cover Art
Editing
Typesetting (Limited to a maximum of $100 – anything over that will be absorbed by WolfSinger Publications)

These items will be listed and itemized on the first royalty statement.

Statements will be issued twice a year. Payment will be made only if an author's account has earned $5.00 for that royalty period. All payments will be made via PayPal. If you do not want to obtain and maintain a PayPal account so you can receive payments, please do not submit to us. We are making no other forms of payment or reimbursement at this time.

For anthologies, we welcome idea pitches from those putting an anthology together and will put out the call for submissions as well as post on the WolfSinger website. For anthologies, we also prefer to contract with the individual authors directly.

Charity Anthologies will pay a flat payment of $20.00 to authors and the designated charity will receive 75% of net revenues.
There is no earn-out on Charity Anthologies.

Our sample contracts can be viewed here: