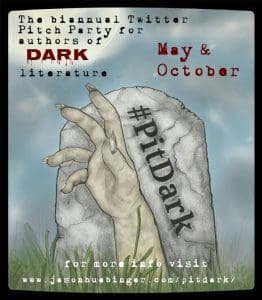 Pitch Date: May 25th, 2023
Prizes: A book contract from a publisher; contracts vary between publishers. Generally royalties with the possibility of an advance.
Themes: Darker literature (horror, or other forms of fiction that are dark or are mixed genres.
Welcome to #PitDark, the only Twitter pitching contest for dark literature!
#PitDark is the first and only Twitter pitch event to highlight literature of a "darker" nature. Importantly, this is not limited to horror works; however, any pitched manuscript must contain an element of horror or darker writing. Examples of such categories include pure horror novels, dark fantasy, murder mysteries, psychological horror stories, non-fiction works about darker subjects, etc. MG, YA, NA, and adult age categories are welcome.
The next #PitDark will take place on May 25, 2023.
You can find the agents and publishers that participated in previous #PitDark events here.
Please follow the @PitDark_ Twitter account for up-to-date information about the event.
The Basics
The contest will happen on Twitter under a common hashtag (#PitDark). During a 12-hour window on the chosen day, authors with completed manuscripts who are seeking representation or publication can tweet a pitch for their books (at most, once per hour).
Agents and publishers will make requests by marking pitches as a like on Twitter. If your tweet is liked, please follow the agent or publisher's submission guidelines.