Setting Self Doubt on Fire: Submission Phobia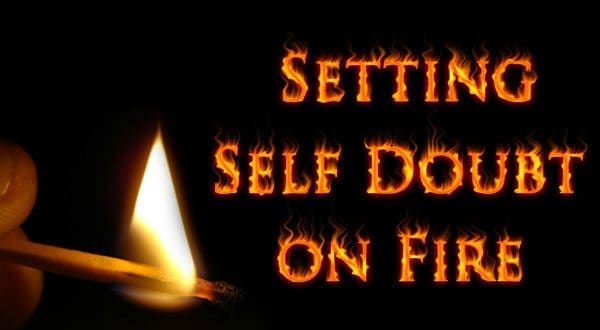 Hi folks, I'm back again ready for another battle with Mr Self Doubt. Unbelievably even after all these weeks he is still here, but on a plus side he's far away throwing insults at me rather than sitting on my back. Waffle over it's time to get onto this weeks hot topic. Well today, I'm going to discuss a little issue I am dealing with; you guessed it right it's that submission phobia.
Even after all those encouraging words, you say to yourself. You allow yourself to be called a writer; you keep writing after rejection, you've finally completed a story. Even after all that when it comes to submitting that story that you have polished to death the fear begins to creep. Your finger hovers over that enter button, you question whether you've read the submission guidelines enough (surely 10 times isn't enough), you question your story, you think of rejection. I've experienced it and I'm sure a lot of you have, this feeling can slow down how many stories you submit, and even in some cases it can stop you submitting. "I just need one more edit." or "It's too late now I'll send it somewhere else." But you never do it just sits on the pile left unread. That poor story.
So today, I've decided to come back fighting. You want to be a writer, and you want your stories read, a fan base even? Well you're never going to get that unless you push fear aside and keep on that submission roll. To help you on your way I've come up with a list to help you keep your stories out there and hopefully published.
Limit the times you read the submission guidelines: I don't know about you but the more times I read them the worse I feel. Twice will be enough to make sure that you're submitting the way that has been asked.
Set yourself a submission goal: It can be quite easy to not submit when you don't have any deadlines, so either find a short story submission call and work to that deadline (make sure you do submit), or give yourself a deadline. Some submit a story once a week and others submit once a month.
Submit and forget: Don't let your submission play on your mind, as soon as you have submitted start working on getting another project submission ready. Sitting thinking about a story submission can hold you up, especially when you have to wait months for a response, so don't waste your time thinking just get on with the writing.
Stop hiding behind editing: I've often found myself editing a story more than it needs to be. I think I'm searching for perfection, which isn't helpful because nothing in life is perfect. I read a novel once that had a spelling mistake. Did it spoil the novel for me? No, I enjoyed it all the same. A reader/editor will forgive the odd mistake if the story and characters are strong. So if you're on draft number 10 then it's best if you just submit that story already. 
Don't keep submitting the same rejected story: I have said before that you should allow your story to be rejected a certain amount of times before you rewrite it, but I've found that focusing on keep submitting the same rejected story gets in your way of submitting a story that's probably better than the one you keep trying to submit. So do submit a story if it is rejected put it aside and submit another story then go back to that rejected one.
I'm afraid these points will not help you beat that submission phobia, but it will help you churn out those stories, which in a way I suppose is beating it, but you will still feel that same fear. As we all know our stories are precious to us, and having someone say no we don't like it is a feeling that we tend to want to avoid, but while a no maybe on the cards you must remember there's a chance that someone will say yes.
So keep writing, and most importantly keep submitting.
About the Author
Latest Posts
Nicole J. Simms is a UK horror, crime and fantasy writer. However, she is open to writing in other genres.
Her stories have been published in anthologies, in magazines and on websites. In 2016, she won the Nine Voices' 50-Word Halloween Competition with her story 'Meeting the Parents'. And, her self-published e-book The Book of Drabbles is now available to download for free.
She is also the deputy leader of the Oldbury Writing Group, a West Midlands based writing group. They have published a WW2 anthology together titled From Sunrise to Sunset, and they are now working on their second anthology.
Stephen King, Sharon Bolton, J. K. Rowling, R. L. Stine and Kelley Armstrong are some of her favourite authors. And, when she's not writing, she loves to bake, paint, knit and go on nature walks.
Find out more at:
Website – http://nicole-j-simms.co.uk
Facebook link – https://www.facebook.com/NicoleJSimmsWriter
Twitter link – https://twitter.com/NicoleJSimms1
Goodreads link – https://www.goodreads.com/author/show/19383148.Nicole_J_Simms