Setting Self Doubt on Fire: How to Boost Your Self-Confidence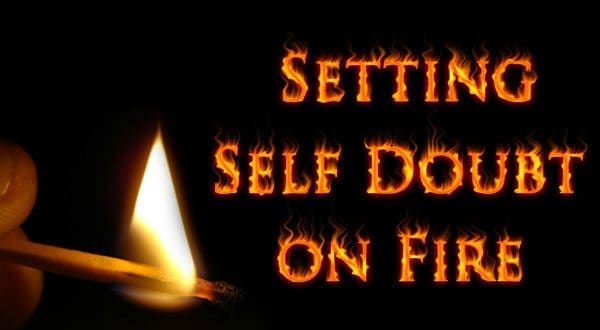 Hi, All! I'm back with some more self-doubt fighting words.
So, what do I have for you today? Well, I will be sharing five ways that you can boost your self-confidence. It's known that many writers deal with self-doubt. They tell themselves that they can't do it and that no one will ever like their work. However, by thinking that way we will never succeed.
So to help you beat Mr Self-doubt, I have listed five ways you can boost your writing confidence.
Get your stories published. That can be self-published or published via a magazine or website. There's no better confidence boost than having someone tell you that they like your story. I once doubted my writing ability due to constant rejections, so I decided to upload a story onto a website and see what other people thought. I had expected everyone to tear my work to shreds, but the comments I got were amazing and encouraging.
Keep on writing. As long as you continue to write you will eventually see an improvement in your work. And when you do notice the changes, your confidence will grow.
See it and then BE IT. Rather than thinking about rejections and failing, you should imagine yourself as a successful author with your books in all of the bookshops. I often try this visualising technique, and not just with my writing. It helps to kick start that motivation.
Start calling yourself a writer. It can be difficult for writers to call themselves writers. Crazy, I know. So don't mumble that you kind of write stories when people ask you what you do. Instead, stand up and say, "I'm a writer". And when you do, you'll be surprised by how your confidence will grow. Most of the time, the only person you need to convince is yourself.
Share your experiences with fellow writers. It can be comforting to be around other writers when you have to deal with rejection. Not only can you support each other, but you can also share your publishing success. Talking to other writers allows you to see that you are not alone in your struggles. A problem shared, and all that.
So there you have it, five ways to boost your self-confidence. Remember, you need to believe in yourself to succeed on this journey.
Keep writing folks.
To end this post, here is another inspirational quote:
"The way to develop self-confidence is to do the thing you fear and get a record of successful experiences behind you." – William Jennings Bryan
About the Author
Latest Posts
Nicole J. Simms is a UK horror, crime and fantasy writer. However, she is open to writing in other genres.
Her stories have been published in anthologies, in magazines and on websites. In 2016, she won the Nine Voices' 50-Word Halloween Competition with her story 'Meeting the Parents'. And, her self-published e-book The Book of Drabbles is now available to download for free.
She is also the deputy leader of the Oldbury Writing Group, a West Midlands based writing group. They have published a WW2 anthology together titled From Sunrise to Sunset, and they are now working on their second anthology.
Stephen King, Sharon Bolton, J. K. Rowling, R. L. Stine and Kelley Armstrong are some of her favourite authors. And, when she's not writing, she loves to bake, paint, knit and go on nature walks.
Find out more at:
Website – http://nicole-j-simms.co.uk
Facebook link – https://www.facebook.com/NicoleJSimmsWriter
Twitter link – https://twitter.com/NicoleJSimms1
Goodreads link – https://www.goodreads.com/author/show/19383148.Nicole_J_Simms