Setting Self Doubt on Fire: Let's Beat Self-Doubt in 2017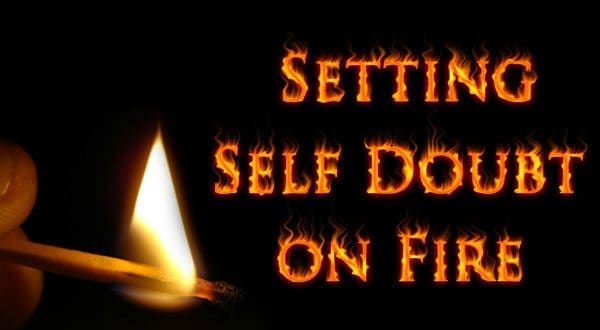 Happy New Year! Wow, I can't believe that it's 2017 already. I hope everyone had a lovely Christmas and New Year, but now it is time to return to the hard work. A new year means a new start for your writing, and a new chance to fight Mr Self Doubt.
Over the years I have shared my advice on how you can beat Mr Self Doubt, but with a new year, it's time for a little reminder. So, how can you beat Mr Self Doubt? I have listed five ways you can beat self-doubt this year:
Make writing goals – writing goals can benefit writers. Last year I wrote a post about it titled 'The Benefits of Writing Goals'. Writing goals can help to keep you motivated and focused on your writing projects. And when you're more focused you have less time to listen to Mr Self Doubt. So set some goals for 2017, and if you need any ideas I have listed 15 resolutions for writers in my 2015 post titled 'New Year's Resolutions for Writers'. I have also created a list of my 2017 writing goals, which I hope I can do better with than I did with my 2016 writing goals.
Take part in the Setting Self Doubt on Fire challenge – last year I wrote a post titled 'The Setting Self Doubt on Fire Challenge'. In this post, I talked about how I had been suffering from self-doubt and how I wanted to fight back by doing the Setting Self Doubt on Fire Challenge. To take part in the challenge all you have to do is do something to beat Mr Self Doubt (e.g. submit a story) and share what you've done on Facebook or Twitter using the hashtags #settingselfdoubtonfire and #beatingselfdoubt.
Do something that scares you – there are many things about writing that will scare you. It's scary to submit your work, it's scary to publish your work, it's scary to read out your work, it's scary to start writing, and it's scary to join a writing group. So, whatever scares you, you need to do it. I did this last year when I had to read my work out in public (I talked about this in my 'How to Prepare for a Book Reading Event' post). It was terrifying to do, but I'm glad I did it.
Make writing your priority – it's easy to neglect your writing projects in favour of other tasks, especially when you lack self-belief, but you'll never beat Mr Self Doubt if you don't spend the time you need for your writing.
Find ways to boost your self-confidence – you may remember that I wrote a post titled 'How to Boost Your Self-Confidence'. The worst enemy of self-doubt is self-confidence, so finding ways to boost your self-confidence will help you to lock Mr Self Doubt away so you can continue on your writing journey without the negativity.
So there you have it, five ways to beat Mr Self Doubt in 2017, whichever way you choose to beat Mr Self Doubt I wish you all the best. Keep writing folks, and let's make 2017 the year we finally take a stand.
To end this post, here is another inspirational quote:
"We will open the book. Its pages are blank. We are going to put words on them ourselves. The book is called Opportunity and its first chapter is New Year's Day." 
― Edith Lovejoy Pierce
About the Author
Latest Posts
Nicole J. Simms is a UK horror, crime and fantasy writer. However, she is open to writing in other genres.
Her stories have been published in anthologies, in magazines and on websites. In 2016, she won the Nine Voices' 50-Word Halloween Competition with her story 'Meeting the Parents'. And, her self-published e-book The Book of Drabbles is now available to download for free.
She is also the deputy leader of the Oldbury Writing Group, a West Midlands based writing group. They have published a WW2 anthology together titled From Sunrise to Sunset, and they are now working on their second anthology.
Stephen King, Sharon Bolton, J. K. Rowling, R. L. Stine and Kelley Armstrong are some of her favourite authors. And, when she's not writing, she loves to bake, paint, knit and go on nature walks.
Find out more at:
Website – http://nicole-j-simms.co.uk
Facebook link – https://www.facebook.com/NicoleJSimmsWriter
Twitter link – https://twitter.com/NicoleJSimms1
Goodreads link – https://www.goodreads.com/author/show/19383148.Nicole_J_Simms