Setting Self-Doubt on Fire – AuthorTube – Learn How to Describe Emotion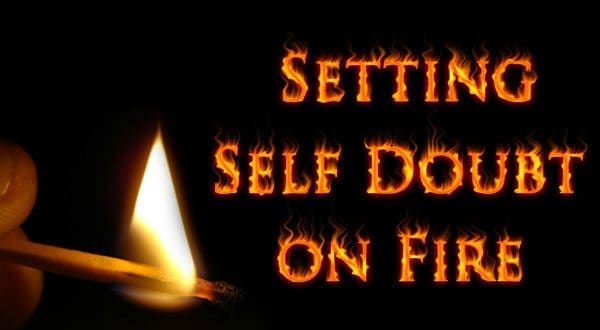 Setting Self-Doubt on Fire –  Improve Your Writing Skills with AuthorTube – Learn How to Describe Emotion
Hi all, it's been some time since my last post, but today I want to introduce you to my new Setting Self-Doubt on Fire miniseries. 
During my writing journey, there have been many things that have caused the terrible Mr Self Doubt to make an unwelcome appearance. And one of those things was fearing I didn't know enough to be a good writer.
So, did I give up and allow Mr Self Doubt to celebrate? Hell no! I knew there were storytelling tips and techniques I needed to know, so I did the sensible thing and found ways to learn the writing craft. And one of those was (and still is) watching videos on YouTube.
So I present to you my new miniseries: Improve Your Writing Skills with AuthorTube.
What's AuthorTube? Well, it's just writers (published and unpublished) on YouTube. These writers share their writing journey (the good and the bad), share their experiences and share their writing knowledge.
The purpose of this miniseries is to show you that you can beat self-doubt by learning the writing craft and improving your writing skills. And you can do this by watching AuthorTube videos.
So, let's start with the first video: Describe Emotion without Being Melodramatic or Cliché by Ellen Brock, see video below. 
How to Describe Emotion Without Being Melodramatic or Cliche
Ellen Brock is a professional freelance editor, writing coach, plot consultant and YouTuber. On her channel, you'll find advice on how to write great characters, outline your story, find your author voice, plot your novel and write your novel. 
In her short video, Ellen explains how best to convey character emotions. It can be difficult to convey your characters' emotions without relying on clichés, melodrama or too much showing or telling. She reveals that introspection is the solution. And in the video, she explains how to use introspection to show characters' emotions.
I've always struggled to show the characters' emotions. And I find that my characters do a lot of banging their fists against something, rubbing their heads, throwing something, twiddling their hair, snarling, etc. But thanks to this video, I finally understand how to convey emotions without making my characters appear overemotional when they aren't supposed to be. 
So, if like me, you struggle to show what the characters are feeling, you should watch the video above. 
Oh, before I go, if you struggle with self-doubt and you want to be part of a group where writers can share their fears, motivate each other and offer support, then join my 'Setting Self-Doubt on Fire Squad' group. 
Okay, that's all I have for you today. Stay safe, everyone. And I'll speak to you again soon.
'I did then what I knew how to do. Now that I know better, I do better.' — Maya Angelou
About the Author
Latest Posts
Nicole J. Simms is a UK horror, crime and fantasy writer. However, she is open to writing in other genres.
Her stories have been published in anthologies, in magazines and on websites. In 2016, she won the Nine Voices' 50-Word Halloween Competition with her story 'Meeting the Parents'. And, her self-published e-book The Book of Drabbles is now available to download for free.
She is also the deputy leader of the Oldbury Writing Group, a West Midlands based writing group. They have published a WW2 anthology together titled From Sunrise to Sunset, and they are now working on their second anthology.
Stephen King, Sharon Bolton, J. K. Rowling, R. L. Stine and Kelley Armstrong are some of her favourite authors. And, when she's not writing, she loves to bake, paint, knit and go on nature walks.
Find out more at:
Website – http://nicole-j-simms.co.uk
Facebook link – https://www.facebook.com/NicoleJSimmsWriter
Twitter link – https://twitter.com/NicoleJSimms1
Goodreads link – https://www.goodreads.com/author/show/19383148.Nicole_J_Simms