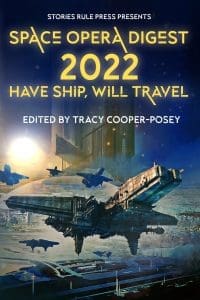 Deadline: November 14th, 2021
Payment: Royalties
Theme: Adventures among the stars
Edited by Tracy Cooper-Posey
Stories Rule Press (SRP) is now seeking submissions for Space Opera Digest 2021: Have Ship, Will Travel, the second anthology in this series.  The anthology will be published on January 27, 2022.
Deadline: November 14, 2021
Length: 2,000 to 7,500 words
Payment: Revenue share
Genre
This is an anthology of short space opera stories.
Please note: We are severely limiting the number of military SF stories to be included in the anthology.
Theme
The theme is "adventures among the stars." Please see the retail book description, below, for more on this.
The story should conform to space opera subgenre expectations, which generally provoke a sense of wonder. We are looking for a range of stories which explore the anthology theme from different angles.
The retail book description
This is the description that will appear on the back of the book, and on retail sites. (Please note: the actual number of stories to be included in the anthology is to be finalized during the reading period.)
(more…)