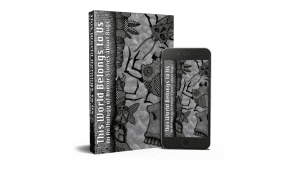 Deadline: November 30th, 2022
Payment: 0.05 per word and a contributors copy
Theme: Horror stories about bugs
From Beyond Press is launching with a bang—or a squirm, or the sound of too many legs skittering in the dark. This World Belongs to Us is an anthology of horror stories about bugs, writ large—we're not scientists, so spiders and slugs and scorpions (oh my!) are OK too. Watch the book trailer here!
This anthology will feature stories by Bram Stoker Award winner Kealan Patrick Burke, multiple Bram Stoker Award nominees Cynthia Pelayo and V. Castro, plus Paula D. Ashe, Donnie Goodman, Felix I.D. Dimaro, and Laurel Hightower, as well as a major rediscovery—John B.L. Goodwin's 1946 story The Cocoon, one of the creepiest stories ever written but out of print for more than 40 years. The eerie cover is by Jacob Blanchet.