Disclosure:
Our reviews may contain affiliate links. If you purchase something through the links in this article we may receive a small commission or referral fee. This happens without any additional cost to you.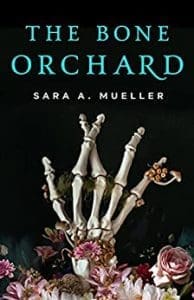 Title: The Bone Orchard
Author: Sara A. Mueller
Genre: Mystery, Dark Fantasy
Publisher: Tor Books
Release Date: March 22, 2022
Synopsis: Charm is a witch, and she is alone. The last of a line of conquered necromantic workers, now confined within the yard of regrown bone trees at Orchard House, and the secrets of their marrow.
Charm is a prisoner, and a survivor. Charm tends the trees and their clattering fruit for the sake of her children, painstakingly grown and regrown with its fruit: Shame, Justice, Desire, Pride, and Pain.
Charm is a whore, and a madam. The wealthy and powerful of Borenguard come to her house to buy time with the girls who aren't real.
Except on Tuesdays, which is when the Emperor himself lays claim to his mistress, Charm herself.
But now—Charm is also the only person who can keep an empire together, as the Emperor summons her to his deathbed, and charges her with choosing which of his awful, faithless sons will carry on the empire—by discovering which one is responsible for his own murder.
If she does this last thing, she will finally have what has been denied her since the fall of Inshil—her freedom. But she will also be betraying the ghosts past and present that live on within her heart.
Charm must choose. Her dead Emperor's will or the whispers of her own ghosts. Justice for the empire or her own revenge