Setting Self Doubt on Fire: Let's Feel the Fear and Do It Anyway in 2019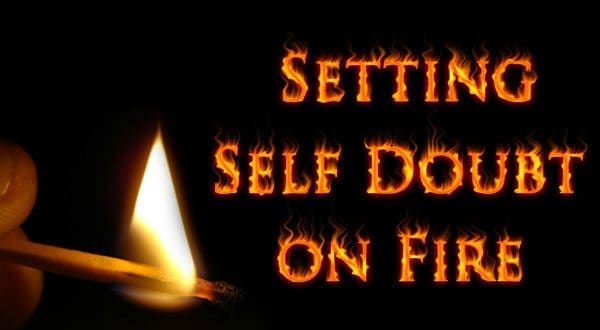 Happy New Year! I'm back. Yes, I know it's been a long time since my last post. Where did I go? Don't worry, Mr Self Doubt didn't kidnap me and hold me hostage. I simply struggled to find the time, and every time I wanted to write a post, something else needed doing. But, fear not, for I am back, and I'm ready to battle with Mr Self Doubt.
In 2017, I read a book written by Susan Jeffers titled Feel the Fear and Do It Anyway — the Oldbury Writing Group leader and my friend, Angela, had recommended the book to me. Over the years, fear often stopped me from doing what I wanted to do, especially with my writing, so this book was what I needed. It showed me that the only way to conquer fear is to face it head-on. Do what you want to do, even though the prospect might be terrifying.
Well, this year I have decided to do just that. I will feel the fear and do it anyway. And, I want you all to join me on this quest for happiness and writing success.
How do you do that? It's simple. All you have to do is step out of your comfort zone and take any opportunity that comes your way, or do something that you've been too scared to do.
For example, you could do the following:
Join a writing group.
Start a new writing project, e.g. a novel, a novella, a story collection, etc.
Submit your work.
Try self-publishing.
Read your work out to an audience.
Do a course.
Join a writer's programme.
Okay, I know stepping out of your comfort zone isn't easy, but you will never know what you are capable of doing until you do it. So, come on, folks, let's make 2019 our year for writing success.
I will be sharing my fear-busting adventures on here and on my nicole-j-simms.co.uk website, so stay tuned.
Keep writing, folks!
To end this post, here is another inspirational quote:
"I learned that courage was not the absence of fear, but the triumph over it. The brave man is not he who does not feel afraid, but he who conquers that fear." – Nelson Mandela
About the Author
Latest Posts
Nicole J. Simms is a UK horror, crime and fantasy writer. However, she is open to writing in other genres.
Her stories have been published in anthologies, in magazines and on websites. In 2016, she won the Nine Voices' 50-Word Halloween Competition with her story 'Meeting the Parents'. And, her self-published e-book The Book of Drabbles is now available to download for free.
She is also the deputy leader of the Oldbury Writing Group, a West Midlands based writing group. They have published a WW2 anthology together titled From Sunrise to Sunset, and they are now working on their second anthology.
Stephen King, Sharon Bolton, J. K. Rowling, R. L. Stine and Kelley Armstrong are some of her favourite authors. And, when she's not writing, she loves to bake, paint, knit and go on nature walks.
Find out more at:
Website – http://nicole-j-simms.co.uk
Facebook link – https://www.facebook.com/NicoleJSimmsWriter
Twitter link – https://twitter.com/NicoleJSimms1
Goodreads link – https://www.goodreads.com/author/show/19383148.Nicole_J_Simms