Setting Self Doubt on Fire: 5 Tips on How to Ignore the Negative Voices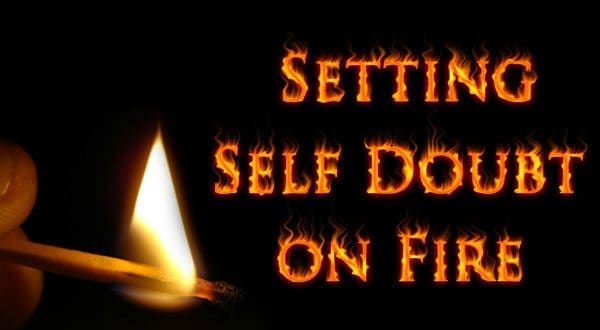 Hi All, I'm back with some more self-doubt fighting words. I know, it's been a long time since my last post, but I've been busy with finishing the third draft of my novel, which took longer to finish than planned, but the third draft is now completed.
So, what do I have for you today? Well, three years ago, I wrote a post titled, 'The Doubts of Others'. In this post, I talked about how, for some of us writers, there are people out there who feel that we are wasting our time in trying to achieve this dream. Well, that was three years ago, and since then I have had more short stories published and won competitions, but still, there are people out there who belittle my achievements and see my writing as a joke. As I mentioned in the last post, it's hard enough fighting your own negative thoughts without having to deal with other people's negative opinions because this only releases Mr Self Doubt. So, today, I want to tell you (and myself) that it's time to ignore the negative voices.
How do you ignore the negative voices, you ask? Well, I have my famous five tips for you:
Remember, you don't need anyone's permission to write – this is an important point because many of us will feel that we need people's approval to write, and so when we don't get it we stop writing. The only permission you need to write is your own. If writing makes you happy, if it's your dream to get published and see your book in a bookshop window, then go for it, and don't let anyone stop you. It's your life. You need to do what makes you happy.
Call yourself a writer – no one will believe that you are a writer if you don't believe it yourself. If you tell people that you do this 'writing thing' then you will only encourage them to not take your writing seriously. And even though your writing isn't important to them it is still important to you, so don't trivialise what you do. Stand up and tell people, 'I'm a writer, and I'm proud of that.' I'm glad to say that I finally call myself a writer because that's what I do. I'm not a published novelist, yet, but I am a writer.
Don't waste your energy with anger – it's understandable that you would want to rip out people's throats for mocking what you do, but anger only hurts you. So don't waste your time being angry and thinking about all the terrible things you can do to that person (some of us are horror writers for a reason lol). Instead, accept that these people don't believe that you will succeed, but don't let them make you quit.
Focus on the positive voices – you may have people who think you're wasting your time and not take your writing seriously, but there will be people out there who do. So, don't focus on the negative people, instead focus on the people who go to your writing events, who celebrate when you are published, and who tell you that you can do this when you feel like you can't. And if you don't have anyone like that then you can always find them via writing groups or online. I'm lucky because I have more people in my life who believe in me than I do who don't believe in me. They see and know that I'm working hard, and it's those people that I plan to focus on, and you should do the same, even if there's only one person in your life who believes in you.
Keep writing – yes, this is what you should definitely do. Actually, this should be point one, but I thought it would be a nice way to end the post. You will never achieve your dreams if you stop writing, so don't listen to the negative voices. Instead, focus on your path and continue with it. And hey, you can always use those negative people to inspire a villain (or victim) in your stories – just make sure that they won't recognise that it's them. And when you do have a novel published, you should send them a signed copy of your book.
So there you have it, five tips on how to ignore the negative voices, and none of them involved any violence. There are many reasons why people will put you down for following your dreams, one of the reasons is jealousy because unlike them, you have the courage and determination to pursue your dream. So don't waste your time with those negative people, instead focus on what truly matters.
Keep writing folks!
To end this post, here is another inspirational quote:
"Stop letting people who do so little for you control so much of your mind, feelings and emotions" – Will Smith
About the Author
Latest Posts
Nicole J. Simms is a UK horror, crime and fantasy writer. However, she is open to writing in other genres.
Her stories have been published in anthologies, in magazines and on websites. In 2016, she won the Nine Voices' 50-Word Halloween Competition with her story 'Meeting the Parents'. And, her self-published e-book The Book of Drabbles is now available to download for free.
She is also the deputy leader of the Oldbury Writing Group, a West Midlands based writing group. They have published a WW2 anthology together titled From Sunrise to Sunset, and they are now working on their second anthology.
Stephen King, Sharon Bolton, J. K. Rowling, R. L. Stine and Kelley Armstrong are some of her favourite authors. And, when she's not writing, she loves to bake, paint, knit and go on nature walks.
Find out more at:
Website – http://nicole-j-simms.co.uk
Facebook link – https://www.facebook.com/NicoleJSimmsWriter
Twitter link – https://twitter.com/NicoleJSimms1
Goodreads link – https://www.goodreads.com/author/show/19383148.Nicole_J_Simms