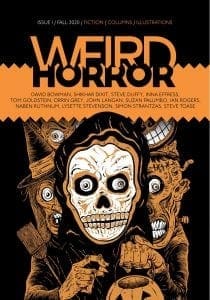 Submission Window: March 1st – 31st, 2023
Payment: 1.5¢ per word (one and one-half cent), with a $25 (U.S.) minimum and 2 contributors copies
Theme: Horror and Weird Fiction
Weird Horror has two reading periods each year – March and September.
FICTION GUIDELINES
OPENS: March 1, 2023
CLOSES: March 31, 2023
We are seeking first publication rights. Fiction must be in English, and previously unpublished in English anywhere, in any format, on any platform, including your blog, website, newsletter, Patreon, etc. Please do not query about reprints.
We will consider works translated to English, as long as you are offering first English-language publication rights.
Simultaneous submissions are welcome. Please inform us if your story is accepted elsewhere. No multiple submissions. Please send 1 story only per reading period.
We are seeking horror and weird fiction from 500 to 6,000 words, firm. Stories over or under the word count will not be read. (Please respect our word counts.) We are not interested in extreme horror.