Setting Self Doubt on Fire: Writers, take care of yourself!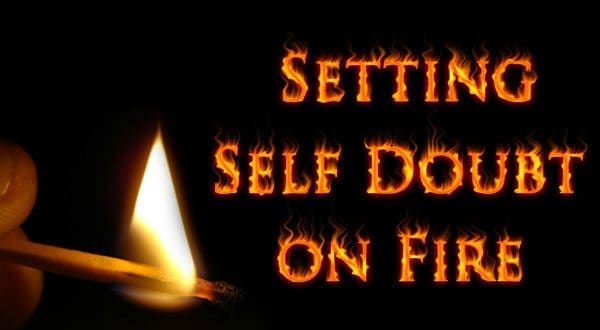 Hi, All! I'm back with some more self-doubt fighting words.
So, what do I have for you today? Well, today I have decided to talk about how you, as a writer, should take care of yourself. It may seem obvious that you need to look after yourself, but when you're juggling multiple writing projects with work and other commitments, you'll soon find that you can easily neglect yourself. But one of the things that Mr Self Doubt loves is a tired and overworked writer. So don't let him sneak up on you, instead, let me guide you through ways that you can, as a writer, take better care of yourself.
Try to eat more healthily: It's so easy to skip meals and eat junk food when you're a writer, who pounds the keys on the keyboard all day, but you must be firm with yourself and make sure you have three healthy meals.
Add exercise to your daily routine: You'll be amazed how exercising can help your writing. I often find myself coming up with new story ideas or working out my current pieces of fiction while I exercise. And exercise doesn't mean going to the gym, going out for a walk still counts.
Take regular breaks: This can include anything from going on holiday to lying on your sofa. Writing can and will take up a lot of your time, especially if you have to balance a day job and other responsibilities; however, it is important to take some time away to relax and do something else because a tired mind isn't a productive one.
Try a new hobby: It's a good idea to have other hobbies to take your mind off the pressure of writing. Not only will this allow you to have a break, but it will also give you ideas for new stories. I love to bake, and I have written many stories about bakers. Have you heard about the adult colouring books? I've not tried it myself, but it is said to help you to relax.
Go out and meet people: This is one of the reasons why I decided to join a writing group. While it's good to talk to other writers online, nothing beats sitting and having a face-to-face chat with people, especially people who share your passions. You don't have to join a writing group, though; you can meet up with friends, visit family. They all count.
So there you have it, five ways to take better care of yourself. It's not an easy thing to do, especially when you have deadlines, but you need to remember that with a tired body and mind you won't be as successful as you can be. So, don't feel bad about allowing yourself some me time. It's what we all need.
Keep writing folks, but do it with a fresh mind and healthy body.
To end this post, here is another inspirational quote:
"Stop what you are doing. Go outside and breathe. The world will not end if you take ten minutes for yourself." ― Fawn Germer
About the Author
Latest Posts
Nicole J. Simms is a UK horror, crime and fantasy writer. However, she is open to writing in other genres.
Her stories have been published in anthologies, in magazines and on websites. In 2016, she won the Nine Voices' 50-Word Halloween Competition with her story 'Meeting the Parents'. And, her self-published e-book The Book of Drabbles is now available to download for free.
She is also the deputy leader of the Oldbury Writing Group, a West Midlands based writing group. They have published a WW2 anthology together titled From Sunrise to Sunset, and they are now working on their second anthology.
Stephen King, Sharon Bolton, J. K. Rowling, R. L. Stine and Kelley Armstrong are some of her favourite authors. And, when she's not writing, she loves to bake, paint, knit and go on nature walks.
Find out more at:
Website – http://nicole-j-simms.co.uk
Facebook link – https://www.facebook.com/NicoleJSimmsWriter
Twitter link – https://twitter.com/NicoleJSimms1
Goodreads link – https://www.goodreads.com/author/show/19383148.Nicole_J_Simms