Setting Self Doubt on Fire: The Setting Self Doubt on Fire Challenge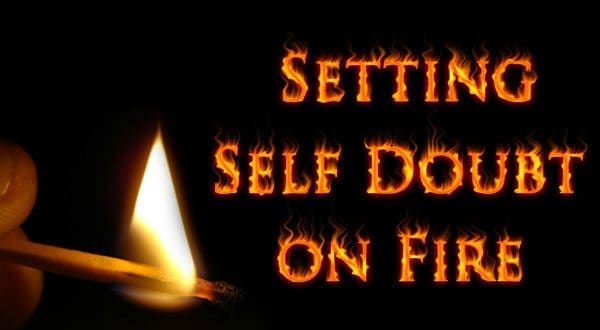 Hi, All! I'm back.
Lately, I have been battling with self-doubt, which is mostly because of the constant rejections that I have had. As we all know, rejections can make you wonder if your earlier success was a fluke. But, instead of allowing Mr Self Doubt to continue to spread his poison, I will be fighting back. How will I fight back? Well, I have decided to set a Setting Self Doubt on Fire challenge, and I want all of you fellow self-doubters to join me.
So, what is the challenge? Well, it's simple; every time you do something to push self-doubt aside I want you to post about it on Facebook or Twitter with the hashtag #settingselfdoubtonfire or #beatingselfdoubt.
To help you know what counts as beating Mr Self Doubt, I've listed some examples below.
Finished writing a story.
Finished editing a story.
Submitted a story.
Faced rejection and continued to write.
Read out your stories.
Uploaded a story to your website.
Self-published a book.
Resubmitted a rejected story.
Faced criticism and continued to write.
Called yourself a writer.
Told people you're a writer.
Joined a writing group.
Your story has been published.
It doesn't matter what you do as long as you have pushed self-doubt aside. And I will be sharing my achievements with you too.
Remember, every time you defeat Mr Self Doubt I want you to share it on your Facebook or Twitter. And don't forget to use the hashtags (#settingselfdoubtonfire or #beatingselfdoubt), so we can all take the challenge together.
So let's do this, let's set self-doubt on fire.
Keep writing folks.
To end this post, here is another inspirational quote:
"Doubt kills more dreams than failure ever will." ― Suzy Kassem
About the Author
Latest Posts
Nicole J. Simms is a UK horror, crime and fantasy writer. However, she is open to writing in other genres.
Her stories have been published in anthologies, in magazines and on websites. In 2016, she won the Nine Voices' 50-Word Halloween Competition with her story 'Meeting the Parents'. And, her self-published e-book The Book of Drabbles is now available to download for free.
She is also the deputy leader of the Oldbury Writing Group, a West Midlands based writing group. They have published a WW2 anthology together titled From Sunrise to Sunset, and they are now working on their second anthology.
Stephen King, Sharon Bolton, J. K. Rowling, R. L. Stine and Kelley Armstrong are some of her favourite authors. And, when she's not writing, she loves to bake, paint, knit and go on nature walks.
Find out more at:
Website – http://nicole-j-simms.co.uk
Facebook link – https://www.facebook.com/NicoleJSimmsWriter
Twitter link – https://twitter.com/NicoleJSimms1
Goodreads link – https://www.goodreads.com/author/show/19383148.Nicole_J_Simms