Setting Self Doubt on Fire: Help! I Didn't Reach My NaNo Goal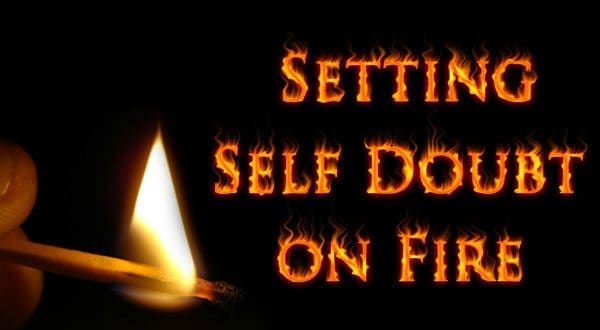 Hello, everyone! I can't believe NaNoEdMo and NaNoWriMo are over already. It doesn't seem that long ago that I vowed to complete the third draft of my novel in November.
So, did I reach my NaNoEdMo goal? Well, I'm sad to say that I didn't reach my goal. And even after changing my goal to a more realistic one (completing 50% of my novel), I still didn't reach my goal. However, I did manage to edit 10% of my novel, which is nowhere near my goal, but it's something.
There are two reasons why I didn't reach my goal: firstly, I struggled to stay motivated and often found myself distracted my other tasks and projects, and secondly, my goal was too ambitious – doing the third draft of a novel takes more time than the second draft did.
Now, while I am disappointed that I didn't reach any of my goals, I've decided to stop being so hard on myself because I did something which is better than doing nothing.  Every step forward is a step forward, no matter how small the step. In this writing game, you have to focus on the positives, even if the positives are small. For example, you receive nine rejections, but one acceptance, it's the acceptance that you need to focus on because it's the one yes that matters the most.
So if you've not reached your NaNoEdMo or NaNoWriMo goal, I want you all to stop being disappointed in what you haven't done, and start celebrating what you have achieved. You may have only written 20,000 words, but that's 20,000 more words than you had before. You may have only edited five chapters, but that's still five more chapters than before.
I would like to congratulate those who have reached their NaNoEdMo and NaNoWriMo goals, and I would also like to congratulate those who didn't reach their goals because you've all done well and no matter how small the achievement, you still have something to celebrate. Yay us!
So, turn that frown upside down and go celebrate because we are all NaNo winners.
To end this post, here is another inspirational quote:
"A goal is not always meant to be reached; it often serves simply as something to aim at." ― Bruce Lee
About the Author
Latest Posts
Nicole J. Simms is a UK horror, crime and fantasy writer. However, she is open to writing in other genres.
Her stories have been published in anthologies, in magazines and on websites. In 2016, she won the Nine Voices' 50-Word Halloween Competition with her story 'Meeting the Parents'. And, her self-published e-book The Book of Drabbles is now available to download for free.
She is also the deputy leader of the Oldbury Writing Group, a West Midlands based writing group. They have published a WW2 anthology together titled From Sunrise to Sunset, and they are now working on their second anthology.
Stephen King, Sharon Bolton, J. K. Rowling, R. L. Stine and Kelley Armstrong are some of her favourite authors. And, when she's not writing, she loves to bake, paint, knit and go on nature walks.
Find out more at:
Website – http://nicole-j-simms.co.uk
Facebook link – https://www.facebook.com/NicoleJSimmsWriter
Twitter link – https://twitter.com/NicoleJSimms1
Goodreads link – https://www.goodreads.com/author/show/19383148.Nicole_J_Simms