Setting Self Doubt on Fire: Pat yourself on the back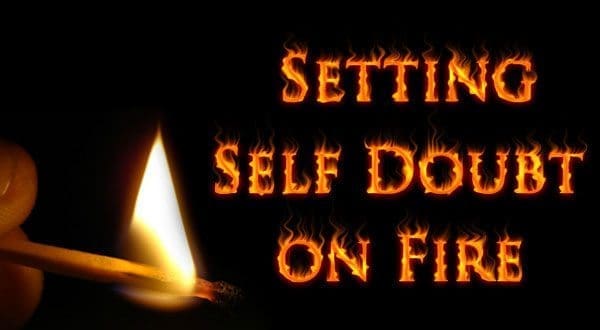 Hi everyone! I'm back and this time I'm coming full force with my self-doubt fighting sword. It's June, six months into 2014, and it's time that we, as writers, start congratulating ourselves for still being on this journey. If you already do this, that's great, but if not then I urge you to keep on reading.
I'm sure you all know that when you're dealing with self-doubt finding a way to keep going can be difficult, especially with the fear of rejection. Regardless of what we read every time our stories are rejected it hurts, it feels personal, and Mr Self Doubt mocks you for even thinking you have the right to call yourself a Writer. Ha to you Mr Self Doubt because we are still writing and in six months' time we will still be writing, submitting, and dragging ourselves along that yellow brick road.
So what is the point of this post? Well today I'm here to tell you, and myself, that it's time to pat ourselves on the back and feel good about being on this rollercoaster ride of a journey. This is important because it's easy to constantly put yourself down and tear yourself to shreds, and this can often block you from doing what you love, which is writing. So for once rather than putting yourself down, let's celebrate our successes no matter how minor they are.
I want all you Self-doubters to join me on this quest, and to help you on your way I've listed some times that you NEED to give yourself that well deserved pat on the pack. When to praise yourself:
When you've finished a first draft: I'm sure you'll agree that when you write, 'The End' you can't help but feel proud that you finished something you started which in itself is another challenge.
When you've submitted a story: The fact that you submitted knowing that rejection could follow is something that definitely needs celebrating.
When you keep writing even after a rejection: You can feel like you are dragging yourself out of a hole when you consider writing after rejection, it isn't easy, so if you do then that's a point to you.
When you sit down and start writing: There's so many distractions, and at times it can feel like you are wasting your time doing something that you might not get anything from. However, writing isn't pointless if you love what you do.
When you get that eureka moment: You got an idea that's got you buzzing then celebrate, and then go write.
As you can see there are many times when you should praise yourself, you can even add to the list, all that matters is that you embrace the positives, which I have discussed in a previous post. Embrace them and keep writing because this is a long road we are on.
To end this post, here is another inspirational quote:
"Get it down. Take chances. It may be bad, but it's the only way you can do anything really good." – (William Faulkner)
Sign up for our Newsletter
Never miss a post from our team by signing up!