Epeolatry Book Review: Lady in White, ed. LCW Allingham


Disclosure:
Our reviews may contain affiliate links. If you purchase something through the links in this article we may receive a small commission or referral fee. This happens without any additional cost to you.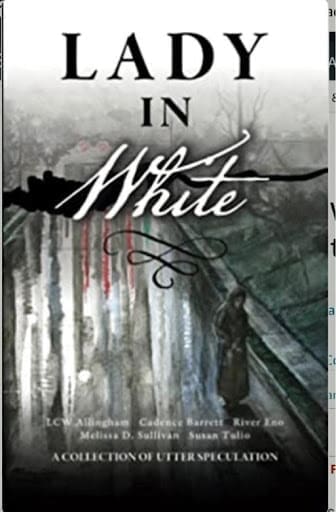 Title: Lady in White
Author: Various, ed. LCW Allingham
Genre: Ghost Fiction
Publisher: Freeze Time Media
Release Date: 29th September, 2021
Synopsis: A woman walks on the side of the road. She wears a white dress and is known by many names: the Ghostly Hitchhiker. The Phantom Prom Date. The Woman in White. She may accept a ride, but she disappears before she ever reaches her destination.
Is she an apparition? A memory? Or something beyond our understanding? Five authors offer their speculations on her story – of love, loss, and redemption.
Rumors of a ghostly hitchhiker draws a woman back to her hometown twenty years after the death of her sister, revealing bonds and betrayals buried under years of grief.
A fresh start for a mourning widower turns into a hunt for the truth about an old tragedy, and a match made beyond the grave.
Confusion clouds the awakening of a young bride, frightened by memories she doesn't understand in a world she doesn't recognize, and a duty she has tried to forget.
A heartbroken musician struggles to stay afloat during COVID-19 lockdown, and discovers a love song that unites two souls.
Two women, separated by ages, connect across the veil of time, allowing hope to grow from despair, and a desperate but bright will to tether itself into a better world.
Watch the roads and be prepared, for though these stories are utter speculations, the lady in white still looks for a ride, somewhere on the other side.
The Lady in White is somehow a classic icon of supernatural fiction, a ghostly presence able to disquiet, entice and produce bewilderment. 
The present volume collects five stories, all penned by female authors, trying to explore new angles and develop new aspects about this type of apparition.
To me the best tale of the lot is "What the Lake Knows" by Susan Tulio. It's a very intriguing, well told story featuring the ghost of a drowned young woman and the investigation surrounding the circumstances of her death.
Another winner is "Selene in White" by LCW Allingham. Small town secrets are revealed when a young woman tries to clarify the events surrounding the fatal accident which caused the death of her stepsister, who was hit by an unidentified vehicle.
"The Girls of Blackthorn" by Cadance Barrett is a complex interplay between nurses and asylum patients, mixing reality and imagination.
Other contributors are River Eno and Melissa D Sullivan.


 out of 5 ravens.
About the Author
Latest Posts
Mario Guslandi was born in Milan, Italy, where he currently lives. A long time fan of dark fiction (especially short stories)he's probably the only Italian who reviews horror and supernatural tales in English. Over the years his reviews have appeared in many genre sites such as Horrorworld, The British Fantasy Society, Hellnotes, Emerald City, SF Revu, Thirteen O' Clock, etc.