Disclosure:
Our reviews may contain affiliate links. If you purchase something through the links in this article we may receive a small commission or referral fee. This happens without any additional cost to you.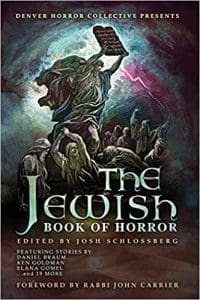 Title: The Jewish Book of Horror
Author: Various, ed. Josh Schlossberg
Genre: Horror
Publisher: Denver Horror Collective
Release Date: October 2nd, 2021
Synopsis: Horror is part of the human condition, but few peoples across the ages know it quite like the Jews.
From slavery to pogroms to the Holocaust to antisemitism, the "Chosen People" have not only endured hell on Earth, they've risen above it to share their stories with the world.
Whether it's pirate rabbis or demon-slaying Bible queens, concentration camp vampires or beloved, fearless bubbies, THE JEWISH BOOK OF HORROR offers you twenty-two dark tales about the culture, history, and folklore of the Jewish people.