Welcome to The Horror Tree, and thank you for participating in Women In Horror Month. First, tell us a bit about yourself and your interest in horror.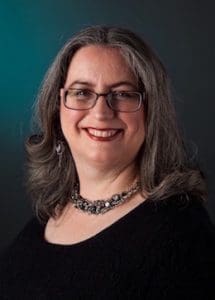 Hi there! Thanks for including me! I write a fair amount of horror and horror-adjacent work, including a lot of ghost stories and classic tale retellings, often seen through a queer lens. You can find my collected horror and dark fantasy in a collection called Unfinished Business: Tales of the Dark Fantastic (Queen of Swords Press, 2019). You can also find my work in publications like American Monsters Part 2 and Fireside Magazine and in media tie-in anthologies for World of Darkness games such as Vampire the Masquerade and Wraith. In addition, I write "horror-adjacent" work such as my Wolves of Wolf's Point menopausal werewolf books and vampire erotica as Emily L. Byrne.
Apart from that, I've always loved certain kinds of horror – ghost stories, the kind of monster stories that hum along just below the surface of fairy tales and thoughtful smart horror like Ginger Snaps and Shirley Jackson and Angela Carter. I like the snark and diverse representation of new shows like The Dead Lands (2020) as well as Victorian-style horror books and films like Susan Hill's The Woman in Black and Del Toro's Crimson Peak. I like a good scare, but am not big on gore.