Epeolatry Book Review: An Army Of Lies by Ryan Spell


Disclosure:
Our reviews may contain affiliate links. If you purchase something through the links in this article we may receive a small commission or referral fee. This happens without any additional cost to you.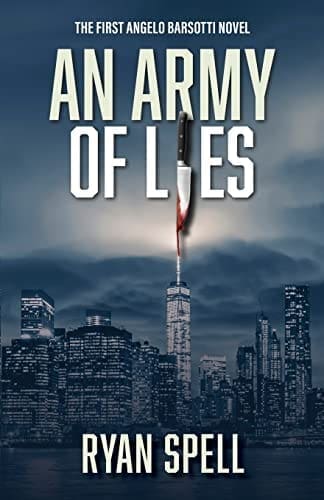 Title: An Army of Lies
Authors: Ryan Spell
Genre: Murder Mystery
Release Date: January 25th, 2023
Synopsis: An unexpected affair. A lover's betrayal. A brutal murder.
Private investigator Angelo Barsotti is just getting by, moonlighting as a bartender at a cop bar and obsessing over the murder of his wife, which he's been unable to solve for two years. When tech giant Grant Dogon tries to hire him to get his best friend and former platoon comrade, Craig, out of jail, Angelo wants nothing to do with the case. Craig Mazer, who is accused of killing his wife, Helen, has no alibi. But Grant comes bearing a briefcase of cash and a refusal to take no for an answer.
As Angelo reluctantly investigates the case, with his enthusiastic associate and friend, Lewis, all roads lead to Dogon Tech, where Craig works for Grant. Why is a tech security firm having so many security breaches of its own? What is Grant hiding before the company's public offering? As Angelo tries to uncover these secrets, he's met with lie after lie. Is he putting himself and others in danger by pursuing this angle?
While working this case, new clues about Angelo's wife emerge from an unexpected source, but he must solve who killed Helen Mazer first. Will Angelo be able to see through the lies to find the truth and finally solve what happened to his wife?
"An Army of Lies" is an engaging debut novel by Ryan Spell, introducing us to the world of private investigator Angelo Barsotti. Spell has a knack for crafting a suspenseful and captivating story, creating a fast-paced thriller that keeps the reader hooked from start to finish.
The protagonist, Angelo Barsotti, is a deeply troubled character, haunted by the unsolved murder of his wife. As he is pulled into the investigation of Helen Mazer's murder, the plot thickens, and we are left guessing who is behind the lies and betrayal. Angelo's relationships with other characters, especially his associate and friend, Lewis, add depth and complexity to the narrative.
Ryan Spell's writing style is both articulate and fluid, which allows the reader to easily follow the twists and turns of the story. The plot moves quickly, with each revelation leading to new questions and challenges for Barsotti. While it took me a few days, I could easily see those who enjoy it finishing it in just a day. Though, it'll likely leave you eager for the next installment with a wait in front of you for it.
One aspect of the book that I can't wait to be fleshed out in the sequel is the introduction of the character Vanessa, whose involvement in the story is hinted at but not fully explored. This clever move by Spell leaves readers eager for the next book in the series, as they anticipate learning more about her connection to the case.
In conclusion, "An Army of Lies" is a thrilling and fast-paced novel that showcases Ryan Spell's talent as a writer. With a gripping plot and engaging characters, it is sure to appeal to fans of mystery and suspense. I'm eagerly awaiting the release of the next installment in the Angelo Barsotti series, as we hope to uncover more secrets and unravel the tangled web of lies that surrounds these characters.

/5
About the Author
Latest Posts
Stuart Conover is a father, husband, published author, blogger, geek, entrepreneur, horror fanatic, and runs a few websites including Horror Tree!