'The Coven' Blog Tour – Guest Post By Author Angie Gallow "The Vampire Myth"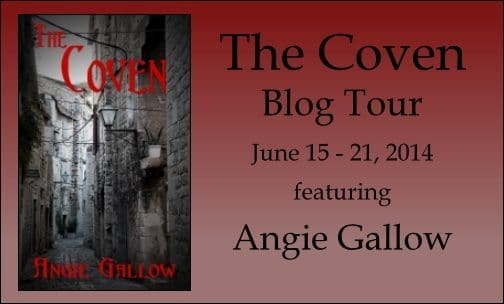 The Vampire Myth
Angie Gallow
Vampires are a part of pop culture; everywhere we find the blood-stained residue of their presence in our everyday world. We have romanticized them and fantasized about becoming one or even, dare I say, dating one. Yet, when we get right down to it, vampires are monsters. They were created to scare people and are the reason why certain cultures still hang garlic around their windows and doors. Their existence, even in fiction, has created a mania for a monster that only zombies can compare to.
The original vampire tale comes from either Russia or Serbia. A family was sitting down to dinner in the middle of winter when a pale, mysterious man quietly entered their home. Everyone knew it was the grandfather who died that summer. He sat down, didn't say a word but stared at his son as they were all having dinner. The next day, the grandfather was gone and his son was found dead on the dinner table, drained of all his blood. Many people have forgotten this story over time as well as the different characteristics of vampires.
For instance, it was believed that vampires had a predilection with counting prompting superstitious villagers throughout Europe and Asian to leave bags of beans and rice in the streets believing vampires would stick around, counting until morning and the sunlight would kill them. Vampires were once described in the same manner that we envision the modern zombie: they would mindlessly climb from their graves and lumber around, looking for fresh victims for drain. They were never described as being the highly intelligent beings that we know of them today.
We all know what to except from vampires now. We've made them one of us in the sense we don't consider them to be the monster they were once created to be. Imagine for a moment, if vampires were suddenly turned back into their zombie-like ancestors; tons of them rising from their graves and coffins, limping down the street, grabbing the first person they saw and draining them of blood. Instead of wanting to be like them or dating them, we would all run screaming for the hills!
The original vampire stories  had many people hunting down suspicious corpses and nailing them into their coffins before nightfall. Or hunting suspicious individuals down the same way witches were. Vampires are those one of kind, scare-you-to-death creatures that have lasted for centuries and have been portrayed in almost every culture on earth. This myth has created a following of fans and even its own subculture in the Goth community. Not many monster myths have been able to do that, so even though vampires are seen as clichéd and overdone, they've made an impression that's lasted centuries long.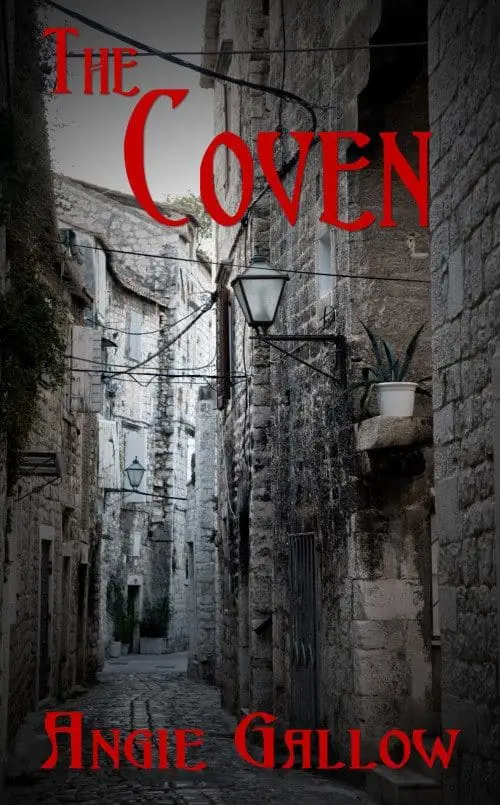 An Excerpt from The Coven by Angie Gallow…
Two
"You in or out, then?" Lauren Granger said tossing a coin onto the table as his Cockney accent honeyed the room. A marathon Poker game in the cellar had been in session the majority of the night. Lauren peered over his hand of cards with a toothy, mischievous grin at Sebastien.
"Surely, if you have enough money to cover your loss," Sebastien retorted, raising one eyebrow. Lauren rolled his eyes and let a sigh pass from between his teeth.
The large round table they sat at was filled with empty glasses that held red residue, cards, coins and banknotes. Sebastien snuffed out his cigarette in a smoking tray, ending the wafting ballet of red smoke only to replace it with a fresh one. It dangled idly from his lips as he lit it and studied his cards as though they were a complex mathematic equation and one misplaced step would ruin his answer. Another coin fell on top of the pile.
"In." Grace LeVine's southern accent echoed. She sat beside Lauren at the table. Sebastien glanced up at the small beauty who wore a look of calm indifference as she rearranged the cards in her hand. Grace's eyes seemed to hold every star in the sky within them and carried a complexion of the finest bowl of butterscotch money could buy.
Lauren leapt up from sitting on one of his loose suspender straps then rearranged himself back in his chair.
"Nervous, comrade?" Octavio Perez grinned sheepishly as he fingered a banknote in his white hands before letting it fall onto the table. His eyes were sharp as knives and he grinned like a plotting villain.
"He never wins, he's got nothing to be nervous about," Octavio's twin sister, LaStacia passed a wink across the table at Sebastien, who chuckled silently behind his cards.
"Bugger off, the lot of you," Lauren sighed, relieved at the fact he was incapable of turning red.
"Not our fault you play like a dog," Lee Green's deaf-accented voice sounded at Lauren. Lauren twisted his nose a bit and looked at Lee with a grimace.
"You just call me a doll, then?"
"He's said, 'dog', love," Grace looked at her sweetheart then back to Lee, signing what he said back to him. Lee nodded with a light giggle, "Dog," Grace made the sign for the word, sliding her fingers together as one does to snap them. Grace had learned Lee's mode of communication in the same fashion she had learned Spanish. Grace would become fluent by hearing any language only once and she was the only person in the entire coven who could communicate effectively with Lee.
Sebastien glanced over his cards once more before a small hand reached passed him for a waiting glass. Calvin Bell was only a head taller than the table. He carried a round tray in his small arms that he would place empty glasses.  The little boy circled the table with his tray. No one sitting asked him for much of anything and did their best to ignore the fact that a mortal child was acting as their servant.
Calvin passed Grace, who would carefully slip a series of coins from her own pocket into the lad's as he moved past her. Calvin smiled lightly and eased past Lauren, who merely took his glass back before Calvin could lift it.
"I got it, lad, no worries," Lauren would often say whenever Calvin attempted his duties. Finally, as the child finished his rounds, Sebastien lifted the tray from his hands. Calvin looked at Sebastien with sapphire eyes that twinkled innocently.
"Have a seat," he moved an empty chair closer to the table for Calvin, who did so reluctantly. Sebastien placed a hand fondly on the boy's head.
Everyone sitting at the table was considered an outcast within the coven. Lauren and Grace's poverty was apparent the moment they arrived. The only possession of value between them was a pocket watch Lauren inherited after the death of his father at the age of six. Having only been in their twenties when they were transformed and used to living in squalor, Maurice had assigned them quarters near the coven house's cellars.
Calvin sat quietly at the table, watching the card game. The child was the only mortal within the coven's walls. He was bound to the place after a group of vampires invaded his home and killed his family; he was found hiding from the slaughter in his bedroom closet. He was carted back to the coven and given to Alaric, under the coven's strict rules that children were never to be killed. The child was made to earn his keep as the coven's servant boy and would forever remain.
LaStacia and Octavio were often never trusted; their clairvoyance kept others away. They would often take turns mystifying and otherwise, terrifying coven members with their sight, finding members of the coven and telling them information without warning. It was such a random occurrence that members would be fearful of what they could be told; the intense and thorough insight had forced them out of the coven's acceptance.
Lee was unknown and deaf. His inability to communicate properly was viewed as something distasteful, like an illness that was contagious should one get too close. Maurice shunned him by appointing him as a personal secretary. He was given an office and enough work to seal him away for as long as needed. It was unknown how he arrived or found out about the coven but despite being locked away, nothing about their home was a mystery to him.
Sebastien had been unable to blend into the well-kept coven. He continued to live the life he was accustomed to; alone and private with few friends. He was never fond of a wealthy lifestyle nor could he comprehend the need for extravagance. The coven house was bathed in dazzling colors, rich ornaments and glossy furnishings. Members were proud to match their new home with decadence, refined etiquette and holier than thou behaviors. Sebastien was often revolted whenever he was made to participate.
He took a swallow from his glass and looked over at Lauren.
"I will see your five shillings," Sebastien threw coins onto the table, "and raise you… ten more."
Lauren's eyes widen at the sight of the money on the table. Calvin giggled at the sight of his twisted expression as Grace placed her hand on his elbow.
"Breathe."
Sebastien eyed his competitor with a smirk and Lauren could only blink. Lauren looked down at his cards, holding an incomplete pair and felt his stomach lurch. He threw his head back against the head of the chair and threw down his cards.
"Bloody hell!"
Octavio finally revealed his hand; an ace, a king, an eight of clubs and four of hearts. His sister looked at him with contempt, having bet their last banknote. She slapped the back of his head as Octavio cradled his face in his hands. Lee looked around and shrugged, his hand was no better, if not worse than Octavio and Lauren's. He laid the cards out and took his loss.
Grace and Sebastien eyed one another with competitive glares. Grace had made a career playing every game that one could bet on before her life as a vampire and Sebastien tried to think of new ways to outplay and outthink her.
"Ladies, first," Sebastien graciously motioned towards Grace.
"Yeah, too bad you called me a ragamuffin earlier," she countered.
"That was before money was on the table."
Grace looked down at her cards with a somber gaze for what felt like an eternity. Her nimble fingers teased the edge of the cards as she made the few subtle adjustments to their order. Octavio looked over at her, his elbows still resting on the table in defeat and his sister leaning over as she watched Grace's unraveled expression. Grace leaned forward as she plucked a card from her hand and raised it just before it hit the tabletop.
A royal flush presented itself on the table and Sebastien's face fell to the floor. Lauren and Lee let out hearty laughter as Grace's hand swiped the money from the table. She smiled warmly as Sebastien wiped his face free of tension before letting out a hard sigh. Grace put her money in the front pocket of her trousers. "Maybe now we can buy our way out of the cellars?" she looked at Lauren.
"Good luck with that bargain," Lauren laughed.
The game ended and the friends went their separate ways. Calvin trailed behind Sebastien like a faithful pup as they climbed the stairs from the parlor. They emerged in the main corridor, greeted with a glowing chandelier that bounced light from whatever surface it touched.  Sebastien began down the hall, towards his chambers when Alaric approached him coming from the opposite direction. Calvin was waved along as Alaric stopped short in front of Sebastien.
"I've been looking for you all evening." Alaric placed his arm slightly around Sebastien, turning him in the opposite direction. He spoke in a cagey whisper as he led them down the hall, "Father has an idea that I think we should consider."
"We?" Sebastien inquired. His suspicions mounted as he recalled the volatile reaction from Maurice months prior, after Sebastien recounted his tale of how he had arrived. He had buried the account in the back of his mind, giving no real thoughts to it as he carried on with his existence. Alaric shushed his friend, telling him to keep his voice low.
"Yes, we," Alaric affirmed.
They finally stopped and Alaric opened a door and ushered his friend inside. He shut the door behind him and motioned for Sebastien to sit. The room was dim as the two sat across from each other and Sebastien pulled out another cigarette, striking a match.
"Since you're one of the few survivors who has seen the vampires that have been employed by the Diocese Club, Father wants you to assist with his plans," Alaric explained.
"What are his plans?" Sebastien's tone was matter of fact as he eyed his friend intently. Sebastien's cigarette hissed as he inhaled. Alaric explained that Maurice was drawing plans to capture one of the vampires who had been trained to work for the Diocese Club, saying that Maurice would extract information from the vampire by any means to use against the Diocese. Sebastien closed his eyes and removed the cigarette from between his lips.
"And how does he intend to do this?" the sarcasm in Sebastien's tone was not missed and Alaric leaned forward.
"That's where you come in."
"Excuse me?" Sebastien raised an eyebrow and looked closely at his friend. Contempt grew in his eyes and Sebastien unfolded his legs and leaned forward, "Does it look like I want to be involved with something as insanely dangerous as that? I understand your father's motives and means to exact revenge but for the love of God! Even with one, two or all of those vampires, we will never have enough information to take down that organization! The attempt at a war is a suicidal plot that I will not be a part of!"
Alaric looked at Sebastien and silently weighed out his friend's convictions. Alaric continued to stress that the plan would help end the savage attacks on their kind. He continued to say that the plan could assist in finding the other vampires in the hunting group. Yet, the more he talked, the more Sebastien stubbornly shook his head.
"I will not be a part of a campaign that has the strongest potential for our downfall. Tell your father that regardless of any amount of information he extracts, the Diocese Club is too elusive. Hell, where would you even begin to search for one of those vampires?"
Alaric's face darkened as Sebastien stood from the chair and made his way towards the door.
"We know ourselves well enough to know where to look for them."
—
The Coven
Angie Gallow
After a gruesome betrayal, vampire Sebastien Vilmont is flung into a whirlwind cat and mouse game when his traveling party is ambushed by an opposing group of bloodthirsty vampires. Maurice, the leader of Sebastien's coven, makes the decision to not only wage war against the opposing vampire clan, but a clerical organization known as The Diocese Club who wishes to exterminate all vampire-kind.
Trying desperately to protect the secrecy of their coven's location below the streets of Whitechapel, London, Sebastien finds himself at odds with Maurice in his desire to not engage in all-out war with the renegade Catholic faction. At the same time, he must also battle the other vampire coven to guard their anonymity from humans. In doing so, Sebastien is forced into choices and alliances he might not otherwise have made.
Set in the tone of Victorian England, The Coven is a thrilling and horrific journey through the seedier workings of the vampire underworld, and pious ideology of The Diocese Club.
Purchase Links:
Amazon:
US | Canada | UK | Australia | Germany | France | Italy | Spain | Brazil | India | Mexico | Japan
***
ABOUT THE AUTHOR – Angie Gallow was born in Chicago and currently attends Columbia College Chicago. This is her first novel.
Twitter | Facebook | GoodReads
***
Giveaway information:
Sirens Call Publications will be giving away digital copies of The Coven by Angie Gallow to 5 (five) lucky winners! Follow the link to enter for your chance to win!
Win 1 of 5(five) copies of The Coven by Angie Gallow
Win 1 of 5 copies of The Coven by Angie Gallow

About the Author
Latest Posts
Stuart Conover is a father, husband, published author, blogger, geek, entrepreneur, horror fanatic, and runs a few websites including Horror Tree!