Tor Books And Den Of Geek Are Bringing Us An Author Roundtable For A 'Night of the Living Dead' Screening!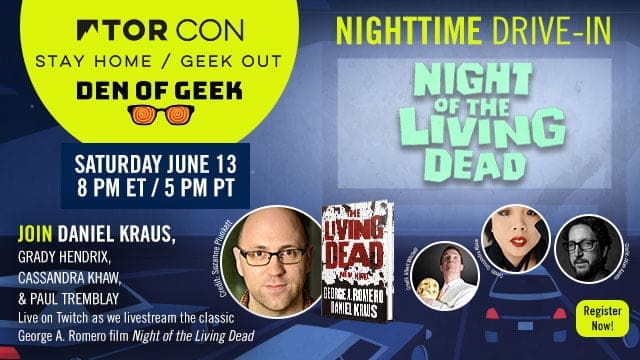 Fans of George A. Romero's undead legacy are in for a treat on June 12th, 2020 at 8:00pm EDT. Tor Books And Den of Geek have teamed up to deliver an exclusive screening of the iconic 'Night of the Living Dead' online. Not only that, but Romero's co-author Daniel Kraus will be hosting the event. Joining him are authors Grady Hendrix, Cassandra Khaw, and Paul Tremblay who will be sharing their own thoughts and commentary on the film. For those unfamiliar with Kraus's work, he completed work on Romero's 'The Living Dead' which is a new novel coming out from TOR on August 4th, 2020.
"The screening and discussion will be streamed live on Den of Geek's Twitch channel with lots of extra surprises in store. Fans will have the opportunity to join in the chat discussion during and following the film. "
If you're planning on seeing these authors thoughts on the matter and potentially submitting your own questions to the panel you can register for the event on eventbrite as part of the virtual TORCon.
About the Author
Latest Posts
Stuart Conover is a father, husband, published author, blogger, geek, entrepreneur, horror fanatic, and runs a few websites including Horror Tree!