Epeolatry Book Review: Reunion Special by Carson Winter


Disclosure:
Our reviews may contain affiliate links. If you purchase something through the links in this article we may receive a small commission or referral fee. This happens without any additional cost to you.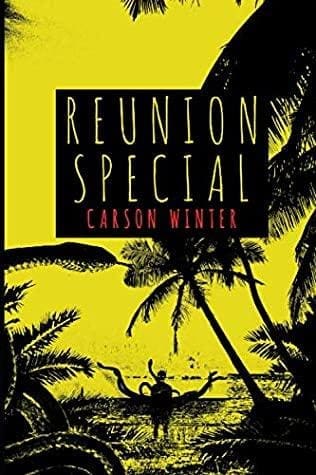 Title: Reunion Special
Author: Carson Winter
Genre: Horror
Publisher: Independent
Release Date: 14th October, 2020
Synopsis: No one's ever seen "Deserted". But people talk about it.

The "reality television event that never was" crashed before it ever took off. Now, all that survives is snippets—images of contestants staring off into space, the heads of snakes peering out from the backs of their throats. Eighteen years later, host Edgar Reyes invites them back to the island for a reunion special. But as the truth begins to slither out, the host and contestants question who's really pulling their strings.
I've never really cared for most reality television. I mean, I love The Great British Baking Show and Kitchen Nightmares, and occasionally something like American Ninja. But, not most of the others, like singing and dancing competitions. And, every year there seems to be a new—even more bonkers than the last—dating reality show.
Not to mention the show that kicked off all the fervor for the reality show craze: Survivor.
I understand how it drew an audience (drama, scenery, scantily clad twenty-somethings, hijinks), but I could never stomach how fake everything seemed. I've always wondered what would happen if  real "bad stuff" started happening to the contestants. Like, Jimmy's body washes up on the beach, but the producers decide to keep rolling and not call the authorities.
Guess what! Carson Winter delivered on this morbid curiosity with his book, Reunion Special. In his story, the Survivors of a gameshow never aired, and then get back together on another deserted island. An eerie feeling moves throughout the tale, that something is not right about this production.
Reading Reunion Special gave me the same sort of willies I got from creepy pastas years ago. And hint by hint, Carson leads us deeper in the secrets behind the production of the lost series. He captures the same surreal experience of stories like Crystal Cove, which dug into my brain and resurfaced in a nightmare. Within this original and capital-W weird situation, the author created perfectly placed visceral scares, and well-crafted and believable characters.
I highly recommend checking out Carson's novel. You won't be disappointed. Oh, I'm now more afraid of snakes. (Thanks Carson. 😊)


 out of 5 ravens.
About the Author
Latest Posts
Joe lives with his wife and son in the Pacific Northwest where the Cascade Mountains meet the Salish Sea. He enjoys writing in the weird, horror, and fantasy genres.
Growing up he enjoyed R. L. Stine's Goosebumps books as well as classics like Dune, and Lord of the Rings. In college he discovered Stephen King, and later Mark Danielewski's House of Leaves and authors like Clive Barker and Laird Barron.
Joe's short story, 'Gustav Floats', was published in Dim Shores Presents Volume 2. In the spring of 2021 his story, 'The Pigeon Lied' comes out in Howls From Hell.
You can follow Joe on the following social media sites:
Twitter, Good Reads, Facebook, and Instagram!