Epeolatry Book Review: Screams From the Dark, edited by Ellen Datlow


Disclosure:
Our reviews may contain affiliate links. If you purchase something through the links in this article we may receive a small commission or referral fee. This happens without any additional cost to you.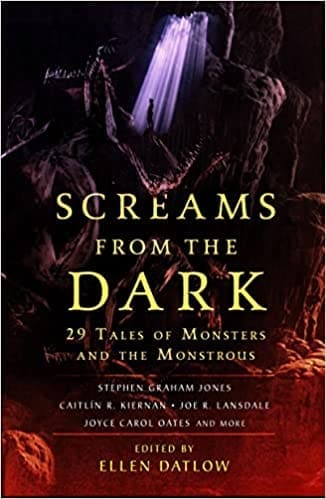 Title: Screams from the Dark: 29 Tales of Monsters and the Monstrous
Editor: Ellen Datlow
Publisher: Tor Nightfire
Genre: Horror
Release Date:7th, June, 2022
Synopsis: A bone-chilling anthology from legendary horror editor, Ellen Datlow, Screams from the Dark contains twenty-nine all-original tales about monsters.
From werewolves and vampires, to demons and aliens, the monster is one of the most recognizable figures in horror. But what makes something, or someone, monstrous?
Award-winning and up-and-coming authors like Richard Kadrey, Cassandra Khaw, Indrapramit Das, Priya Sharma, and more attempt to answer this question. These all-new stories range from traditional to modern, from mainstream to literary, from familiar monsters to the unknown … and unimaginable.
This chilling collection has something to please―and terrify―everyone, so lock your doors, hide under your covers, and try not to scream.
Contributors include: Ian Rogers, Fran Wilde, Gemma Files, Daryl Gregory, Priya Sharma, Brian Hodge, Joyce Carol Oates, Indrapramit Das, Siobhan Carroll, Richard Kadrey, Norman Partridge, Garry Kilworth, Caitlín R. Kiernan, Chikodili Emelumadu, Glen Hirshberg, A. C. Wise, Stephen Graham Jones, Kaaron Warren, Livia Llewellyn, Carole Johnstone, Margo Lanagan, Joe R. Lansdale, Brian Evenson, Nathan Ballingrud, Cassandra Khaw, Laird Barron, Kristi DeMeester, Jeffrey Ford, and John Langan.
What an absolutely delightful collection of dark stories. This should come as no surprise to anyone familiar with Ellen Datlow's anthologies. She always puts out some of the best in the business (and I'm not just talking about her Best of anthologies each year either!) This anthology contains works by some of the best and upcoming authors of today, such as Joyce Carol Oates, Caitlín R. Kiernan, Gemma Files, Stephen Graham Jones, Joe R. Lansdale, Laird Barron, and so many more! (With so many talented authors in the book, it is hard to pick which stories were my favorites in this mix.)
The theme of this anthology is monsters. Not just monsters in general but a deep dive into what monsters are and what they mean to us. The collection features not only some of the iconic creatures such as ghosts and vampires but also visits both original creations and monsters from around the globe who are not featured often in western culture, giving them a fresh breath of air as new audiences will discover who they are and what makes them tick. Moving past this, we also see other monsters to humanity on the whole such as ecological disasters and plagues, which both felt like quite timely stories after the past few years. 
I always will admit to being biased towards stories that take place in my state, so have to say that I truly enjoyed Ian Rogers' "You Have What I Need" as one of my favorites. He brilliantly mixes in both Chicago and vampires in a way that felt natural and was a fun read on top of that. I have one 'complaint' about this one (which is often a complaint about short stories) is that I wanted to know even more about these characters and the world we were reading about! 
Gemma Files nails it with "Wet Red Grin" and ups the gore to a level that wasn't included in the first couple of shorts. Gemma gives us a set of interesting characters and while I can't say that I loved any of them, I did love reading about them! 
I did mention that there were original monsters in this one as well and "Flaming Teeth" by Garry Kilworth may have delivered my favorite one! I'm going to be vague here because you really need to experience this one without any spoilers. 
Another stand out was Stephen Graham Jones' inclusion of "Children of the Night". I will embarrassingly admit that I've only started reading Jones' work this year (and slowly as I have a TBR pile that I'm behind on for reviews) and can't get enough. If I didn't need to get these reviews written, I guarantee you I would likely be finishing his body of work straight through and highly recommend picking it up! This story is another example of why Jones is such a talented author.
There are plenty of others worth mentioning as well though if I kept going I would likely praise the vast majority of these stories. Needless to say, the 'weakest links' in this anthology are still stories that you will absolutely find enjoyment in and none felt like filler.
Screams From the Dark delivers 29 original tales of monsters, each of which gives us a unique take at the creatures that go bump in the night!

/5
About the Author
Latest Posts
Stuart Conover is a father, husband, published author, blogger, geek, entrepreneur, horror fanatic, and runs a few websites including Horror Tree!