WiHM 12 – Quick Six Questions With R.L. Merrill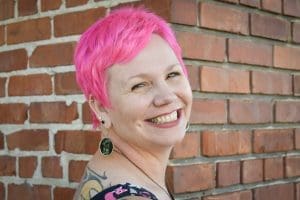 1. Welcome to The Horror Tree, and thank you for participating in Women In Horror Month. First, tell us a bit about yourself and your interest in horror. 
My love of horror goes back to nights I'd sneak out of bed after my mom went to sleep and watch Creature Features with my stepdad. I graduated to daily walks up to the local video rental store the summer we got our first VCR, and by high school I was reading Stephen King and convincing my English teacher that it was perfectly acceptable for my essay-writing practice. About twelve years ago I started writing what would become my first paranormal romance/supernatural suspense novel and I was hooked. Since then I've been published in contemporary and paranormal romance and horror. I write inclusive stories featuring quirky—often creepy—and relatable characters full of hope, love, and rock 'n' roll. Even the contemporary romances flirt with horror. I love showing my macabre side whenever possible.
2. Why is Women In Horror Month important, and what do you say to someone who says 'Oh, I don't care if it's by a man, a woman, etc., as long as it's a good story'?"
Horror has long been considered to be too harsh for the gentle lady's discerning taste. I call bullshit. While I agree that anyone can write a good story, the inner machinations of the female mind can be utterly terrifying, and our stories are deserving of respect. I love a good spin on a classic fright or a brand-new creation, and there's nothing more satisfying than seeing women triumph over evil. There's just something empowering about channeling our frustrations into ghoulish and ghastly adventures where we're in control of our own destiny.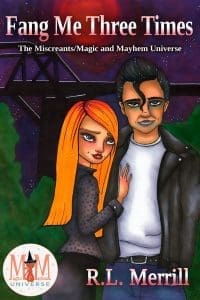 3. Who are some Women In Horror (or other women) who have influenced your work, and why?
I was lucky to find a local tribe of women through HorrorAddicts.net that love the dark side as much as I do. We've participated in a few readings at the San Mateo Public Library where I've heard Emerian Rich, Sumiko Saulson, E.M. Markoff, and Mercy Hollow read deliciously sinister stories that had me on the edge of my seat. Beyond that, I'm grateful to Mary Shelley for creating my favorite creature, Frankenstein's Monster, and to Anne Rice for combining history, drama, and lore with love and horror in her Vampire Chronicles and The Mayfair Witches stories. 
4. 2020 will probably be remembered as a TERRIBLE year for many of us; tell me something GOOD that happened in the past 12 months.
I had such big plans for 2020! I was going to do three horror conventions in Northern California with my gal pals, but alas, it wasn't meant to be. But I found solace in horror this past year like I haven't in a long time. I subscribed to Shudder and attended the online version of the Salem Horror Fest. I watched a ton of great horror films like Host, Spiral, and The Mortuary Collection, which were fresh, diverse, and unexpected treats during a really dark time! I also wrote an homage to my horror hero, Edgar Allan Poe, called "The House Must Fall," which will be featured in this spring's gothic horror collection, Haunts and Hellions, from HorrorAddicts.net Press. I also had a flash fiction story called "Human Sacrifice" be chosen for publication in Queer Sci Fi's Annual Flash Fiction Collection titled Innovation. Writing these stories stretched me as an author and I can't wait to write more!
5. What have you got planned for Women in Horror Month, and the coming months of 2021? 
When I'm not writing fiction, I write music reviews and recommendations for HorrorAddicts.net, and for Women in Horror month, I wrote a piece called Women in Metal. It features musicians and artists in today's metal world who infuse their love of horror into their lyrics and the imagery in their videos. I've been a metal fan for as long as I've loved horror, and for me they are forever intertwined. It's a marriage of the best kind, combining sound and vision into the sweetest creation imaginable complete with blood, lust, and darkness. What more could you want out of life?
6. Is there anything else you'd like to tell our readers? Thanks for participating in Women in Horror Month! 
I love connecting with fellow lovers of horror and sharing recommendations and I'd love to extend an invitation to visit my brand of Rock 'n' Romance for your reading pleasure. Besides the gothic horror anthology this Spring I'll also be releasing the next installment of my supernatural suspense series in late summer and I'll be releasing the next wacky paranormal romance as part of Robyn Peterman's Magic and Mayhem Universe in October in time for Halloween. You can subscribe to my website at www.rlmerrillauthor.com for blog posts and monthly newsletter or follow me on the socials @rlmerrillauthor. Thanks for spreading the horror love and inviting me to play!
About the Author
Latest Posts
Selene MacLeod is a night operator and sometime writing hobbyist. She holds a BA in Communications from Wilfrid Laurier University and resides in Kitchener, Ontario. Her work has appeared in several horror and crime fiction anthologies, most recently Shotgun Honey, Drag Noir (Fox Spirit Books); and the upcoming Freakshow: Freakishly Fascinating Tales of Mystery and Suspense (Copper Pen Press), and Tragedy Queens (Clash Media).She's most excited about editing a charity anthology for Nocturnicorn Books called Anthem: A Tribute to Leonard Cohen, due out late 2017.