Trembling With Fear Christmas 2022 Edition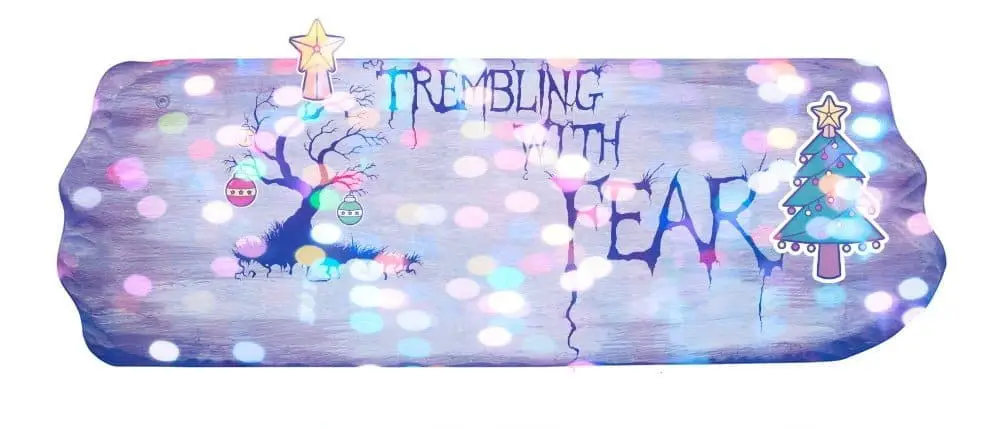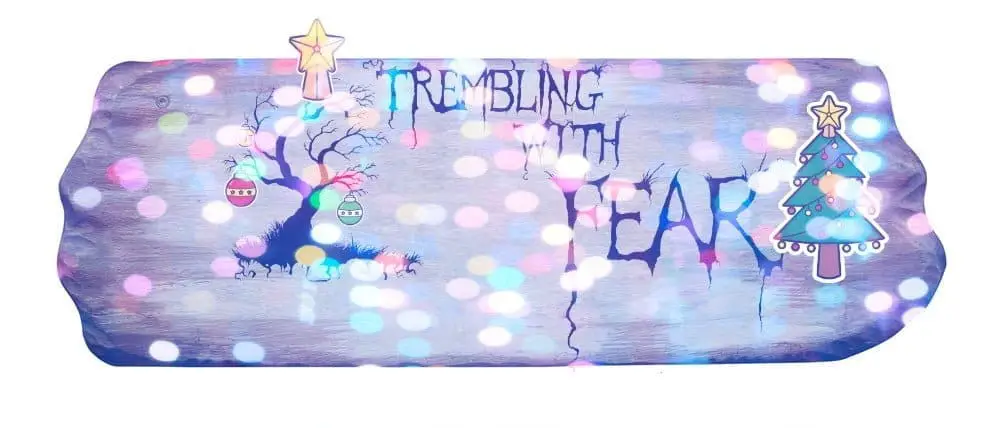 While Krampus has been busy taking care of misbehaving children, Saint Nick and his elves have been working hard to collect drabbles and stories for this year's Trembling with Fear: Christmas Special. For those who made it to the Nice list, we have several holiday haunted holiday tales for you to read. For those who made it to St. Nick's Naughty list… well, Krampus will be seeing you soon.
I'd also like to announce that I will be stepping down from my role as editor on The Horror Tree's Specials, Unholy Trinity, and Serials. It's been a pleasure meeting new authors and making new writing friends. I've quite enjoyed my time working with Stuart, Steph, and Laura. This decision has not come easy but don't worry, I'll be back one day!
Wishing you a happy holiday and a prosperous new year!
All the best,
Amanda Headlee
Happy Howlidays one and all!
Unfortunately, Krampus did come early and is taking Amanda Headlee away from us for the time being. In the coming month, we'll be announcing who Santa Claws delivered to fill her shoes! Things are already decided and we just want to do a proper introduction.
This Holiday Special is a little lighter than usual as we have more of a focus on drabbles, though just as enjoyable to read and I hope that you enjoy all of the tales within! 
Stuart Conover


A Very Harold Christmas
Harold bustled around the house, filled with holiday spirit, singing the "fa la la las" as he readied his Christmas dinner.
"And, for this holiday, a special treat," he mused, giggling to himself.
Sitting down to his warm sumptuous meal, Harold took a moment to admire the severed head centerpiece, "Perfection."
His cup was filled with mulled wine and human spines were hung to dry by the chimney; the house was heavy with the scent of decay.
"I'll wait for Santa," he began. The trap was set, Harold delighting in the capture and subsequent torture of such a jolly man.
Jessica Gleason
Jessica Gleason is a writer, reader, professor, and an all-around weirdo. She loves horror and fantasy in their various shapes and forms, sometimes sleeps in a Star Trek uniform, and sings a mean hair metal karaoke. Gleason has been a college English professor since 2008, has three published books and was nominated for "Best of The Net" by Punk Monk in 2022. Her recent and upcoming work can be found in "Hear Us Scream: The Voices of Horror Vol. 2," "Dracula Beyond Stoker: Dracula" and "Tales from The Moonlit Path." For daily updates, please follow her on Instagram (@j.g.writes).
Faery Christmas Cheer
Traditions became outdated. Ceremonies neglected. None of us remembered our bargain with the Faeries.
In autumn, vibrant green and berry-laden mistletoe stifled the fruit trees in our orchards, hobbling our livelihoods. We didn't understand it was a sign of their displeasure.
Their gleeful procession appeared on Christmas Eve. Dancing out of crow-silent woods, their ancient and macabre jollity flooded our electric streets. 
After the parade, they stayed. Christmas trees were thrown to the ground, sparkling lights torn from the eaves. Puddings overboiled, and poisonous mistletoe squatted under every staircase.
Now, every year, vengeful Faeries punish us with their Christmas cheer.
Ashley Coxon
Ash Coxon is a Fiction Writer and Copywriter. A recovering IT consultant, Ash channels his creative energies into drabbles and short stories. He dreams of one day writing a major fantasy epic. When he's not writing, he reads, hikes, and cooks South Asian food.
Memories of Christmas Past
See, darling, everyone remembers a certain smell from their childhood they associate with Christmas.
I was five years old. Christmas Eve. My single mother was passed out from too much alcohol. 
Santa knocked. I let him in. 
Okay, it wasn't Santa. The guy killed mum with a knife. Slashed her belly and left the stinking guts exposed before he left.
For four whole days I was happily home alone, able to do what I wanted, eat what I found, without fear of being beaten or yelled at.
I know the knife hurts, darling. But you asked what I wished for. 
Andreas Flögel
Andreas Flögel writes short stories in various genres. His fiction is usually found in German magazines and anthologies. On occasion, he also writes drabbles in English. Some of them have even been published by Black Hare Press and Flash Point SF.
Website: http://www.dr-dings.de
Tree
The huge tree is in the corner, wrapped tightly in the net, waiting. Children run around, clutching tinsel and baubles, desperate to help. Mum has the scissors, but Dad insists she stands back – he will release the branches. 
Inside, it waits. 
He snips the plastic, working from the top. The first branches spring free, and the netting stretches tightly. He scythes through, releasing more of the tree which seems to shimmy as the branches settle. He pulls the net down until only the last section remains. 
He cuts. 
The tree is free. 
For a second it relaxes, then it pounces.
Sue Ransom
Sue Ransom is an author based in Chichester the UK. She used to have a completely different life, but she wrote her first novel, Small Blue Thing, as a birthday present for her daughter, and things snowballed from there. Four published books later, she is now a full time writer, concentrating on thrillers for adults and ghost writing memoirs.
Twitter: @SCRansom
http://www.sueransom.com
Forked Tongue
Inside the gloomy grotto, Santa waited with his blood-red coat.
Hoisted onto his boney knee and then left alone, I had no choice but to go along with the 'magic'. He smelled of candy, and while his eyes twinkled, his arms hung motionless. 
"Are you on Santa's nice list this year?"
I smiled. "Yep, I've been good."
"My tongue says you're lying."
 From out of his white, curly beard, his saliva-coated tongue slithered. It uncurled, lolling wet taste buds, before constricting round my trembling torso. 
My pleaful cries dimmed as his devilish tongue tightened in warning.
"Now, let's try again…"   
Corinne Pollard
Corinne Pollard is a new disabled horror writer from West Yorkshire, UK with published works in Sirens Call eZine and Trembling with Fear. With a degree in English Lit and Creative Writing, Corinne has always enjoyed the world of dark fantasy. Aside from writing, Corinne enjoys metal music, visits to graveyards and shopping for books to read. 
The Christmas Party
Hard to believe that these shambles a few hours earlier had been pristine legal offices. Now party popper streamers carpeted the floor, whilst tinsel hung limply from the ceiling. Previously glaring gaudy decorations seemed to have lost their sparkle in the aftermath. Wherever the detective tentatively stepped, there was a crunching of glass.
"No one saw them leave and nothing on CCTV?"
"Last seen heading down the corridor toward the mistletoe."
Sheets of contorted, terrified faces lay on the rickety tray of the photocopier in the room at the end of the forgotten corridor. The one with no electrical sockets.
Sarah Elliott
Sarah Elliott is a poet, writer and author of Warrior Wisdom Sun: poems on battle, lessons and liberation, her first self-publication (2022). After twenty-five years of teaching and encouraging others to write, Sarah herself started to write and share her work publicly. As well as continuing to work in education Sarah is also a licensed acupuncturist and values the importance of emotional self-care and wellbeing, themes often found in her writing.
Sarah is a regular contributor to the Nottingham spoken word scene and her poems have been featured in an online magazine and a poetry anthology. Sarah writes a newsletter titled A Writer's Life and has a second poetry book ready for publication in 2023.
Sarah enjoys fantasy and sci-fi and is fascinated by Tarot and astrology. Recently discovering a love for flash fiction Sarah is currently writing a collection of flash fiction for fun and maybe more.
Instagram: https://www.instagram.com/Writingforlight/
Substack: https://writingforlight.substack.com/
Medium: medium.com/@writingforlight
https://linktr.ee/Writingforlight
Scurry Down the Chimney
Dust skitters down the fireplace. Legs follow: one, four, eight. Chitinous, yesterday's vocabulary word. Shining eyes, too many, spot Lili. "I should be invisible."
"You aren't."
"Then you believe."
"In what?" Christmas is alienating. It isn't a time for belief.
"In elves. Magic."
"Elves have fangs?"
"Why are you awake? And alone?"
Lili's face warms. "My family doesn't understand things. Or me." Longing curls between the words.
"Want something different?"
Lili flexes slipper-clad toes. "Would I look like you?"
"Not appealing?"
"Please. I've always wanted an exoskeleton."
The elf extends a claw. When Lili grips it, her entire life explodes.
Breanne Boland
Breanne Boland is a writer living in Oakland, California. A prolific writer of documentation and the one-time author of several thousand hotel descriptions, she also writes fiction and zines and has made up approximately 500 songs to sing to her cats and any other animal within earshot. She spends her days arguing with and about computers, which makes corralling fictional characters a nice break.
Links, various:
https://mastodon.social/@toxoplasmosis
breanneboland.com
deviationobligatoire.com
About the Author
Latest Posts
Born with a love of scary stories and folklore, Amanda Headlee has spent her entire life crafting works of dark fiction. She has a fascination with the emotion of fear and believes it is the first emotion humans feel at the moment they are born. Most of her work focuses on horror associated with folklore as well as writing that would fall into the category of "cosmic horror" — the fear of humanity's insignificance in the vastness of the universe.
By day Amanda is an Information Services Program Manager; by night she is a wandering wonderer. When she isn't writing or working, she can be found logging insane miles on her bike or running the back country of Pennsylvania. She's one of those crazy people who competes in long distance endurance races. She is inspired by the works of Shirley Jackson, Flannery O'Connor, Margaret Atwood, H.P. Lovecraft, and Joyce Carol Oates — all who write terrifying tales of their own.
Amanda keeps a blog of her writing, wondering, and wandering experiences at www.amandaheadlee.com. Follow her on Facebook, Twitter, and Instagram.