Epeolatry Book Review: Unquiet Spirits: Essays by Asian Women in Horror ed. Lee Murray and Angela Yuriko Smith


Disclosure:
Our reviews may contain affiliate links. If you purchase something through the links in this article we may receive a small commission or referral fee. This happens without any additional cost to you.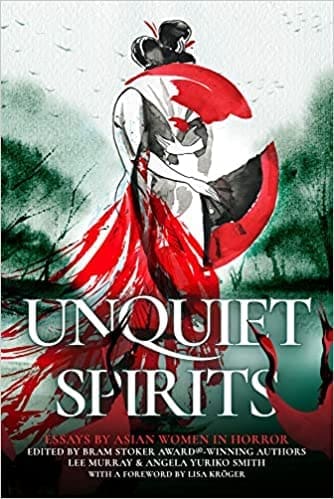 Title: Unquiet Spirits: Essays by Asian Women in Horror
Author: Various, ed. Lee Murray and Angela Yuriko Smith
Publisher: Black Spot Books
Genre: Non-fiction
Release Date: 14th February, 2023
Synopsis: From hungry ghosts, vampiric babies, and shapeshifting fox spirits to the avenging White Lady of urban legend, for generations, Asian women's roles have been shaped and defined through myth and story. In Unquiet Spirits, Asian writers of horror reflect on the impact of superstition, spirits, and the supernatural in this unique collection of 21 personal essays exploring themes of otherness, identity, expectation, duty, and loss, and leading, ultimately, to understanding and empowerment.
Raw, emotional, honest, and empowering, Unquiet Spirits: Essays by Asian Women in Horror, is the climax to a three-part series of anthologies. The essays delve into various topics and chronicle the life experiences of Asian women authors within the horror genre. 
This third installment explores the authors' feelings of 'otherness' to honor their ancestry and rejects traditions that are expected of them by culture and society. First, Black Cranes: Tales of Unquiet Women was released in 2020 as a stunningly haunted and sorrowful anthology of short fiction. Then, in 2021, came Tortured Willows: Bent. Bowed. Unbroken, which further explored societal roles and cultural responsibilities, family and love, self-reflection, and barriers for women of Asian heritage through the lyricism of poetry. Coming in February 2023, Unquiet Spirits: Essays by Asian Women in Horror will take us to a new place, a place more personal and intimate with many of the same authors from the prior compilations. These non-fiction essays expose the authors' ambition and hunger to search for their identity. 
I've been honored to have the opportunity to review all three works for The Horror Tree. Unquiet Spirits: Essays by Asian Women in Horror is like the third act in a play that perfectly rounds out the messages and awareness the authors raise—especially within the horror industry. 
Unquiet Spirits opens with a foreword by Lisa Kröger. Though Lisa is a non-Asian woman, her opening words echo what I believe most women will think after they read all three books: We hear you and we see you. We support you as you continue to roar loudly, to sing your songs, to be unquiet.
The first essay, by Lee Murray, includes a quote that summarizes the writings: "Why does this happen? Why must we fight even in the afterlife to know our womanhood? To be free?" – K.P. Kulski
Murray writes of the displacement of unquiet ghosts and ancestors because traditions are progressing with modern times. As such, this question is asked: are ancestral ghosts displaced because of diaspora? 
"Though I walk in another realm, let me write to you of a new world, a world without walls, in which no woman hungers." – Lee Murray
Murray was raised in a new land and followed new traditions where Eve no longer continually bent to Adam's control. New traditions where once daily prayer rituals to ancestors evolved, and now honor deceased relatives mostly through reflection and memories. 
Her essay sets the tone for the ones that follow as the authors explore their ancestry, their identity, and their ghost stories. They hunger for answers and direction. 
The essays continue with Celine Murray. She employs a fox demon to demonstrate an existence dependent upon her ability to balance the lines between the human world and spirit realm, identity and 'otherness', to exist as a being that acts without malevolence but is often misunderstood.  
Within the pages of Unquiet Spirits, we once more have the pleasurable experience to read from Rena Mason, Angela Yukiro Smith, and Geneve Flynn, whose non-fiction voices are as lyrical as their fictional ones. 
As the prose continues, we learn of ghosts and demons born from tormented souls. Of spirits who hunger for retribution and will continue haunting until their never-ending hunger is satiated. We learn how these spirits came to be invisible in the world when alive and continue to be unseen in death. This is a book about the consequences of unsatisfied hungry ghosts, and how the authors live to ensure they do not end up with the same fate. The answer: To be visible, one must be unquiet.
For these women authors, writing becomes their primary outlet to unquiet their voices—and my oh my, how their words beautifully roar. 


/5
About the Author
Latest Posts
Born with a love of scary stories and folklore, Amanda Headlee has spent her entire life crafting works of dark fiction. She has a fascination with the emotion of fear and believes it is the first emotion humans feel at the moment they are born. Most of her work focuses on horror associated with folklore as well as writing that would fall into the category of "cosmic horror" — the fear of humanity's insignificance in the vastness of the universe.
By day Amanda is an Information Services Program Manager; by night she is a wandering wonderer. When she isn't writing or working, she can be found logging insane miles on her bike or running the back country of Pennsylvania. She's one of those crazy people who competes in long distance endurance races. She is inspired by the works of Shirley Jackson, Flannery O'Connor, Margaret Atwood, H.P. Lovecraft, and Joyce Carol Oates — all who write terrifying tales of their own.
Amanda keeps a blog of her writing, wondering, and wandering experiences at www.amandaheadlee.com. Follow her on Facebook, Twitter, and Instagram.