Epeolatry Book Review: When Things Get Dark edited by Ellen Datlow


Disclosure:
Our reviews may contain affiliate links. If you purchase something through the links in this article we may receive a small commission or referral fee. This happens without any additional cost to you.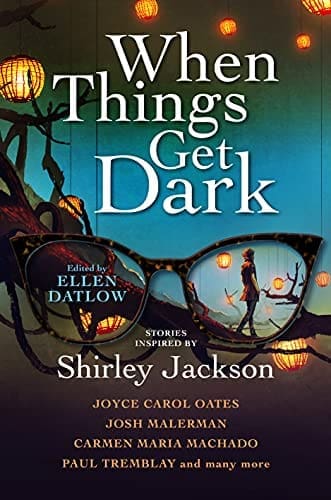 Title: When Things Get Dark
Editor: Ellen Datlow
Genre: Horror
Publisher: Titan Books
Release Date: October 12, 2021
Synopsis: A chilling anthology in tribute to the genius of Shirley Jackson, collecting today's best horror writers. Featuring Joyce Carol Oates, Josh Malerman, Paul Tremblay, Richard Kadrey, Stephen Graham Jones, Elizabeth Hand and more.
  
A collection of new and exclusive short stories inspired by, and in tribute to, Shirley Jackson.
Shirley Jackson is a seminal writer of horror and mystery fiction, whose legacy resonates globally today. Chilling, human, poignant and strange, her stories have inspired a generation of writers and readers.
This anthology, edited by legendary horror editor Ellen Datlow, will bring together today's leading horror writers to offer their own personal tribute to the work of Shirley Jackson.
Featuring Joyce Carol Oates, Josh Malerman, Carmen Maria Machado, Paul Tremblay, Richard Kadrey, Stephen Graham Jones, Elizabeth Hand, Kelly Link, Cassandra Khaw, Karen Heuler, Benjamin Percy, John Langan, Laird Barron, Jeffrey Ford, M. Rickert, Seanan McGuire, Gemma Files, and Genevieve Valentine.
Shirley Jackson ,one of the more famous and influential authors of the twentieth century, is the inspiration for the latest anthology edited by distinguished, widely known editor Ellen Datlow.
The volume assembles eighteen brand new storie penned by writers attempting to recreate,somehow, the atmospheres and the themes of Jackson's fictional work.
I won't pretend to be so well acquainted with that author's body of work, to be able to detect echoes of her stories and novels in each tale featured in the present book. Thus I will simply judge these new stories as they are on the basis of their intrinsic value.
Here's my personal list of favorites.
"For Sale by Owner" by Elizabeth Hand is an excellent, perceptive story revolving around an empty cabin in the woods, where three women decide to spend a night, while Karen Heuler's
"Money of the Dead" is an off beat tale where dead people are called back by their relatives or friends only to disappoint and hurt their callers.
"Take Me, I Am Free" by Joyce Carol Oates is a very short, quite disturbing piece about the difficult relationship between a mother and her little girl. The last line will give you the creeps.
The strong, vivid " Hag" by Benjamin Percy takes place in a forsaken island surrounded by a voracious sea demanding human nourishment, while the quite enjoyable "A Trip to Paris" by Richard Kadrey portrays an apparently nice lady hiding terrible secrets.
In "Refinery Road" by the prolific Stephen Graham Jones past family tragedies return to haunt the present, and in the superb " The Door in the Fence" by the always dependable Jeffrey Ford an old woman undergoes an astonishing transformation due to the tainted water from  her garden.
To me the highlight of the volume is the absolutely outstanding "Skinder's Veil" by Kelly Link, a mesmerizing,unforgettable sort of long, dark fable.
Other contributors are : M. Rickert, Seanan McGuire, Carmen Maria Machado, Cassandra Khaw, John Langan, Paul Tremblay, Gemma Files, Josh Malerman, Genevieve Valentine, Laird Barron.
In short, another great anthology assembled by Ellen Datlow.
About the Author
Latest Posts
Mario Guslandi was born in Milan, Italy, where he currently lives. A long time fan of dark fiction (especially short stories)he's probably the only Italian who reviews horror and supernatural tales in English. Over the years his reviews have appeared in many genre sites such as Horrorworld, The British Fantasy Society, Hellnotes, Emerald City, SF Revu, Thirteen O' Clock, etc.