December 2022 Horoscopes: By the Light of the Flickering…FLIR!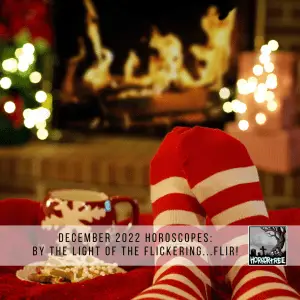 While many this time of year (well, depending on what hemisphere you're in) may be dreaming of a tropical vacation, I've always wanted to experience a magical "Winter Wonderland" getaway! But it wouldn't be a set of Horror Tree horoscopes if I didn't add in some charmingly haunted locales to visit over the holidays. Read on to find out where you'll seek out the spirits during this festive season!
Disclaimer: As always, these horoscopes are mock horoscopes and are meant for entertainment purposes only. I can't account for the ghosts you'll encounter, though!
Sagittarius (November 22 – December 21). Sagittarius will probably relish the chance to take a break from their more serious-minded (and non-stop) travel itinerary by laying over at the quirky Brookdale Lodge in Brookdale, California, which offers plenty of live music options, and maybe even a painting class! As the lodge is surrounded by the Santa Cruz Mountains, it can get a little frosty at night, but it probably won't be cold enough to interfere with the archer's passion for traveling light. Unless, of course, they encounter the ghost of the young girl that drowned as they wander around the nature trails. Baby, it's cold in here! Sagittarius may wish they'd brought a heavier coat when the Brookdale Lodge haints make a chilly appearance, but they'll quickly warm up with a suitably seasonal mulled wine.
 Capricorn (December 22—January 19. While the University Inn and Resort in Gooding, Idaho, states it is "A Fun Place to Stay", the draw for our busy-bee Capricorn will be the plethora of those fun activities they can engage in while on their vacation at this former school. Hiking! History! Sightseeing galore! Heck, there's even golf! The Capricorn will blissfully never have a moment's rest with all the activities in the area surrounding the inn. (It'll be our secret, I promise, Capricorn, that you actually spent your stay doing nothing but soaking in the nearby hot springs and binge-watching heartwarming holiday movies.) Unfortunately, the noise from the TV drowned out the very talkative crowd of ghosts that have been in residence ever since the inn was a tuberculosis hospital. Baby, it's cold in here! Always the prepared sort, Capricorn will have brought all the fixings to have cup after cup of steaming Irish coffee—down to the coffee beans that are their favorite, their coffee grinder from home, and a fine Irish whiskey.
Aquarius (January 20—February 18). At the Shanley Hotel in Napanoch, New York, the dedicated Aquarius can get down to the business of contacting the departed souls that are in residence. Not only has the hotel had a long and documented history of haunting, it offers a private investigation package for parties up to 34 people. The Aquarius will immediately invite all of their friends and family to join them on this unique holiday vacation, as long as they come equipped with paranormal investigation tools and a respectful attitude. Plus, from the hotel's website events page, they'll be plenty of time for festive holiday fun, with things like the masquerade party the hotel hosts on December 31 of this year. Baby, it's cold in here! During the private investigation itself, there's specific rules in place that might be discouraging to the adventurous Aquarius who is open to any and all methods that help them enter into other dimensions, so they'll have to rely on piping hot cups of apple cider to ward any spectral chills.
Pisces (February 19—March 20). Dreamy Pisces will be enamored of the Hotel Baker in St. Charles, Illinois, and not just because of the legend of the chambermaid who drowned herself in the Fox River after she was jilted by her lover. It's said you can still hear her despair as she continues to haunt the hotel. Even without this tragic love story, the hotel is romantic enough to fulfill Pisces' every wish. It's been the site of many a lovely wedding, and Pisces has their choice of luxurious and elegant rooms to choose from, including spa rooms. And, who would resist the charming "Breakfast with Santa" event that will restore their gentle spirits after a night spent with, well, the spirits! Baby, it's cold in here! A nice warm brandy will help the Pisces channel the old-world energy they need to make contact with the tragic souls that drift through the halls and rooms of the hotel.
Aries (March 20—April 19). Aries could throw a tire iron and hit a historic hotel with a notoriously checkered and violent history. I chose a hotel for Aries that not only had such a history amidst the backdrop of the Wild West, it's one that I've stayed in. The St. James Hotel in Cimarron, New Mexico, has since been expanded, but back in the day, it hosted guests such as Wyatt Earp, Buffalo Bill Cody, Annie Oakley, Jesse James, and Black Jack Ketchum. The dining room has many (or did) of the original bullet holes from the shoot outs/murders that took place there. I stayed in Mary Lambert's room, which was next door to the room that is permanently locked due to, as the hotel owner told me, the high level of paranormal activity there. I scoffed at this, but I will say that I was awakened during the night by an extremely loud bang that shook the bed. I jumped up in one flying leap (I'm kinda old and creaky, so this was nearly improbable) and landed on my feet. After I got over the shock, I ran over and turned the light on and discovered that my travel bag that was on top of the dresser had fallen (been thrown?) to the middle of the floor with such force that not only was my stuff scattered all over the room, I also had to crawl under the double bed and retrieve my items from the far corners. So, there you have it, Aries, plenty of fighting fun to be had at this hotel for the holidays! Baby, it's cold in here! A very strong hot toddy. With extra whiskey. And a paranormal bar brawl as a chaser.
Taurus (April 20—May 20). There's a hotel in Lawrence, Kansas, where the main resident ghost (and former owner) Colonel Eldridge is still hard at work looking after the place. The stories claim that he often interacts with objects in the rooms, although he dedicates the most attention to room number 506. Taurus will be delighted to visit a hotel where the hotel owner is still hard at work being a conscientious host and catering to his guests' needs all the way from the beyond. To the oft-domestic-minded Taurus, Colonel Eldridge is the epitome of the holiday spirit, and they can only hope they will be a gracious guest in return! However, with the cozy charm of the twinkling lights, the simple joy of the Lawrence Old-Fashioned Christmas Parade, and the joyful visit from Santa at the Eldridge itself, the Taurus may find itself overstaying their welcome, and perhaps even becoming the hotel's permanent ghostly guest! Baby, it's cold in here!  Nothing brings holiday warmth to the traditional Taurus with a steaming cup of peppermint hot chocolate. With lots of marshmallows, of course!
Gemini (May 21—June 20). If there's one zodiac sign that will immediately sign up for a holiday vacation spent in a caboose (whether haunted or not), it'll be Gemini! So they'll love booking rooms at the Mason House Inn & Caboose Cottage, where they can have a festive paranormal investigation on site. If they're not too distracted by the fascinating history of the place (it was a stop on the Underground Railroad, for instance) and there's even gifts they can buy at the inn to surprise their friends and family back home. (Or if they forgot to buy gifts before they left!) While the Gemini is waiting for the ghost hunting to start, there's plenty of other activities that can keep the chimerical sign entertained—canoeing, wine tours, and more! And, according to the journal on the website, there's plenty of ghosts for them to meet—everyone from Civil War soldiers to hospital patients and even a ghost dog. Baby, it's cold in here! Gemini can be found sipping on warm eggnog, to which they've added a variety of unusual flavors!
Cancer (June 21—July 22). Upon first look at the photos of the Crescent Hotel & Spa in Eureka Springs, Arkansas, Cancer will be determined to visit there. Such a façade screams the old-world drama that Cancer loves, and they can't wait to have an up-close-and-personal encounter with the troubled spirits that inhabit this glamorous location. As soon as they arrive, Cancer's out on the on the balcony of their room, imagining all the intrigue and secrets and the ghosts both real and fictional that could have spent time here. They may be so impatient that they wonder why most paranormal investigations have to be conducted at night. To the Cancer's perhaps unexpected delight, there's plenty of the other sort of holiday spirit going around…sleigh rides, ice skating, a decorated holiday tree forest…and suddenly, they realize why this place has so many of the other sort of spirits that linger…who would ever want to leave this magically spooky place? Baby, it's cold in here!  Cancer will slowly savor their new favorite winter drink—hot buttered rum—as night, and perhaps even a light snow, begins to fall.
Leo (July 23—August 22). The Leo, like the Cancer, discovers its new holiday home away from home—the Elms of Excelsior Springs, Missouri. This hotel and spa is much more than a pretty face—it's as fierce and proud as the Leo themselves. Falling victim to multiple fires, the Elms is resurrected from the ashes each time, and arises bigger, better, and more elegant than before. In its heyday, it attracted a number well-known (and very wealthy) people and, although there's no official confirmation that former guests like Al Capone are among the ghosts that haunt this hotel, the hotel website does mention the paranormal investigation that was conducted by SyFy's Ghost Hunters. Leo will sign themselves up for the paranormal package, without a doubt—just as soon as they undergo the full spa treatment, followed up by a deliciously fortifying feast. Baby, it's cold in here! The Leo, being a fiery spirit, doesn't really need a warming drink to fend off the chill of the resident ghosties, so they'll stick to a suitably vintage Old Fashioned, or a few, as they leisurely enjoy their meal.
Virgo (August 23—September 22). While, admittedly, Virgos are the among the most pragmatic, practical signs of the zodiac, there's still a part of them that yearns to be in another, simpler world, even though they know perfectly well that such a romantic view of history doesn't hold up with careful scrutiny—especially not history that is under the yoke of colonialism. Still, they would like to make believe for a little while, and immerse themselves in a storybook version of the holiday season. On the surface, they'll tell themselves that they've ended up at the Colonial Inn in Concord, Massachusetts, in order to conduct a mini paranormal investigation of their own into Room 24. But, since they're there anyway, what can it hurt to dip into the sentimentalism of the season, and indulge in afternoon tea, drink up the atmosphere at the tavern-like restaurant, and wrap themselves up in the cozy holiday festivities the inn offers? And, maybe, just maybe, they'll make a new paranormal friend who sees past the Virgo's cool exterior and really "gets" them! Baby, it's cold in here!  Virgos would cherish every last drop from a pot of spicy-warm chai tea.
Libra (September 23—October 22). Libra could be said to always be seeking the balance between two disparate elements. They'll want a tropical island feel against the backdrop of winter. They're fascinated by the idea of having spirits all around them, but might hesitate to make contact with entities in case they have less-than-kind intentions. So, as soon as they read about the Tilton Inn's resident ghost, a potentially kindly twelve-year-old girl named Laura who died in one of the inn's fires, they become even more intrigued with the location, and they'll head off to New Hampshire straightaway. After the Libra books themselves into the Sanborn Room, they'll swing by the Onion Pub and Restaurant, hoping to catch a display of paranormal activity, although they might not be paying attention too much to the restaurant's environment as they dive into the more tropical side of the menu. There's plenty of time to set up their ghost-hunting equipment, isn't there? After all, they're on island time, now! Baby, it's cold in here! Libras will probably start with a Piña Colada, maybe a Mai Tai, perhaps a Margarita with salt on the rim—oh, who cares? If it has an umbrella in it, bring it over!
 Scorpio (October 23—November 21). Scorpio would love to tempt fate, and the resident ghost sheriff, at the Bullock Hotel in Deadwood, South Dakota. The hotel's website states that Sheriff Bullock (and original owner) remains on patrol through the hotel corridors, making sure that none of the current employees are slacking off. However, before they begin their investigation/ghost tour or even hitting the casino, Scorpio will scuttle off to the infamous Saloon #10 (the deathplace of Wild Bill Hickok) for a tasty bite to eat. Once the ghost tour begins, it's likely the Scorpio could cause many other unsettled spirits to crawl out of the ether's woodwork. All of which may make this unconventional sign decide they like this town even more. Who knows, you may even find them tending bar if you ever decide to pass through town yourself! Baby, it's cold in here! A Rusty Nail, what else?
About the Author
Latest Posts