WIHM 2022: An Interview With Editor Kristi Peterson Schoonover
In celebration of Women in Horror Month, we are continuing to highlight some of the amazing work that women have been doing compiling and editing magazines and story collections in the horror industry. We're continuing our Women Who Edit Interview series with Kristi Peterson Schoonover
Could you introduce yourself, and tell us a little about you?
I've been writing since I was about five years old, and my journey took me from journalism to public relations, even though short fiction was always my passion, because my dad was reading me short stories when I was tiny. Since then, I've had many of my stories published in magazines and anthologies. I've done a lot of cool things over the years—I've volunteered at two aquariums, spent many years in community theatre (on stage and off), played in a rock band … but my true heart was always in writing, and so it's really my life now. I have an MFA from Goddard College (because I wanted to grow in the craft), I'm honored to have spent a few years on the Dark Discussions film podcast (I still co-host on occasion), I've edited a few magazines and anthologies, and in 2019, I founded 34 Orchard, a dark literary journal which publishes fiction and poetry, which is going into its third year. My main hobby is scrapbooking and I enjoy reading tarot cards. My husband Nathan and I have been together for 18 years, and we enjoy board games and birdwatching.

What is (or was) the most rewarding aspect of editing an anthology, magazine, or collection?
There are a few, actually. Finding that piece of work that just rocks my world so intensely I need to send that acceptance immediately. The thrilled tone of a response when a writer accepts my offer, and the rush I get from them having said "yes." Knowing I'm about to publish something really special. Amazing correspondence with writers I've published in the past (someone I published in issue 1 and I exchange wine recommendations on a frequent basis). Working with a writer on edits and we can compromise easily if necessary. Feeling proud of each writer I've published. And pub day. There's something magical about "I just gave birth to this; where's the wine?" 
What is (or was) the worst aspect of editing an anthology, magazine, or collection?
Two things: sending out rejection letters to work that is just plain awesome, but isn't going to work for us—especially if I've worked with that person before or we're peers. The second is receiving nasty or strange responses to rejections. It's an occasional part of the job, but it's still unpleasant. 
In your opinion, what are the most important aspects of creating a collection or issue?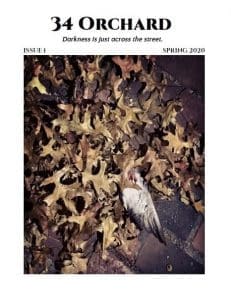 This sounds sales-esque, but that's not the intent here: creating a brand; a "vibe" to the work that's published that's uniquely your project. Something that readers can say to themselves, 'oh, I'm looking for XXX kind of experience today—XXX has the stuff I'm in the mood for." Cohesion is also important, and so is the order in which the pieces are placed. I tend to think of it not as a magazine full of random stories and poems I love, but as a piece of art, in a sense. I've often loved a work that won't "flow" with the others in an issue, and if I can't find a home for it and make an offer for an issue down the line, then I have to turn it down—which breaks my heart. It's so difficult to turn down something that's really a perfect match, but it doesn't work with the whole. But, I think readers have certain expectations when choosing to spend time with what you've created. I view it as a responsibility to do my best to deliver something that's memorable as a complete work.
Is there anything you'd like people to know about you or your work?
My dad always used to tell me that if I reached one person with my work, then I've done my job. I really hope that stories that I write—and in addition, what we publish at 34 Orchard—reaches someone, whether it's to give that person a bit of an escape, or to show them they're not alone (much of my personal writing has to do with grief, and much of what we publish at 34 Orchard has to do with the darker side of life). I founded 34 Orchard because I wanted to do for others what some of the short stories I grew up with and that I read now do for me.
If we'd like to cyber stalk you, where can we find you online?
The 34 Orchard website is www.34orchard.com. You can find me on my website at www.kristipetersenschoonover.com. I'm also on Facebook at https://www.facebook.com/kpschoonover/
Link(s) to anthology/magazine/etc. you'd like our readers to check out:
All issues of 34 Orchard: https://34orchard.com/issues/
Ink Stains, Vol. 7 (anthology I edited in 2018): http://bit.ly/inkstains7K
The Shadows Behind (my short story collection): http://bit.ly/shadowsbehind
Generation X-ed (contains my short story, "Nothing to See Here"): https://bit.ly/GetGenXed
"No Sweet Bird" (my short story just published in Crow & Cross Keys—free read): https://crowcrosskeys.com/2022/02/02/no–sweet–bird-kristi-petersen-schoonover/
About the Author
Latest Posts
Holley Cornetto was born and raised in Alabama, but now lives in New Jersey where she writes dark fantasy, horror, and weird fiction. To date, her writing appears in over a dozen magazines and anthologies. To indulge her love of books and stories, she became a librarian. She is also a writer, because the only thing better than being surrounded by stories is to create them herself. In 2021, she earned an MFA in fiction writing from Lindenwood University. She is a proud member of the Horror Writers Association.