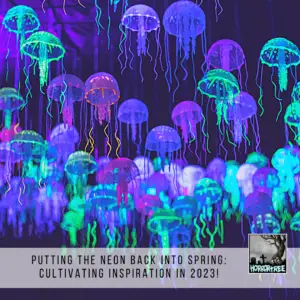 In glowing green tribute to the recent visit of the comet, C/2022 E3 (ZTF), let your creative spaces dazzle with such brightness that they, too, might be seen throughout the galaxy!
(I've also made an inspiration page over on Pinterest. Check it out here: https://www.pinterest.com/AuthorWillowCroft/2023-spring-equinox-inspiration/)
Spring Equinox (Ostara): March 20
Seasonal Symbolism: Awakening, Energy, Movement, Treasure Hunts, Discovery, Knowledge, Spiritual Quests, Activity, Intergalactic Contact, Adventure, Travel, Evolution, and Guardians such as Rabbits, Lizards, Snakes, Scorpions, Alligators, or Dragonflies.
Writing Prompt: What if your characters had to navigate a world that was suddenly plunged into darkness? Would they even survive, and if so, how would they adapt? What if your story took place on a world that had never known light and yet had a thriving society of life forms?