Putting the Neon Back into Spring: Cultivating Inspiration in 2023!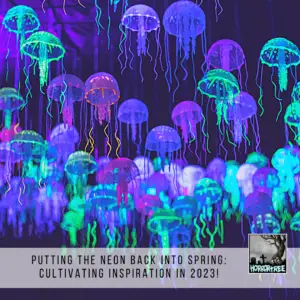 In glowing green tribute to the recent visit of the comet, C/2022 E3 (ZTF), let your creative spaces dazzle with such brightness that they, too, might be seen throughout the galaxy!
(I've also made an inspiration page over on Pinterest. Check it out here: https://www.pinterest.com/AuthorWillowCroft/2023-spring-equinox-inspiration/)
Spring Equinox (Ostara): March 20
Seasonal Symbolism: Awakening, Energy, Movement, Treasure Hunts, Discovery, Knowledge, Spiritual Quests, Activity, Intergalactic Contact, Adventure, Travel, Evolution, and Guardians such as Rabbits, Lizards, Snakes, Scorpions, Alligators, or Dragonflies.
Writing Prompt: What if your characters had to navigate a world that was suddenly plunged into darkness? Would they even survive, and if so, how would they adapt? What if your story took place on a world that had never known light and yet had a thriving society of life forms?
Glow-Up Your Creativity Altar!
Energize your altar with fabric decorated in neon stripes or geometric designs. Rainbow fabric can do in a pinch, but it'll work better if the fabric can light up the whole room, all on its own. Alternatively, you can start with a simple black fabric so your brightly coloured altar decorations will stand out even more.
Speaking of brightly coloured decorations, add in a lava lamp, or two, to help your altar really shine. Plus, the swirling glow can be both energizing and relaxing.
Start a quest at your local thrift shops or craft stores for an assortment of artificial foliage. It doesn't matter what colour they are, as you'll be spray painting them in day-glo neon bright enough to make the 1980s cringe.
If you're lucky enough to find a vase made of Vaseline glass, you can even glow-in-the-dark your altar with the help of a black light. Arrange your spray-painted foliage in the vase and enjoy the vivid glow!
If you want to channel that comet-inspired intergalactic vibe, arrange some UFOs or some quirky extraterrestrial aliens interacting with your décor.
Figurines of rabbits symbolize the energy needed to rejuvenate your altar for Spring. And, while creatures like snakes and alligators may appear slow moving, they can spring into action when startled or if they sense prey nearby. Place representations of iridescent dragonflies, or deceptively monotone scorpions (they can glow in darkness as well), on your altar to give it that extra zing!
Still seeking adventure? Add in a shiny brass compass or a handmade treasure map. X marks the spot…for creative blessings!
Liven Up That Writing Space!
Add some zest to your writing space with essential oils like grapefruit, lemon, ginger, jasmine, and spearmint.
Start planning your Springtime garden. Plant the most vibrantly hued flowers you can find—the pollinators will love your garden even more! Don't forgot, though, to avoid the use of pesticides. And save a corner for your backyard garden for growing your favourite fruits, vegetables, and herbs.
Not keen on Spring? Try to break up the monotony of those increasingly sunny days with activities like scavenger hunts, or take that handmade treasure map and turn it into a real quest for your friends and family. And, instead of soaking up rays, take your beach chair out into the yard at night and gaze up at the stars. Make up your own constellation names, and add in some myths on how they were created. If there's too much night pollution where you live, maybe you could organize a movement to curtail it…or head out to a national park for a weekend camping trip. (If you hit the road for Spring Break, I'd recommend a visit to the out-of-this-world "House of Eternal Return" at Meow Wolf in Santa Fe: https://meowwolf.com/projects/house-of-eternal-return).
Lastly, transition to lighter, healthier, and more planet-sustainable meals. Include fruits and vegetables from your garden or the local farmer's market. Break out the blender and start making smoothies that will energize you for your writing sessions. I've included my favourite smoothie blend to get your creative juices flowing!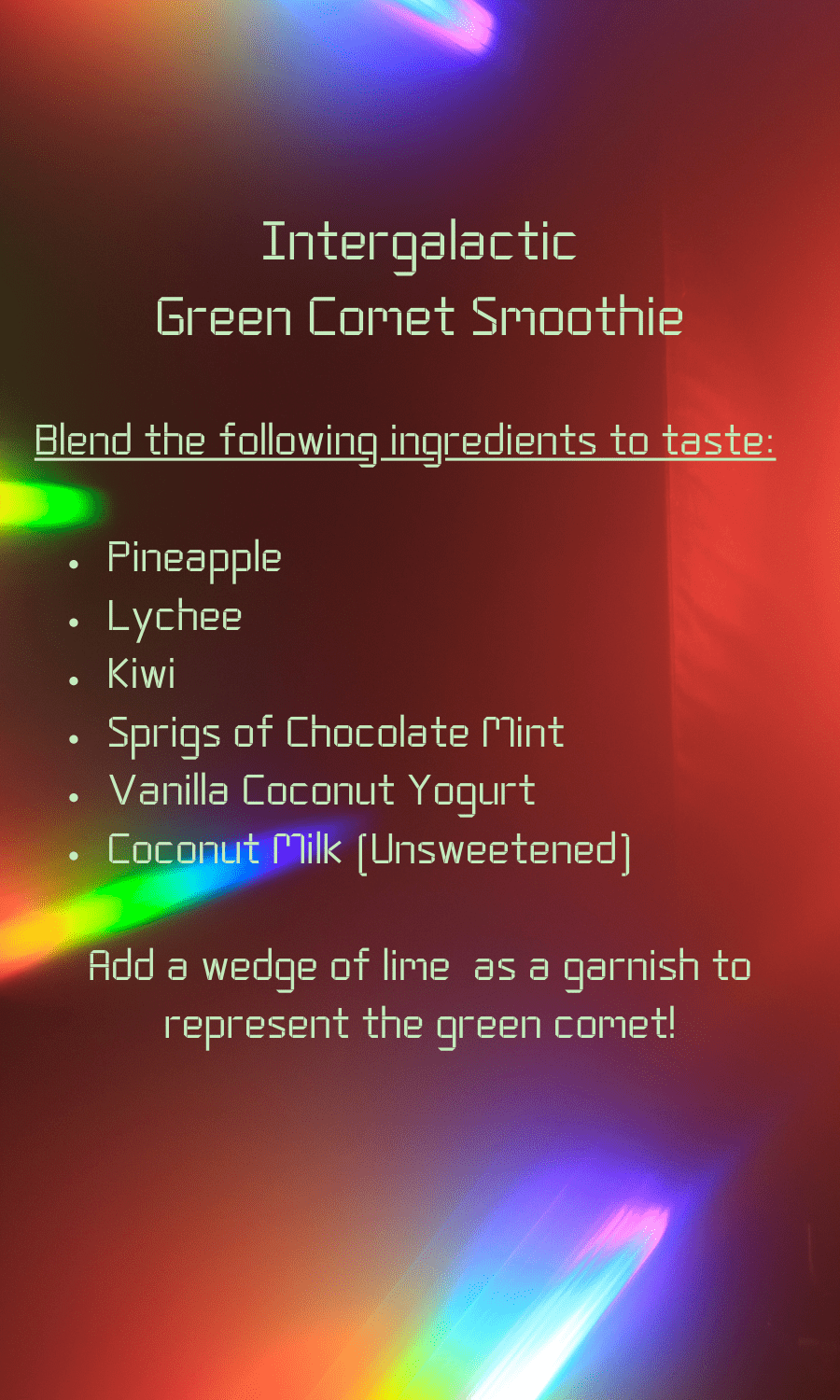 About the Author
Latest Posts