Trembling With Fear 5-7-23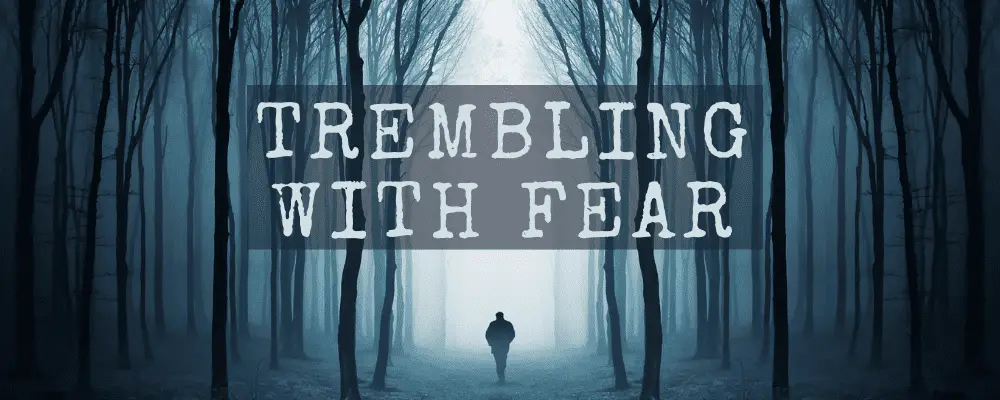 Hello, children of the dark. It's going to be short this week, because I am mourning my balance. Not that I ever had any. Clumsy me managed to fall down the *entire staircase* at home last week, just as you were reading your weekly dose of darkness from TWF. Seven hours in A&E (E.R. for our American friends) later, it turns out I have a broken ankle, as well as a broken foot bone and a severely bruised knee (and ego). I've been stuck on the couch 24/7 ever since. 
Everyone says to me: "Hey! What a great opportunity for creative reflection and getting some writing done!" Truth is, this just adds pressure, making me think of all the things I'm not doing that I "should" be. Truth is, my focus right now is on healing, at least to a point where my ankle isn't the size of Jupiter and throbbing madly. 
But I'm always here for you, children of the dark. Let's get on with this week's offerings.
In our short story, Donna JW Munro sees dead people. This is followed by three delicious quick bites:
Steven Holding

goes on a helluva trip,

Hannah Foster

investigates a supernatural serial killer, and

David Turnbull

does some puppy training.
Over to you, Stuart.
Progress is slowly being made on the next set of 'Trembling With Fear' print books, and the website move to the new host is in the works. We were going to try and launch the new layout in conjunction with the new host but I don't believe that is going to happen. More info on that soon! 
Last week, we added a link to our Shadowed Realms: The 2022 Indie Dark Fiction Anthology under 'Trembling With Fear' in our menu above. For those unfamiliar with the anthology, in it, we're looking for the best 1,000-9,000 word dark fiction published in semipro and token-paying markets in 2022! This reprint anthology will be paying 1 cent per word, and we're very excited to start taking a look at your work!
For those looking to support the site, we're always open Ko-Fi donations and always have our Patreon going.
As always, I hope you had a great weekend.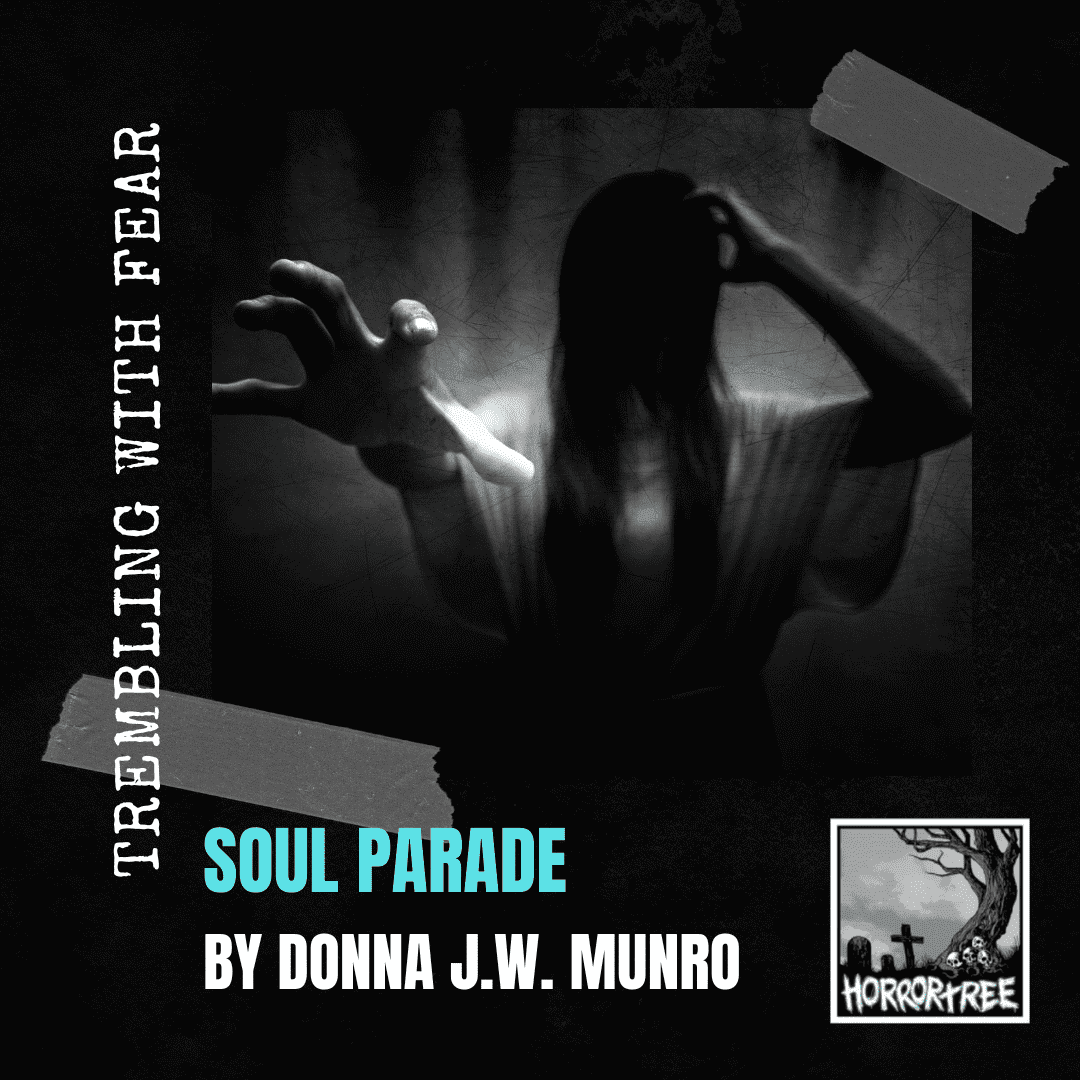 Donna J. W. Munro
Donna J. W. Munro's pieces are published in Nothing's Sacred Magazine IV and V, Corvid Queen, Hazard Yet Forward (2012), Enter the Apocalypse (2017), Beautiful Lies, Painful Truths II (2018), Terror Politico (2019), It Calls from the Forest (2020), Gray Sisters Vol 1(2020), Borderlands Vol 7 (2020), Pseudopod 752 (2021), and others. Check out her first novel, Revelation: Poppet Cycle Book 1. Contact her at donnajwmunro.com or @DonnaJWMunro on Twitter.
Soul Parade, by Donna J.W. Munro
I pride myself on my strength. 
All of you sitting in this circle see it differently when I'm having one of my spells. You want to medicate, or talk, or laugh it away. That's because you are blind and weak and I protect you from the knowing.
No more.
I'm done pussyfooting around about my spells. Especially when you want to take away my protections. 
I made those charms to keep us all safe, but you are too stupid to see it. 
Shut your damned, gaping mouths. Of course, I can talk. And walk. And yes, I know what you did to me when I was inside my head.
Shame on you. Shame on you all. 
No, I don't want to go to my room. I want everyone to hear what I have to say. Then, if you dare, you can send in your muscled boys with their backward jackets. Listen up. 
*****
"Stella?" Mama called me from playing in the yard. "Who ya talkin' to out there?"
She wiped her hands on a towel, drying away the dish soap and her worries over her youngest child. 
"They want their names Mama," I said, not knowing back then just how much trouble I'd make for myself. 
"They?"
"You don't see them? They're everywhere."
She sat on the step and pulled me down next to her so my little white leg tucked up under the flare of her dress.
"The gray people, all stretched out with white faces and holes for eyes. They want their names. They talk to me, sometimes."
"Can you see them now?"
I nodded, my brown curls bouncing against my neck.
"They wait, follow me until I'm ready. They never go away."
Mama didn't like that. Not one bit. She packed me off in the car, though the gray people don't care about cars. They are wherever they want to be. She took me as fast as she could, bumping over the backroad potholes and praying the whole way. I didn't understand then why she was so frightened. Maybe I still don't understand her particular fear, but she was my Mama so I clung to her, absorbing her fear. 
She tore into the church parking lot, grinding up gravel and white clouds of dust. 
"Come on, baby," she said as she tugged my hand and pulled me to her hip. She half-skipped, half ran into the chapel where she plopped me under the ugly crucifix at the front. The bleeding, scary-eyed Christ never made me feel holy or saved. It just made me sad. Especially when the gray people milled around the front of the church waiting for something, like the Jesus would get down, gather them up, and carry them home. 
Mama whispered things to the pastor. I caught scary words I didn't understand then. "Possessed." "Demons."  Then the pastor dragged me back to the altar and did all the exorcism things—holy water sprinkles, scriptures, proclamations of the power of the blood. The gray people surrounded me as the pastor pushed and pushed. I don't think anything he did made a difference, but the gray people didn't like how hard he held me. How his fingers left marks. How he spit in my face as he chanted. 
Eventually, they stopped him.
Mama sent me away right after that.
*****
Yep, I been here for twenty some years, living with your bull. Putting up with your therapy, your rules, your terrible medicines. But the gray people are still here, asking for their names. Demanding them when I can't speak because of your interference. 
They only hurt us when you stop me.
*****
I made my first charm back when I was just six. I'd been here a couple of years and the gray people kept taking people. Killing them in the shower, pushing them out windows, trampling their bodies until their hearts seized up with blood and fear. The only way to keep them in check, with all the drugs I was made to take, was to make puzzles for them with names on the inside. I whispered spells into wood I lashed together with the hair I pulled from my head and left the charms hanging from corners in every room. You only look down, never up, so they were safe just like that.
When the drugs stole me away, the charms kept you and the others safe. 
Until my quiet spells started. 
That's when you became the villains in the story.
*****
I heard you, even as I sat as a spirit atop my own chest, giving names to the gray people as fast as they could come through the wall and flow out the other side. 
So many people have died in the years. So many. They need their name to move on, not their god or their religion's blessing. They just need to be reminded who they were. My quiet spells let me move them through fast, so they wouldn't focus on the others here. The broken, lost, hurt people you think you help. They are the tinder the gray people burn on.
I ignored the indignities, staying beneath your world and protecting it at the same time, until the gray people saw the orderly man with hands creeping on me while I slept, his white uniform not keeping him from hurting me. Or the doctors who never listened when I explained my reality. Or the nurses who pretended I was some big-bodied toddler to be smiled at and ignored. 
The gray people stopped talking to me then, because they knew I needed to know my own name. I needed saving.
*****
"We could tell you your name," you, the nurse with sweet eyes, say from the circle of observers. The others, guilty as sin, watch me with horror, worrying I'd tell the others what monsters they are when no one is supposed to be looking. 
"What is my name?" I ask, hoping you'll do the kindness and be spared.
"I'll tell you, just take your medicine," you say, smile plastered on your false face. 
The gray people tighten their circle. You failed their test.
"My name is Stella. The gray people tell me every day when you take my name from me. They won't allow you to take my name anymore."
The gray people are behind you. I would say it more clearly, louder, but you wouldn't hear. You are closed to this other world. 
Won't be closed for long. 
Try to remember your name.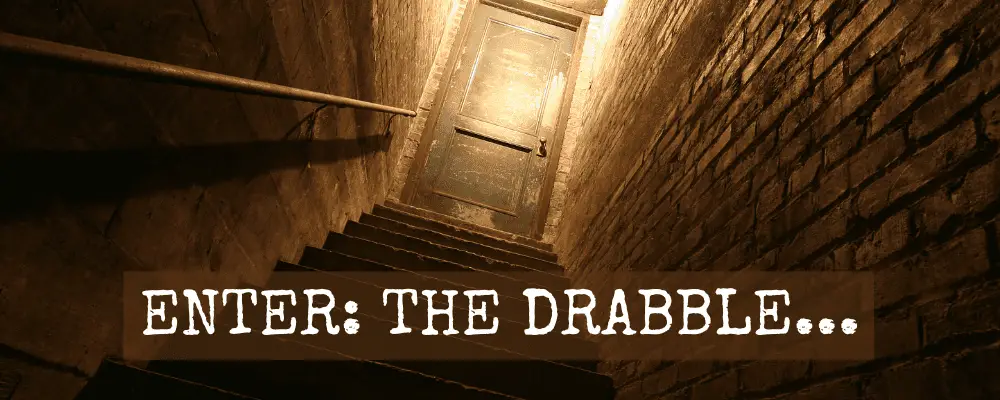 New Cartoons Soothe You
It's ok because it's all animated. 
Any stimulation felt isn't real because… IT'S NOT HAPPENING! White wide eyes staring; alien copulation and ultraviolence in near-blinding technicolour. So happy, you don't see the TV screen's leaking: breathing, smile-widening, mind-melding, psychic psychedelic slime.
The boob tube bursts. Flailing fleshy tongues emerge, tentacles tasting the air, caressing your dilated irises, slipping splinters under your skin. The beginning of a metamorphosis you unknowingly welcome, reshaping your body and brain until you are changed beyond all recognition.
Transcendence at twenty-four frames per second. And that's just episode one.
Your boxset binge has barely even begun.
Steven Holding
Steven Holding lives in the United Kingdom. Most recently, his stories have appeared in the collections ANNIHILATION from Black Ink Fiction and DARK MOMENTS YEAR FOUR from Black Hare Press. You can follow his work at stevenholding.co.uk.
Branded
Another killing. Another body to investigate. Cold damp air cut through my shirt as I knelt, notepad in hand.
The insignia branded into the corpse's arm glowed blue the moment I got close. 
"I was right. Inhuman." I stood up, taking a deep breath. "We need to figure out who's doing this as soon as poss—"
The corpse moved. Dead fingers closed around my ankle. White hot pain seared up my shin, and the hand let go. I stumbled backward and scrabbled at my pant leg.
A thin blue line was tracing its way into my skin.
The insignia.
Hannah Foster
Hannah Foster is a writer and poet who specializes in flash fiction. Fed on a diet of fantasy and Gothic literature, her imagination provides an endless supply of quirky stories. She lives in the high desert of Nevada with her husband and an Aussiedoodle named Mabel. Find her on Facebook at facebook.com/eluminora.
Barking Mad
Dan could hear the dog barking in the mist.
"Billy," he called out. "Get here now. Heel!"
More barking, high pitched, as if taunting him.
"Billy! I swear! This is the last time I ever let you off the leash!"
Barking to his left. The sound of little legs galloping on grass. He lurched and managed to grab the collar before the dog ran off again. "Bad boy," Dan admonished, smacking him sharply on the muzzle as a reprimand. It was enough to elicit a transformation back to human form.
"Sorry, dad," said his son, wide-eyed and shame-faced.
David Turnbull
David Turnbull is a member of the Clockhouse London group of genre writers. He has had numerous short stories published in magazines and anthologies. His stories have also been featured at Liars League London events and read at other live events such as Solstice Shorts and Virtual Futures. His near future dystopian novella HUSks is currently on release (more here) and his collection of stories of 100 words or less, One Hundred Predictions, is available at Fiction4All. 
About the Author
Latest Posts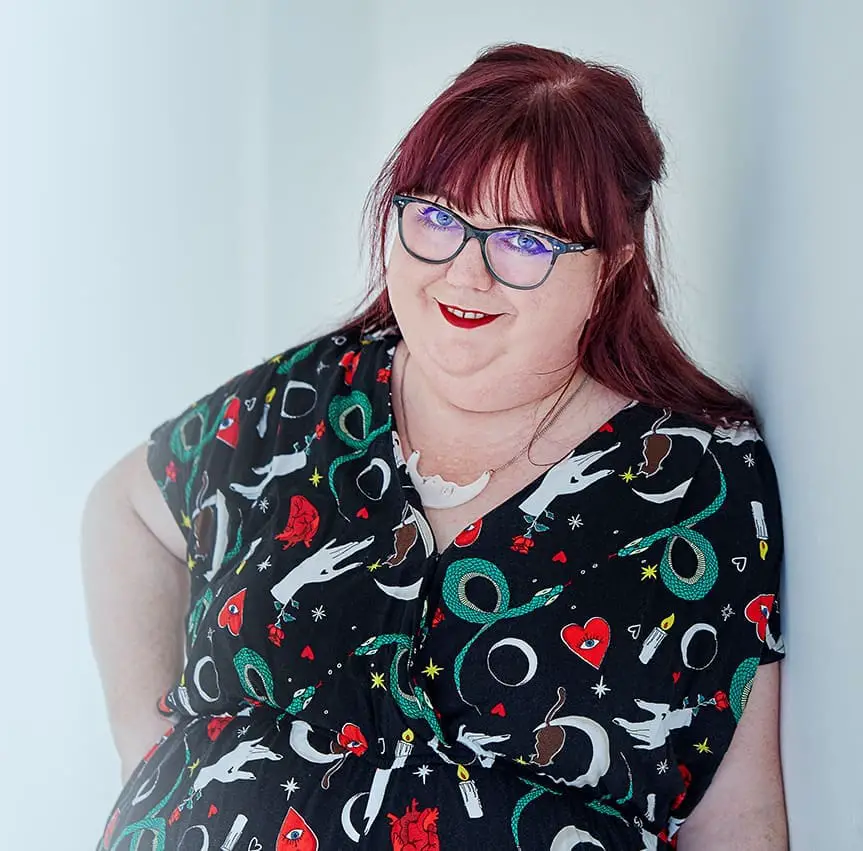 Lauren McMenemy wears many hats: Editor-in-Chief at Trembling With Fear for horrortree.com; PR and marketing for the British Fantasy Society; founder of the Society of Ink Slingers; curator of the Writing the Occult virtual events; writers hour host at London Writers Salon. With 25+ years as a professional writer across journalism, marketing, and communications, Lauren also works as a coach and mentor to writers looking to achieve goals, get accountability, or get support with their marketing efforts. She writes gothic and folk horror stories for her own amusement, and is currently working on a novel set in the world of the Victorian occult. You'll find Lauren haunting south London, where she lives with her Doctor Who-obsessed husband, the ghost of their aged black house rabbit, and the entity that lives in the walls.