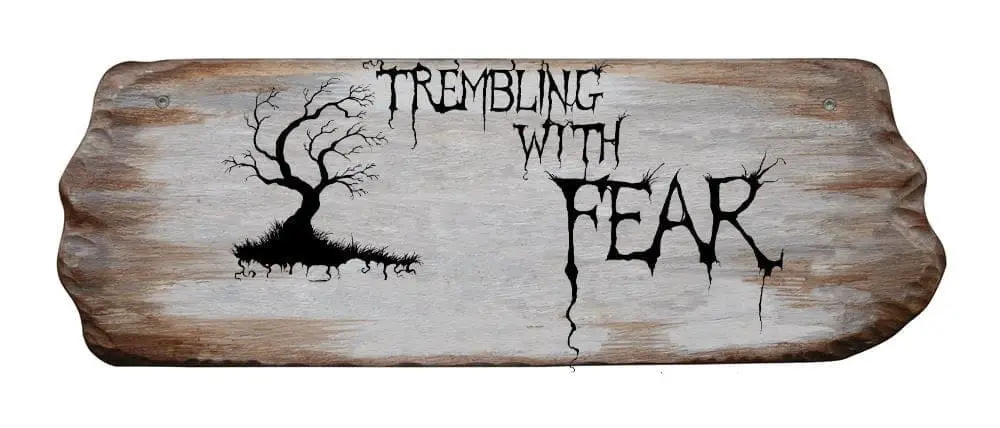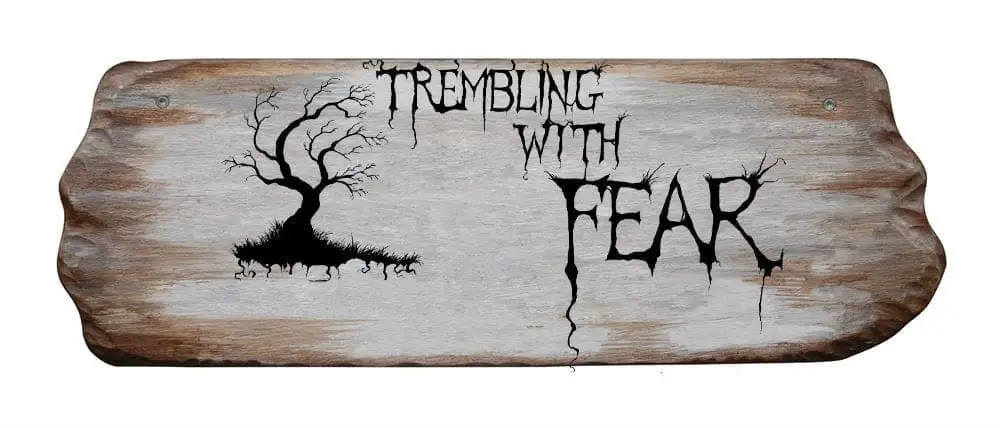 Welcome back to Trembling with Fear, our online flash zine. We publish both new and established writers with many becoming familiar faces and being an ongoing open market, we are always after material. Submissions don't have to be horror, they can be dark sci-fi or fantasy or some other aspect of the speculative fiction field. Nor are we averse to a touch of noir or a dark thriller. Humour is also welcome!
Dear all, changes are afoot. First, good news on the house front. We've found a house, had our offer accepted and things are in motion – though I know that can still be at a snail's pace. And the other news – this summer will see me reach my fifth year with TWF. When I stepped away from the day job last year, I thought it would free up my time to cope with both my own writing and Horror Tree and everything else. But things don't go as planned. I will admit openly here to having a horrible time with the menopause – that word which you are not supposed to mention – and the effects of that have been hitting me hard for some time. In addition, the time I had planned to slot all projects into has simply not materialised and I have reached the point where something has to give.
For me, I have realised it is now time for me to step down from editing Trembling with Fear. I will be around until the end of June, by which time someone else will have taken over these reins, and I will also see through the 2021 anthologies but after that, I will sink into the background. Though I might send in the odd drabble! I am not going from Horror Tree itself completely, however. I will continue with the Indie Bookshelf posts and behind the scenes prep the review posts sent in. I have also said that if ever there's an emergency, I will do what I can to help.
So, I would like to say thank you to everyone for all your wonderful stories and friendship. I have got to know many fantastic writers through TWF, and it is a time I will never regret. The only thing that remains is for me to ask – is there anyone out there who would like to take on this role? If you're interested, please let Stuart know.
Beelzebub by Hilary Ayshford is our first story in Trembling With Fear. This is such beautiful writing despite the horrific tragedy which unfolds as you read it. Innocence and vulnerability shine through with the use of first person POV and this makes it all the more heartbreaking.
Citrine Screams by Tess P. is a dark sci-fi with a very bleak time-controlled scenario. More sci-fi please.
Risen by DJ Tyrer delivers some great atmosphere with his depiction of the stirring graveyard.
The Road by Simon Kewin has some lovely scene setting in the introduction and a nice twist at the end. But this is not a 'lazy' twist, the story flows into it without jarring.
I hope you enjoyed our stories, now send us yours!
Steph
First off, I'm going to say that Trembling With Fear wouldn't exist today without the help of Steph. I don't say that lightly. She's truly made TWF what it is and I'm both terrified and excited for where we'll be going from here. I'm also thrilled that she is still staying part of the Horror Tree family!
So, yes, we are going to be open to a new head editor that will be helping with:
– Reviewing stories as they come in for inclusion.
– Light editing advice if warranted.
– Scheduling the posts and writing intros for them in WordPress.
– Helping with our yearly Anthology release.
If this sounds like something that you would be interested in and passionate about, please do reach out today on our contact form or directly to [email protected]!
Okay. With being in between classes I've been starting to plan out some of the upcoming changes for HT. We're currently reevaluating our hosting plan in order to speed up the backend of the site and the front end on mobile as well as how our theme works. (We'll likely be keeping it but adapting it for speed and usability on mobile devices.) Things are progressing, slowly. There are also three areas that we're currently looking to expand though there might be a small pause as we work through TWF editorial changes. We'll see! 🙂
Finally, if you missed it last week: we heard some REALLY good news. The latest Top 101 Websites for Writers are out in the current Writer's Digest. Below is the cover and our inclusion!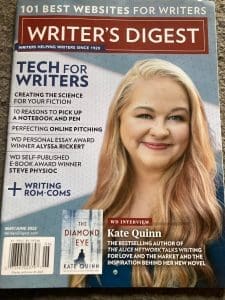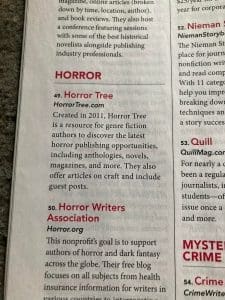 We're still working on sorting having a weekly round up on our
Horror Tree's YouTube channel
. Please, subscribe to the channel, like the video, and comment on the video if you like it and email any suggestions or thoughts in!
For those looking to support the site, we've recently launched a Ko-Fi and always have our Patreon going.
As always, I hope you had a great weekend.