Regina Saint Claire launches Book Worms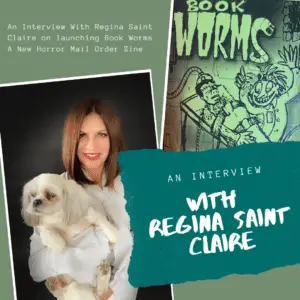 Regina Saint Claire launches Book Worms
A New Horror Mail Order Zine
By Angelique Fawns
Saint Claire is no stranger to the world of horror. She's an award-winning author of adult and YA horror and gothic fiction and has a background in theatre and film. You can see some of her work on her YouTube channel @ReginasHaunted Library. Some of her accolades include a 2020 Watty Award, Best Screenplay at the Dazed for Horror film festival, and a Webby honoree for her web series Gemini Rising. Regina is offering pro-pay for authors selected for her newest initiative, Book Worms. The first issue is now available. I met Regina when she selected my story "What Slays in Vegas" to be part of this project. I was curious to learn more about this prolific creator.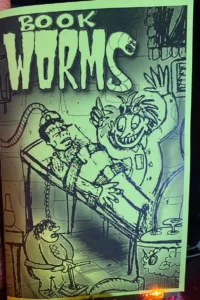 AF: Tell us more about the inspiration and creation of Book Worms?
RSC: The inspiration sprang from my nostalgia for old-school horror comics and DIY zines as well as a personal inclination toward wanting to be less "online." I chatted with my friend James Ippoliti, who hosts the Real Demons of Pop Culture podcast, about the idea over coffee. I thought it would be a fun project and he agreed to help.

AF: Why horror, and mail order only? What are your marketing plans and target audience?
RSC: The horror genre is the main focus of my writing, reading, and my YouTube channel, so it was a natural fit. I wanted to recapture the thrill of receiving a zine through the mail or discovering a unique piece of ephemera at an indie bookstore. My target audience is any horror fan who is into that vibe. Book Worms is only available through the mail, but aside from the old-school coupon in the back of the zine, we relented to peer pressure and included a QR code for anyone who like to purchase it on Etsy. My marketing plan is to spread the word among my HorrorTube niche and distribute Book Worms at several indie bookstores, such as Troubled Sleep in Brooklyn. 
AF: What do you look for in a story that you buy? What advice do you have for authors?
RSC: Honestly, I was quite floored by how many submissions we received. The four stories we chose are a nice balance between some seriously creepy vibes and something a bit more tongue-in-cheek. My advice to any author is to take creative risks and trust one's imagination. It fun to explore the usual tropes, but horror should always offer some kind of twist or surprise. Easier said than done, I know. The next issue will feature a summer horror theme, so I'm looking for theme-park madness, beach creatures, hellish vacations, etc. This time, however, I'm only accepting submissions through the mail. But if anyone previously submitted and thinks their story fits the theme, they may send me an email as a reminder. 
AF: Do you work full time as a content creator, or do you have a day job?
RSC: I'm a part-time costume designer and also sell vintage clothes online. Fashion is one of my passions, as I expressed in my thriller, Fashion Victims. I also produce live music and art events at my studio, so I do a bit of everything, but always something involving the arts. 
AF: Can you tell us more about your filmmaking and theatre experience?
RSC: I got into indie filmmaking over a decade ago. It was an exciting time to produce a web series and I fully embraced the guerilla filmmaking spirit in all its insanity. I've always been involved with the theater on some level, so that's been a constant. I hope to make more films, maybe involving some of my BookTube friends. Who knows? 
AF: Who/what are your influences and inspirations?
RSC: I have so many, but I suppose cinema ranks pretty high up there, especially European films from the 1970s. There was a period in my early twenties where I was so obsessed with the film The Conformist that I learned Italian and dressed like some of the characters. I'm also a big fan of progressive rock and classical opera. I'm inspired by big and bombastic stories featuring high emotion and drama with beautiful aesthetics. Whatever Happened to Baby Jane is one of my favorite films. It's campy as hell, but still terrifying and marvelous.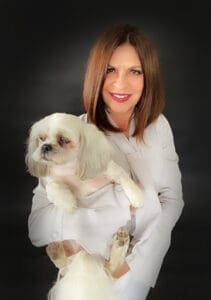 AF: If a new reader would like to sample your work, where do you suggest they start?
RSC: My most popular books are my first novel, Unmasked, and the latest one, Code Red. Unmasked is about an aging pop star who strikes a Faustian bargain with her plastic surgeon. It was developed from my first full-length screenplay. It has all the rough markings of a first novel, but it was very inspired. I'm proud of it, and one day I'll screw my courage to the sticking place and re-edit it. Code Red is a campy, vampire romp set in Appalachia. When I get the inevitable review describing my work as enjoyable but "not literary" I'm fine with that. I write only to entertain—myself and hopefully others. 
AF: What is exciting you in the field of horror today?
RSC: I think the genre is always growing, or at least shifting, and that's exciting. The first issue of Book Worms bemoans Horror's lack of respect, that most bookstores don't even have a decent horror section anymore, but that underground status is also what makes it cool. The whole Paperbacks from Hell resurgence is what drew me into BookTube in the first place and inspired me to start my own channel. There is a growing interest in an old-school horror aesthetic, which is very encouraging to someone like me, who grew up loving horror. 

AF: What is in the future for Regina Saint Claire?
RSC: I hope to have my new novel, Carni, out this summer. I will also be attending StokerCon in June so if you see me there, definitely stop by and say hello. 
About the Author
Latest Posts
Angelique Fawns writes horror, fantasy, kids short stories, and freelance journalism. Her day job is producing promos and after hours she takes care of her farm full of goats, horses, chickens, and her family. She has no idea how she finds time to write. She currently has stories in Ellery Queen, DreamForge Anvil, and Third Flatiron's Gotta Wear Eclipse Glasses. You can follow her work and get writing tips and submission hints at http://fawns.ca/.