Taking Submissions: The Pleasure In Pain (Early)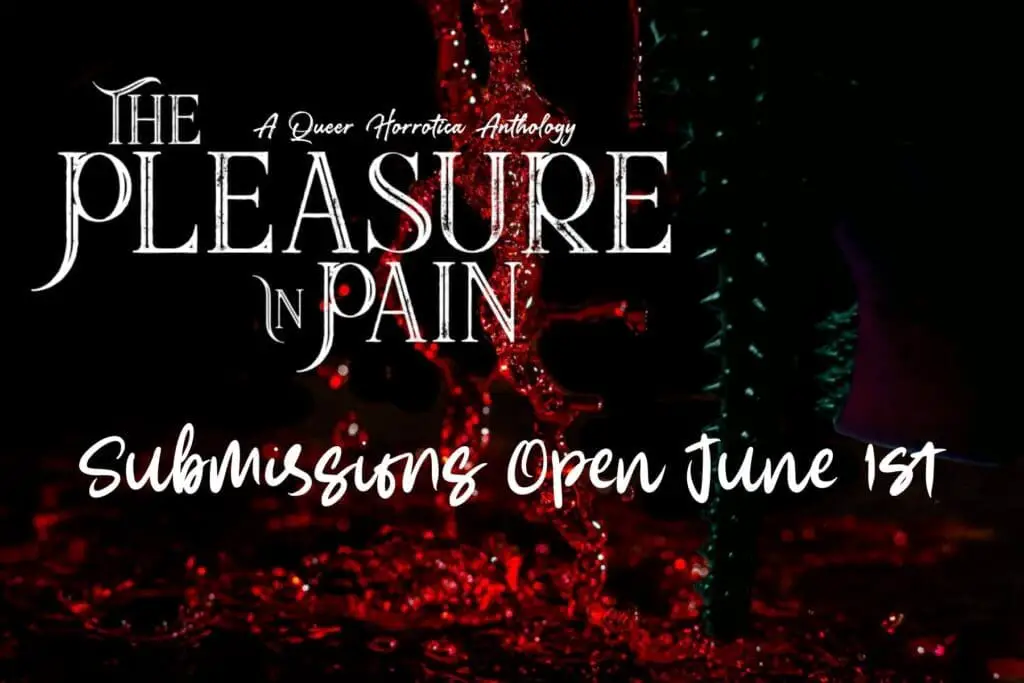 Submission Window: June 1st – July 1st, 2023
Payment: $0.05 per word for short stories. Flat rate of $5 for Poetry and $15 for Flash Fiction
Theme: Queer horror erotica
UNBURY YOUR GAYS
For centuries our stories of romance and love were hidden, coded within for future readers to decipher. There will be none of that here. 
Here's a shovel.
From Dragon's Roost Press and Roxie Voorhees, co-editor of MINE and READER BEWARE, comes a collection of queer tales of erotic horror. 
A little scary, a little sexy, and completely queer, this anthology promises to keep you up at night.
THE PLEASURE IN PAIN
Please read carefully. Submissions that don't meet the guidelines will be rejected.
Submissions will be accepted June 1 until July 1st, 2023. Please submit to [email protected]. Open to any and all queer writers, both new and established. If you do not identify on the queer spectrum, we kindly ask that you do not submit. Queer is an umbrella term to include all sexual and gender identities that are deviations of societal norm (Cisgender heterosexual) as well as intersex individuals.
What we are looking for:
All horror tropes are welcomed. Genre-blending is highly encouraged. Queer retellings, historical horror, scifi horror, cults, and cannibalism are a few of Roxie's favorites. Writers should have a diverse representation of BIPOC, LGBTQ+, gender identities, disability, fat positivity, and neurodivergence.
What we are NOT looking for:
Please, do not submit stories that show queerness in a negative way. Homophobic villainy is allowed, homophobic stories are not. Submissions cannot contain harming of animals or sexualization of minors (under 18, yes that includes "17 almost 18"). 
Content warnings are encouraged and will be included in the back of the finished work. Here are some common triggers: ableism, abortion, blood/gore, body dysphoria, death of loved one, eating disorder, fatphobia/sizeism, gendered language, graphic medical situations, gun violence, homophobia, incest, intimate partner violence, labor/birth, lack of consent, loss of body autonomy, miscarriage, misogyny, needles, police/military violence, post partum depression, pregnancy, racism, rape, religion, self harm, sexual assault, stalking/harassment, stillbirth, substance misuse, suicide, suicidal ideation, transphobia.
Short story submissions must be between 3,000 and 6,000 words. Flash fiction submissions must be under 1,000 words. Poetry submissions must be under 50 lines/500 words.
Email subject: Last, First – Title – Word count
Cover letter: Include a one line pitch, any trigger warnings, and a 100 word author bio with pronouns and socials. If you wish to self-identify, please do, if not, that's okay, too. We will never ask for proof.
Please use a standard manuscript format
https://www.shunn.net/format/ is a great example. (Omit your address)
American English spelling and punctuation, please. Bilingual characters welcomed.
Must be a .doc or .docx 
Exclusivity clause: We require a 6 month exclusivity.
No reprints.
Simultaneous submissions are accepted, but you must own the rights to your story. Multiple submissions are not accepted. Notify us by email at thepleasureinpain@gmail.com  if you need to withdraw your submission at any time.
This anthology will include 20% invited authors to be announced at a later date. 80% of the final manuscript will be from this submission call. 
The deadline for submissions is July 1st, 2023 at midnight EST.
Via: Roxie Voorhees.
About the Author
Latest Posts
Stuart Conover is a father, husband, published author, blogger, geek, entrepreneur, horror fanatic, and runs a few websites including Horror Tree!