No Longer Ongoing Submissions: The Wyrd
The Wyrd is still an ongoing publication. However, our definition of ongoing submissions has changed. We will create new posts for The Wyrd as we see the publication have open periods.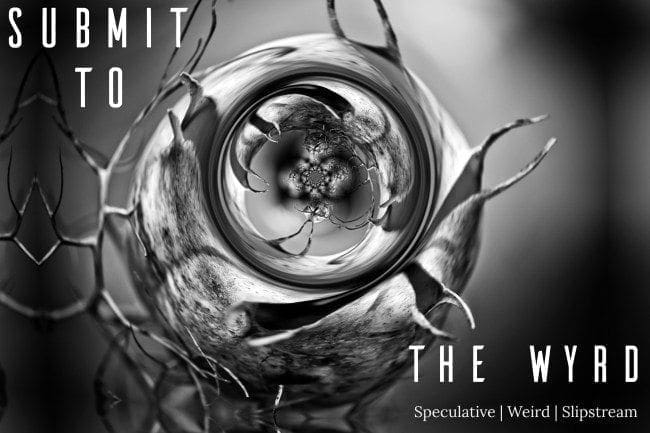 Payment: $10usd
What we want.
The Wyrd is a speculative short fiction market for authors and artists who have a fondness for weird and slipstream themes.
What th
at means is we're looking for works that cross, combine or redefine traditional genre boundaries. We enjoy stories that come with a heavy dose of the uncanny, the strange, and blend literary, science-fiction, fantasy, mystery and horror tropes.
We will consider straight sci-fi, fantasy, horror, and urban fantasy, so long as the work pushes genre boundaries. If you're not sure if your submission fits, send it in and we'll tell you.
Our favorite authors are Victor LaValle, Neil Gaiman, Jeffrey Ford, Margaret Atwood, Tim Powers, Emily St John Mandel, China Miéville and Ian (M) Banks.
While we'd very much like to see submissions from South Africa and Sub-Saharan Africa, we prioritize quality of story over country of origin.
Submission requirements.
We are currently open for submissions: 24 March through 30 June 2017.
All submitted works must be:
Previously unpublished short stories of between 1000 and 5000 words. Please note that we consider works that appear on the author's website, social media channels or writer's forums as "published"
Reprints at a maximum of 6000 words and that are not currently available for free online
.doc, .docx, or .rtf attachments
In Standard Manuscript Format (follow this link if you're not sure what that is)
Proofed and checked for grammar and spelling
While we prefer American English, we're happy to accept UK English. But please use double quotations (") for dialogue.
Art submissions.
If you'd like your art considered for The Wyrd's cover page, please send an inquiry, along with a link to an online gallery or portfolio to submissions (at) wyrdmagazine (dot) com. Use the subject line: Art Submission.
We prefer to purchase pre-existing pieces but will occasionally commission art for covers.
On multiple and simultaneous submissions.
We accept multiple submissions, up to 3 submissions per author per submission period.  Please submit only one story per email. We're okay with simultaneous submissions, but please let us know well in advance if you've sold your work elsewhere.
Payments & legal.
The Wyrd magazine will pay $10 (USD) per short story. Payment is author's choice of PayPal or Amazon voucher. Payment for South African residents will be author's choice of EFT, PayPal or Amazon voucher.
Original works of art are bought for $10-50 (USD) per piece, as negotiated with the artist.
We purchase first, world-exclusive rights to your work for 6 months after publication date. After this date, the rights revert back to the author. Your story will continue to be sold in back-issues of The Wyrd under our non-exclusive distribution agreement.
Your work will not appear, and will not have appeared, in any other available format (blogs and public forums included) until 6 months after the release date of the story in The Wyrd.
What we don't want.
We are not interested in the following:
Works that are set in pre-existing settings created by authors/directors/screenwriters other than yourself. We don't accept fan fiction of any kind, ever
Works for which you do not own the copyright and/or rights of distribution
Erotica or Slash fiction
Fiction that is devoid of any uncanny, supernatural, speculative, or weird element (i.e. boring, realistic stuff)
Please note that our word limits are firm. Longer pieces will be automatically rejected, without exception.
Pieces that do not adhere to the submission requirements will be rejected unread.
We don't have a problem with submissions that have violent or transgressive themes, but if your story features explicit or alluded to violence/abuse/exploitation of minors, women or animals as its primary plot device, we're extremely unlikely to accept it for publication.
Our promise to you.
If you've followed the submission requirements as above and submitted your work, we promise to:
Send you an automatic confirmation of receipt of your submission
Get back to you within 6 weeks of submitting with one of the following:

A rejection with or without comments
An offer to buy your work after appropriate edits have been made

If your submission has been accepted, you'll work with one of our editors to get the story ready for publication and we'll send a contract for you to complete
Pay you based on our current rates (see Payment & legal)
How to submit.
Send your work  as a .doc, .docx, or .rtf attachment (one submission per mail) to submissions (at) wyrdmagazine (dot) com with one of the following subject lines:
Fiction Submission: [Story Title]
Reprint Submission: [Story Title]
In the email body, please include the following:
The story's title.
Word count.
A list of your published works (if any) in non-self-published markets only. Don't worry if this is your first story. The quality of the work is more important than your credentials.
Your author bio (40 words maximum). Include any website or portfolio link you'd like us to insert.
If this is a reprint, please list the work's full publication history.
Please remember to log your submission at either www.Duotrope.com or http://thegrinder.diabolicalplots.com/
Via: The Wyrd.
About the Author
Latest Posts
Stuart Conover is a father, husband, published author, blogger, geek, entrepreneur, horror fanatic, and runs a few websites including Horror Tree!