Interview with Kathleen Lopez, Author and Publisher of The Gathering Anthology


Interview with Kathleen Lopez, Author and Publisher of The Gathering Anthology
By Angelique Fawns 
October is shaping up to be a great month for spooky book releases, and Kathleen Lopez is adding The Gathering to the party. This is the first multi-author offering from her new endeavour Wordsmith Publishing, and is being released October 23, 2020.
These darker-themed short stories were created from a series of individual prompts send to writers who answered her submission call. The result spawned writing that hit many genres, including Paranormal, Crime, Suspense, Thriller, and Mild Horror.
I sat down to find out more about Kathleen Lopez, and why she made the jump from author to publisher. She has some interesting advice and observations about Amazon publishing and book reviews. 
AF: When and why did you decide to publish anthologies featuring other writers?
I noticed that when I told people I was an Independent Author they either found it interesting or gave you that 'oh, that's nice' kind of vibe.  Not being with a publishing house, while that is becoming more and more accepted, was still a bit of a hit against you that you're not a "traditionally published author".  A few of my fellow authors were realizing that creating our own small press houses, we can say we are with a publishing house now.  I know when I was starting out, it was hard to get in the door and to know all the ins and outs of the new world I was stepping into.  I could have used a lot of my fellow authors and resources then, and remembering that feeling, I would like to help those who are in that same situation.  I'm not saying I know it all, but I am armed with more resources, knowledge, and skills that I would like to lend what I have learned to other authors.
While I can publish my own short stories and full releases under Wordsmith Publishing, LLC, I can also get fellow authors or new authors published who could use the graphic or content assistance.  I feel it is a way to give a little to the community that has helped me along the way as well.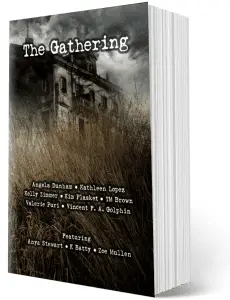 AF: Tell us what makes The Gathering special, and the philosophy behind it?
KL: Well it is the first publication that is not just my work, but fellow authors.  It also has three student authors who will be published for the first time.  I am really excited for them.  They had competed with fellow English and Creative Writing students at Timber Creek High School in Orlando, Fl for the opportunity to appear in this first multi-author release by Wordsmith Publishing, LLC.  Originally there were to be two winners from the competition, but the stories were too good and I had to work another one in!  Promoting writing in this manner, where young authors are trying to get their presence out in the world, that is really exciting to me.
The idea of the anthology was to offer several two-sentence writing prompts and let the authors select the one that speaks to them and have them write a story around it.  The only "rules" given was they had to include the two sentences in the story, it had to be dark in nature (suspense, thriller, crime, paranormal, etc.), and it had to be at least three-thousand words or more.  Everything just flowed from there, creating a great collection of dark tales that I cannot wait to unleash before Halloween.
AF: Can you tell me more about your background and how you got interested in writing and publishing?
KL: I always liked writing as a kid.  I did a lot of poetry and some short stories, but that was it as far as fiction.  I was aiming to be a journalist.  I started writing for the school paper at age fourteen and then all through high school, into college.  I wrote for The Lakeland Ledger and the Winter Haven News Chief for a time.  While writing features for a paper was great, I wanted to be more creative.  I had all these ideas of stories that just sat.  I had a note pad of ideas that I would like to write about "one day".
I stumbled across that college homework assignment seven years ago and made it a bucket list item to get it finished and get it published.  That act simply kicked down the door and I try to increase and grow with each release.  Having a small indie press is just the next step for me.
AF: Do you have a day job?
KL: Yes, I do have a day job, (Quality Assurance Manager at a software development firm) and while I love it, I would love to be an author full time.  But for now, I still maintain a full-time job, which is very supportive of my work.  I have several people there that await each release, including the president of the company.
AF: You have your own trilogy of stories about a sheriff from a small town who solves mysteries. Can you tell us about them and your inspiration?
KL: I have a Shuller Series that is about to expand from being a trilogy with my next release in November.  This character thread started as a homework assignment in college that got wildly out of control.  My English teacher, who the first book (Between the Shades of Light and Dark) is dedicated to, kept asking me 'and then what happens?'  He kept prompting me to continue the story and while it did sit after college for many moons, I decided one day to get it published with this whole new Indie Author thing that was happening.
Now seven years later, I'm still writing about a character I created for the first book which I really only created to move the story along.  He became fascinating to me to want to know his story more and so I kept writing about him.  Sheriff Martin Shuller was a cop brought in the first book to help with a major murder case in a neighboring town.  He was so intriguing to me that for the second book, Prodigal Son, I made him the focus and see how his world is affected when a murder happens in his life.  The third book, Sweet Child of Mine, he makes a cameo as the book is about his family.
Now Shuller took a book off to recover from all the things I put him through and did not appear in The Calling Card Murders.  Now with the fifth book, Thirteen for Dinner, he's back and I've missed him.  I like his style and mannerisms and I keep trying to answer my teacher's question – 'and then what happens?'
AF: Is your personal writing profitable? How about the anthologies?
KL: There are ebbs and flows.  When the books first come out, yes.  They do very well.  The issue is the longer they are out, the sales do drop a bit.  Granted there are up ticks when you release a new story as you'll get some that will seek out your other work.  Now one thing the indie author combats is Amazon.  While they make it easy to get published and get out there, they have these algorithms.  You need to keep active and prolific in order to stay high in their searches.  Not only do you have to have a lot of work periodically, you need many positive reviews to get noticed.  Also, Amazon will periodically review and even remove reviews if they feel are not genuine or from those who bought from you via Amazon.  I try to go to several book festivals during the year and sell to the people directly.  If someone from a book festival, who legit purchased a book, posts a review on Amazon, there is a good chance Amazon will remove that review at some point.  The issue is the review is genuine, but Amazon cannot 'verify' the sale.  It is a bit frustrating, but once you learn how to pace your work, it helps.  When you have a off period like say a pandemic that throws off your schedule, it throws your pace off as well.
Now the anthologies do well as you have many people promoting the book.  As an Indie Author, unless you hire someone to promote you, that's on you as well.  The more authors you work with on an anthology, the more the book gets out there.
AF: What sort of stories and/or writing are you typically looking for?
KL: I gravitate to suspense, thrillers, crime, murder mysteries, a touch of the paranormal – I tell people I write in the realm of creepy.  I like the idea that those genres offer the writer and the reader.  There is so much planning and crafting that has to go into creating a crime story, a murder mystery.  The crux of it all, the very core, is plotting 'the perfect crime', telling a story through the eyes of someone you created in the world.  Trying to see how these characters work their way through your twisted idea is just fascinating to me.  I feel as if I am merely documenting the lives of these people that only I have access to so others can learn their stories.
AF:What is really exciting you in the publishing field currently?
KL: The whole indie publishing world is so new to me.  The Gathering is the first multi-author work for Wordsmith Publishing, LLC.  I am so excited to get this out to the public and have the opportunity to introduce this world to those three student authors as well.  Having the opportunity to be able to assist new authors is very exciting and I am grateful for the opportunity.
AF: What are your plans for your writing and press in the future?
KL: I have several story ideas stored up still waiting their turn.  I have a short story that is currently due to a friend of mine for her multi-author anthology she is publishing next year.  The remaining three months of 2020 I have The Gathering anthology for October, Thirteen for Dinner, a full release and the next book in the Shuller Series, in November, and Untethered Threads for December which is my own short story anthology.  I plan on doing another multi-author anthology book next year through Wordsmith Publishing, LLC as well.  The only question is which story idea I will start first.
Amazon Author Page: https://www.amazon.com/Kathleen-Lopez/e/B00HCMFR4I/ref=dp_byline_cont_pop_ebooks_1
Instagram: @imkathleenlopez
Twitter: @imkathleenlopez
Website: www.imkathleenlopez.com and www.wordsmithpublishingllc.com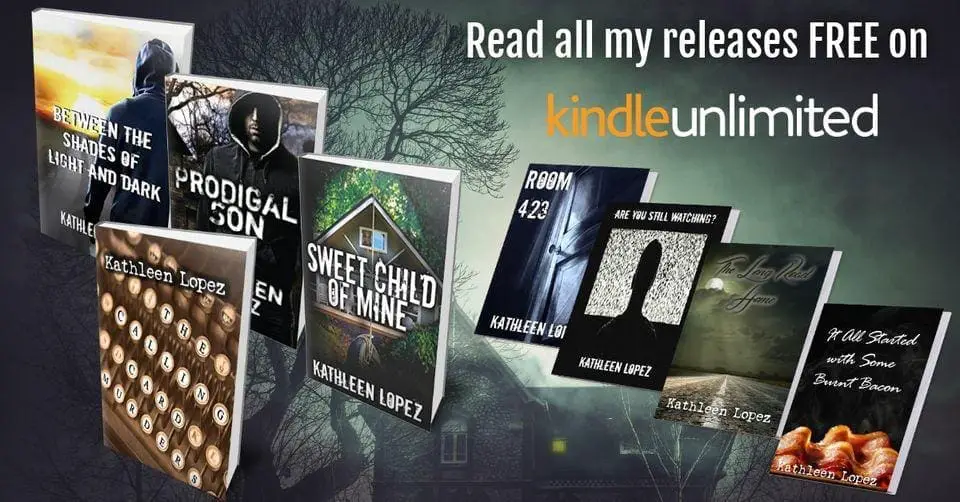 About the Author
Latest Posts
Stuart Conover is a father, husband, published author, blogger, geek, entrepreneur, horror fanatic, and runs a few websites including Horror Tree!