Trembling With Fear 10/25/20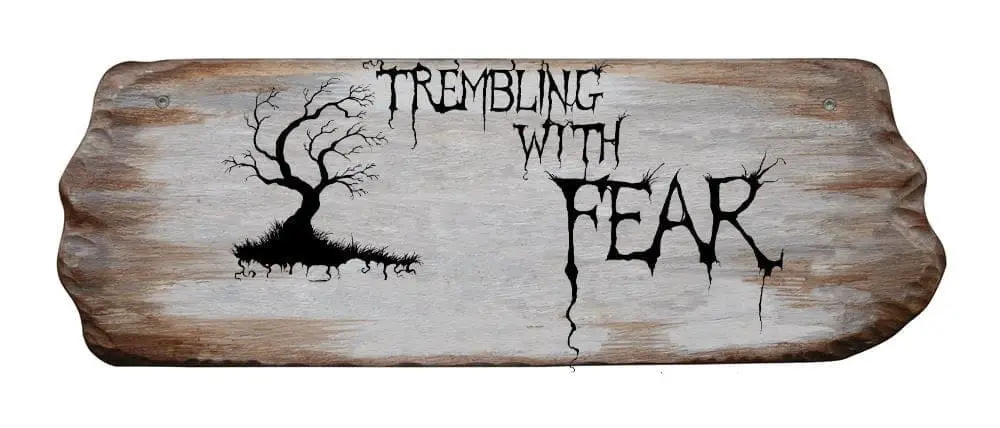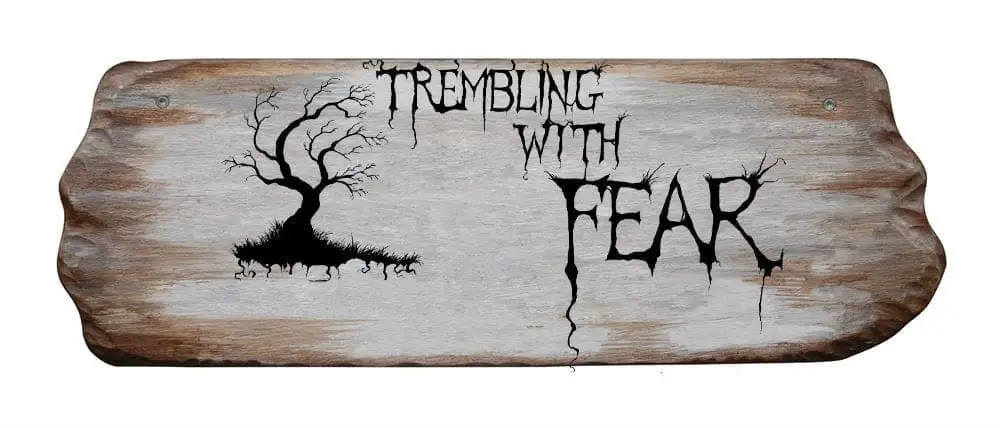 I stayed away from the computer most of last Sunday. It was one of those days I just needed to get out and walk – although if I'd known the effects on my calves would've lasted most of the week, I might have chosen something more … flat. I visited an ancient yew tree grove in the South Downs which contains some of the oldest trees in Britain. I took lots of pictures and shared a few online. I think I got more responses for those photos than anything I usually waffle about!
But there was a point to this visit. A lot of folklore and folk history refer to these trees and I've brought them into stories of mine but I wanted a sense of what they were really like. Not the tidy versions around a churchyard but the real 'old ones' where ancient rituals might have been performed. Despite the number of other visitors, there was a very definite atmosphere to these trees and its something I will try and bring in to any future folk horrors I might write. Actually, I think these are now officially my favourite tree!
As someone who wants to improve their writing, I'm always on the lookout for books or classes to see if there's something I can do. One that's caught my eye recently is a poetry workshop run by Linda D. Addison as part of the HWA's Horror University online programme. This and other classes are also open to non-members. You can find out more information here https://hwa46.wildapricot.org/event-4011815. I've signed up for the poetry class even though it means I'll be burning the midnight oil! It's half-term so I don't need to get up early thank goodness.
Before we go into TWF, my author shoutout this week goes to TC Parker. A new writer to me initially, I picked up her book Saltblood after reading a Ginger Nuts of Horror review and thoroughly enjoyed it. She's contributed an amazing short story to the upcoming Infernal Clock's Inferno – her first ever short and she now has a new release, A Press of Feathers which I can't wait to read. If you're looking for someone new to try, you can't go wrong with TC Parker.
We also have a charity alert this week with Red Cape Publishing's It Came From The Darkness. A collection of drabbles, each starting with the same five words, has been compiled to raise money for the Max the Brave fund. Check it out here.
Our first story in Trembling With Fear is Permanent Fear by Josh King has its protagonist coming up with a unique method of displacing their different fears. This however brings problems of its own, leading to some extreme measures. Tattoos have appeared in stories, although not too often so it was nice to see something different. Have we had any piercing or body mod stories?
Monochrome by F.M. Scott brings us a grim almost noir image, everything in black and white. It circles life quite cleverly as you think it's all about childhood, until you hear the 'Clear'.
Notes About the Attic by Horatio Marissa is a nice little tale reminding us sometimes children know best. It's also a good example of showing and not telling.
Off the Path in Owen Park by Tain Leonard-Peck is a good example of contrast and the price that some 'freedoms' cost.
Enjoy the stories and send us yours!
Take care
Steph
I hope you're all having a great weekend! (Or, week, if you're checking this post out after it was published.)
I have a quick request. We have a new poll that I'd love if you could take a moment to fill out. I promise it is super quick! 
Also a reminder! We currently have a giveaway for digital copies of 'Thylacines' by Deborah Sheldon to check out! We have 10 copies to hand out so there is a good chance you can win one! (If you're interested in sponsoring a giveaway, please do reach out!) 
Once again, a huge thanks to our *2* site sponsors this month. If you'd like to help them to help us again in the future please be sure to check out and order one or both of the following!
– 'SLAY: Stories of the Vampire Noire' which was edited by the extremely talented Nicole Givens Kurtz (
– 'It Calls From the Sky' from Eerie River Publishing. This one was edited by A. Robertson-Webb and M. River.
If you're looking to sponsor the site or even a giveaway please do reach out. Also, we have an extra thank you this year for the sponsors of Horror Tree. If you've been a Patreon, sponsor, or have some supported the site in a major way we're going to be putting together a special Christmas Shopping list that showcases you! Please reach out with what you'd like included and see this post on Patreon for more details! 
As always, thanks for checking in and please leave a comment below to talk about any of the stories you like!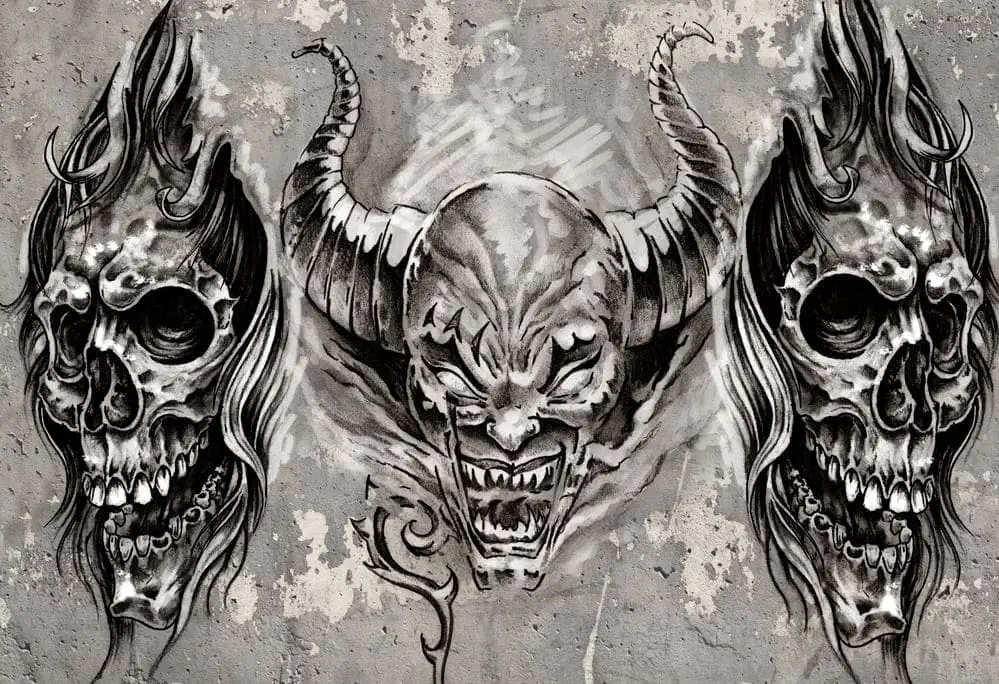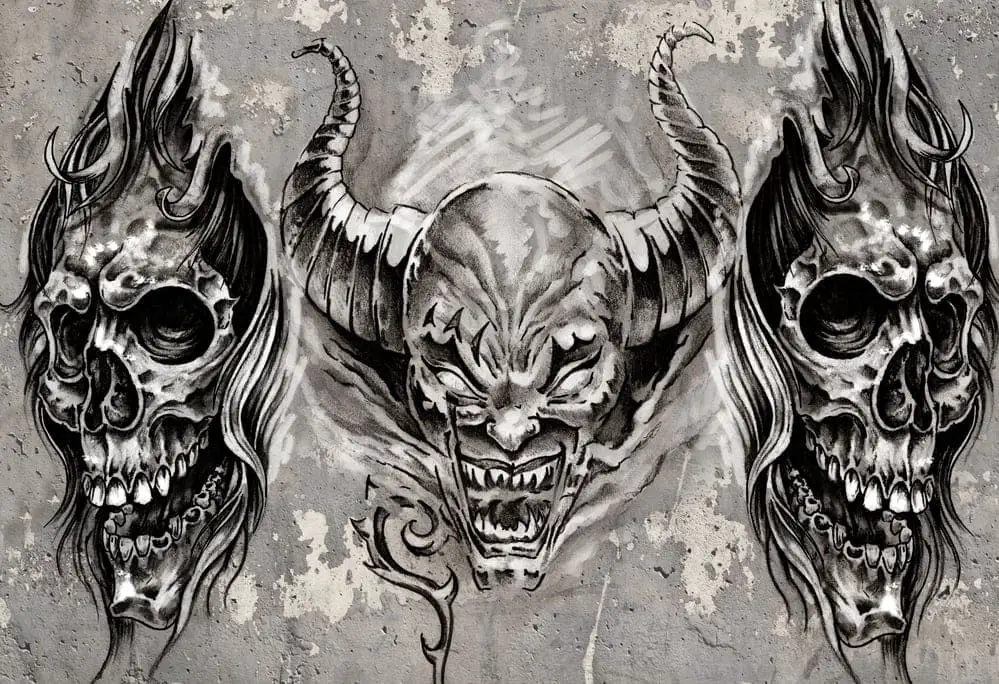 Permanent Fear by Josh King
I write this while in a profusion of pain. My arm is in pieces, and I fear the knife has not rid me of the horrors that dwelled upon it in permanent ink. I hear the being talking in my mind, creeping through the fluid in my brain as if it were a creature crawling on the deep ocean floor. I think it wanted to be cut off, so it could live in me forever, without form.
I must explain why I self-mutilated. It will make sense soon.
#
I have always battled with depression. I live with many fears and tried every medication. I knew if I were to overcome this fight, I should live alongside the disorder, owning it. I decided to deal with this in a peculiar way–permanently placing these fears on my skin, never to run away from them anymore. 
A friend suggested a local tattoo artist. Upon looking at her work I knew it was exactly what I wanted–dark shapes of grotesque omniscient creatures with eyes resembling cosmic black holes. I felt insignificant, small, and alone looking at her work–the art embodied my feelings. You could imagine my excitement when she asked to meet that day. 
When I arrived, the artist showed me her design that was to be placed on my skin forever. I deeply hated and feared it. The drawing depicted a black and grey tenebrous demonic creature of intricate geometric shape, surrounded by a stygian landscape of spectral beings emanating from rips in deep space. The creation was ever changing–I noticed new details every time I studied it. 
The process started and we chose my left upper arm for the placement of this horrendous formation. The tattoo gun buzzed a blasphemous tone. The pain of many needles entering and exiting my skin made me clench my fists and grind my teeth. The ink took on an iridescent color while she dipped her needles into it. I questioned this, to which she replied, "That's normal". But it wasn't. 
For five hours I endured this pain, and at the three hour mark hallucinations from the agony took hold. As the artist drew on my skin, I noticed her lips moving, mumbling a litany of foreign incantations my ears could not make out. It was as if her words brought this creature to life. I peered at my arm, the unutterable design was present in its almost complete form, smiling at me and moving, as if breathing.
I do not remember her wrapping my arm in a protective layer. I do not remember her telling me how to take care of this tattoo. I do not even remember getting home.
When I awoke the following day, my bed was littered with blood. The protective wrap had been ripped off in the night; my arm now burned with excruciating pain. When I washed the plasma off my skin, leaking out of the many small needle holes, I noticed the design looked different than before. Certain areas were beginning to scab, but the placement of the tattoo seemed to have shifted, as if to look at me. The demon tentacles were almost to my neck. It was more unsettling than before.
I put on a shirt and went about my day, popping a pain killer to numb the burning sensations felt every time my left arm moved.
Over the next week, I cleaned the area as it slowly scabbed, then peeled away. New tender skin formed on my arm, leaving a cloudy outline of the accursed tattoo. That night is when it first spoke to me.
I took off my shirt to go to bed. My daily ritual was to look in the mirror at my arm, to be reminded of the fears that resided there. The creature moved, now looking at my reflection in the mirror. That is when I heard its accursed voice, gurgling a demonic tone, "I am your fears embodied on you now, I will always remain at your side." Its body slithered, tentacles reaching up my neck. I jumped in horror as its voice erupted from the depths of my mind.  
I awoke the next day to blood in my bed again–as I slept I scratched my left arm, tearing the skin away in a mess. I analyzed my arm to see everywhere but the tattoo was damaged, as if it were alive and moved away from my nails. The creature seemed to grin as its multitude of knowing eyes peered at me. 
#
My depression did not go away as I presumed, it only got worse. With each day I looked at the permanent creature on my skin. It continued to slither, breath, and speak words of horror in my mind. 
I had enough. I could not take it. It knew everything about me, berating me and beating me down. It knew things about my life, my past and future. It told me how my family would die, how my future children would die. It made me feel alone and insignificant. My fears spoke to me from my arm, telling me what I would find in the afterlife.
I hope you now understand why I placed the knife upon my arm. I cut the tattoo off to the muscle, tearing my skin away, peeling it as if it were the skin on a fruit. I did not weep, but I embraced it with happiness–to finally be rid of my fears.
I tossed the skin in a garburator, tearing it up further to destroy its existence. While getting ready to bandage myself, I assessed the damage. Inside the gaping wound shapes started to form, as if there was a ball of coiled snakes inside, squirming and breathing. The pooling blood, exposed tendons, and muscle were reforming the creature I had just cut off. The voices were still in my head. I cut the wound some more, but the creature only laughed. It was inside me.
#
I now sit here, contemplating separating my arm from my body. The demonic voice in my head beckons me to do it. It tells me where dull knives are, to take my time with it. It encourages pain and suffering. I fear the only way to be rid of it is to end my existence; this will destroy the fears that still haunt me for good.
But I won't do that. I am not done trying. I have called the artist again and she has drawn up everything I love, and it looks beautiful. I will see her later today–on my right arm shall reside a being to demolish this fear. I will conquer it. 
Josh King
Josh King is an unpublished writer who loves fantasy, science fiction, and horror. Currently, he works as a structural engineer by day. At night you can find him writing, or teaching physics at the local college


Monochrome
The dark splotch had always been there, appearing as I rested my two-month-old head in my mother's arms.  I always knew exactly when it would blot out my face and linger there for a second in the grainy black-and-white footage.  As it did, something white shot across it, then disappeared.
Yesterday I froze the digitized film, zoomed in, and single-framed it over the blotch.  The text appeared, like clockwork:  IN YOUR SLEEP, YOU LITTLE BASTARD!
This morning, my stillborn twin greeted me in a dull, monochrome room, his baby chuckle echoing off the walls.  A yell in the distance: "Clear!"
F.M. Scott
F.M. Scott is from Tulsa, Oklahoma, where he lives and writes.  His stories have appeared in The Killer Collection, Sirius Science Fiction, The Horror Tree, The Tulsa Voice, and The Rock N' Roll Horror Zine.  A few of his drabbles were collected in Trembling with Fear: Year 2 Anthology.
http://writprodsm.wixsite.com/fmscott
Facebook and Twitter @fmscottauthor
Notes about the Attic
We didn't want Father to explore the attic. We told him that the sounds of bodies shifting against our ceiling that was their floor weren't so loud that we couldn't sleep, that he should ignore it as we do. Still, he went up. 
He didn't come down. We called him and called him, but he didn't come down. We didn't dare go up to look. Now the noises at night are louder. We can hear him walking about up there, though the attic is little more than a crawl space. Sometimes he asks to be let out. We ignore him.
Horatio Marissa
 Horatio Marissa is an author and webcomic illustrator. They live in Seattle, Washington with their cat, Sophie. They write short horror stories, and produce Lorena Immaculate, their webcomic. 
Off the Path in Owen Park
A sea of green amidst an ocean of glass transformed into a roiling conflagration. The agents of peace, resplendent in gunmetal-blue, struggled to keep order as the free-for-all heated up. The smells of cooking meat filled the city's oasis, as everywhere coals burned, a thousand crimson eyes in the darkness. No fireflies gleamed, instead matches fluttered and caught. Bombs burst in the air, planes soared overhead, hardened pilots looked down at the bedlam with wistful eyes. 
On the Fourth, freedom is a burned hot dog, potato salad warming on the side, washed down by an ocean of hot spilt blood. 
Tain Leonard-Peck
Tain Leonard-Peck is a high school student. He writes, paints, and composes music, and is a competitive sailor, skier, and fencer.  He has a play in production, and has been published in several literary journals. He won Honorable Mention in the Creators of Literary Justice Award, by IHRAF. He currently lives on a family farm on Martha's Vineyard, but has lived all over the world as well. He has cave-dwelled, shark-dived, and not been defenestrated by a temperamental donkey named William Shakespeare. He thinks the world is a place of wonders. He's frequently bitten by geese.
About the Author
Latest Posts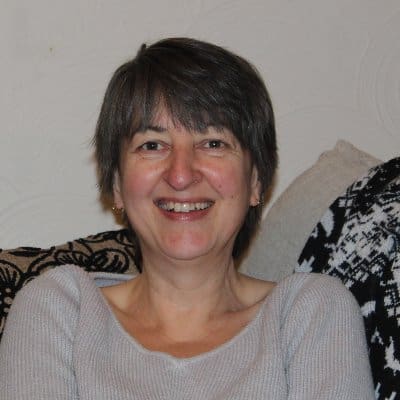 Stephanie Ellis writes dark speculative prose and poetry and has been published in a variety of magazines and anthologies. Her longer work includes the folk horror novels, The Five Turns of the Wheel, Reborn, and The Woodcutter, and the novellas, Bottled and Paused (all via Brigids Gate Press). Her dark poetry has been published in her collections Lilith Rising (co-authored with Shane Douglas Keene), Foundlings (co-authored with Cindy O'Quinn) and Metallurgy, as well as the HWA Poetry Showcase Volumes VI, VII, VIII, and IX and Black Spot Books Under Her Skin. She can be found supporting indie authors at HorrorTree.com via the weekly Indie Bookshelf Releases. She can be found at https://stephanieellis.org and on Blue Sky as stephellis.bsky.social.