Epeolatry Book Review: The Nice House on the Lake Vol. 1 by James Tynion IV, Alvaro Martinez Bueno & Jordie Bellaire


Disclosure:
Our reviews may contain affiliate links. If you purchase something through the links in this article we may receive a small commission or referral fee. This happens without any additional cost to you.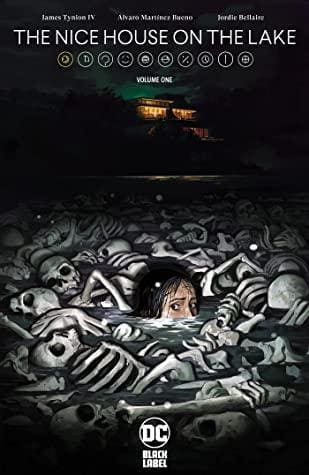 Title: The Nice House on the Lake
Author:  James Tynion IV, Alvaro Martinez Bueno, Jordie Bellaire
Publisher: DC Comics (DC Black Label)
Genre: Graphic Novel/Horror
Release Date: 1st March, 2022
Synopsis: With Something Is Killing the Children and The Department of Truth, James Tynion IV has changed the face of horror in modern comics—now get ready for his most ambitious story yet, alongside his Detective Comics partner Álvaro Martínez Bueno!
Everyone who was invited to the house knows Walter—well, they know him a little, anyway. Some met him in childhood; some met him months ago. And Walter's always been a little…off.
But after the hardest year of their lives, nobody was going to turn down Walter's invitation to an astonishingly beautiful house in the woods, overlooking an enormous sylvan lake. It's beautiful, it's opulent, it's private—so a week of putting up with Walter's weird little schemes and nicknames in exchange for the vacation of a lifetime? Why not?
All of them were at that moment in their lives when they could feel themselves pulling away from their other friends; wouldn't a chance to reconnect be…nice? In The Nice House on the Lake, the overriding anxieties of the 21st century get a terrifying new face—and it might just be the face of the person you once trusted most.
Collect The Nice House on the Lake #1-6.
Horror comics of late seem to have risen into a new wave of creativity. Harkening back to the days of Vertigo Comics, we have DC Comic's Black Label line of titles, as well as wonderful titles under both Dark Horse, and Image. The Nice House on the Lake by James Tynion IV, Alvero Marinez Bueno, and Jordie Bellaire is a bold new title from the DC Black Label comics.
Mutual friend, Walter, gathers a group of individuals with various talents at a cabin on a remote lake. There they find out the world is ending in horrifying ways, but not for them. Why were they spared? Who is doing this? Answers await in volume 1 of The Nice House on the Lake.
Writer James Tynion IV leads readers through an exploration of a possible end of the world, and the complexities of the dynamics of friends through different life-stages. Walter made many friends in high school, college, and beyond, and he has brought them all together in this one perfect cabin stocked with everything everyone could ever want. As the story progresses, readers glimpse into different characters' pasts, and the development of their emotional connections. A few seem content with the situation and attempt to make the best of it, while others fight against this new reality. They question and explore hoping to find the truth and to possibly escape from their beautiful prison.
With the introduction of each new character, readers will immediately connect and empathize. I'm amazed how this team of creators effortlessly made us care for a large cast of characters in such a short time. Also, the artwork is superb. Alvaro Martinez Bueno and Jordie Bellaire work perfectly captures the story's mood, and it's reminiscent of Dave McKean's work in Neil Gaiman's Sandman comics.
If you're on the lookout for the next big thing in horror comics, The Nice House on the Lake is a big contender. I anxiously await the next volume so I can further dive into the mysteries of this lake house.

/5
About the Author
Latest Posts
Joe lives with his wife and son in the Pacific Northwest where the Cascade Mountains meet the Salish Sea. He enjoys writing in the weird, horror, and fantasy genres.
Growing up he enjoyed R. L. Stine's Goosebumps books as well as classics like Dune, and Lord of the Rings. In college he discovered Stephen King, and later Mark Danielewski's House of Leaves and authors like Clive Barker and Laird Barron.
Joe's short story, 'Gustav Floats', was published in Dim Shores Presents Volume 2. In the spring of 2021 his story, 'The Pigeon Lied' comes out in Howls From Hell.
You can follow Joe on the following social media sites:
Twitter, Good Reads, Facebook, and Instagram!