Epeolatry Book Review: The Name of Fear Collection by Scott Harper


Disclosure:
Our reviews may contain affiliate links. If you purchase something through the links in this article we may receive a small commission or referral fee. This happens without any additional cost to you.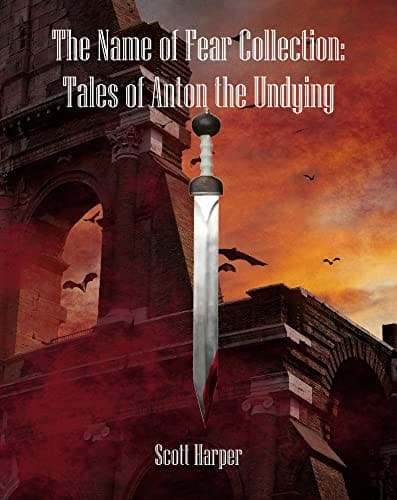 Title: The Name of Fear Collection Tales of Anton the Undying
Author: Scott Harper
Publisher: Input/Output Enterprises
Genre: Occult
Release Date: 11th March, 2022
Synopsis: Rome may have fallen, but its greatest hero still fights to keep the supernatural world in check.
Once a powerful gladiator, Anton is now a vampire enforcer tasked with eliminating creatures that expose the secret supernatural society hidden within our world. But not all monsters are willing to lay low—some passionately yearn for a return to the good old days when they fed openly and dominated humanity. These diehards will go to any lengths to achieve their goal, even if it means destroying Anton. But Anton guards a terrible ancient secret, and those foolish enough to challenge him soon discover there are things even monsters fear.
I do need to insert a secondary disclaimer here quick for full transparency. Scott Harper has previously been a sponsor of Horror Tree. He is not at the time of this review and this review is NOT tied to his previous sponsorship of the site.
In The Name of Fear Collection: Tales of Anton the Undying, Scott Harper delivers three solid tales on our 'hero' Anton the Undying. We're given enough of an introduction of the character to know that he was once a champion of great renown. A Roman gladiator who finally met his match when combating against ten opponents. Only, even with the odds stacked against him he was able to survive, If barley. On his deathbed, his fate was sealed to be death from his patron. Yet before the order could be carried out a Vrykolakas, or vampire came for him and changed his destiny forever.
From this point we follow Anton through three tales as he becomes the main security for the vampire clan who turned him. We're thrown headfirst into a world full of mythological creatures as the vampires we're introduced to are all strong, magical, and hard to kill. A simple stake through the heart isn't enough to deliver a deathblow and we see them matched up against opponents who can give them a true run for their money. These three tales are related primarily through the characters though are more of an introduction to the world and not a full story in itself.
I love the world-building Harper has done to introduce Anton and can't wait to read more tales of the vampiric world that he has created. I have two main quibbles to share with you. The first is the length. This is a short collection of three tales and I do wish it was slightly longer. This is a complaint from both wanting more with how enjoyable the world is also knowing that some people will complain for the price to content ratio. This IS well written, just don't expect a 200-300 page novel when this shows up if you order it. My second complaint is totally a personal preference. There was a lot of italics used, which fits, my eyes just don't like to read large chunks of text in italics anymore. Again, totally personal preference. If it was about 5 years ago I probably wouldn't even mention it but I'm getting old and cranky!
In all seriousness, if the thought of Vampires and other ancient creatures emerging from that time period and containing into modern times excites you, I really think that you'll enjoy this collection and I'm very eager to see what the follow up will be!

/5
About the Author
Latest Posts
Stuart Conover is a father, husband, published author, blogger, geek, entrepreneur, horror fanatic, and runs a few websites including Horror Tree!