Epeolatry Book Review: Rise of the Mages by Scott Drakeford


Disclosure:
Our reviews may contain affiliate links. If you purchase something through the links in this article we may receive a small commission or referral fee. This happens without any additional cost to you.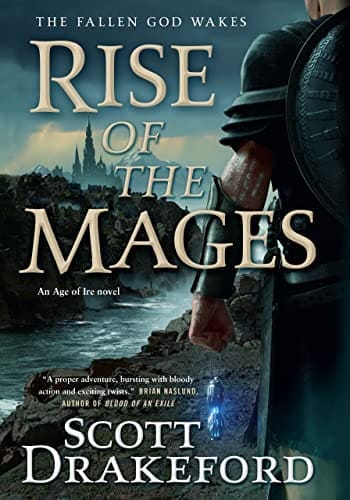 Title: Rise of the Mages
Author: Scott Harper
Publisher:  Tor Books
Genre: Fantasy
Release Date: 8th, February, 2023
Synopsis:Scott Drakeford's epic fantasy debut, Rise of the Mages combines gripping, personal vengeance with compelling characters for an action packed first book in a trilogy.
Emrael Ire wants nothing more than to test to be a weapons master. His final exam will be a bloody insurrection, staged by corrupt nobles and priests, that enslaves his brother.
With the aid of his War Master tutor, herself an undercover mage, Emrael discovers his own latent and powerful talents.
To rescue his brother, Emrael must embrace not only his abilities as a warrior but also his place as last of the ancient Mage Kings—for the Fallen God has returned.
And he is hungry.
Rise of the Mages is the first book in Scott Drakeford's The Age of Ire series, and it is an excellent start to what promises to be a fantastic series. This fantasy novel follows the story of a young man named Emrael Ire, who discovers that he has the power to control magic through infusory. Emrael is a prince who is swept up in a world of politics and intrigue as he navigates the dangerous world of the mages and tries to come to terms with his own abilities.
When the plot kicks in, we hit the ground running as an insurrection takes everything from him. 
One of the things that sets Rise of the Mages apart from other fantasy novels is its well-developed characters. Emrael is a relatable and likable protagonist, and the supporting cast is equally well-written. The relationships between the characters feel authentic and add depth to the story. His brother, Ban, is the perfect counterpoint to him while, matching his personality with intelligence. When he is captured, you can feel that a part of Emreal is missing. While the healer Elle is the perfect companion for his quest to rescue his brother.
The world-building in this book is also top-notch. Drakeford has created a rich and immersive fantasy world, full of magic and mystery. The magic system is well-thought-out and has its own internal logic, making it feel believable and consistent. The political intrigue is also well-done, adding an extra layer of complexity to the story.
The plot of Rise of the Mages is fast-paced and full of twists and turns. The action scenes are well-written and exciting, and the book has a good balance of action and character development. The ending is satisfying and leaves the reader wanting more.
Overall, Rise of the Mages is a great start to The Age of Ire series. It has compelling characters, a well-developed world, and an engaging plot. This is a must-read for fans of fantasy, and I can't wait to see what the rest of the series has in store.

/5
About the Author
Latest Posts
Stuart Conover is a father, husband, published author, blogger, geek, entrepreneur, horror fanatic, and runs a few websites including Horror Tree!