Epeolatry Book Review: Find Him Where You Left Him Dead by Kristen Simmons


Disclosure:
Our reviews may contain affiliate links. If you purchase something through the links in this article we may receive a small commission or referral fee. This happens without any additional cost to you.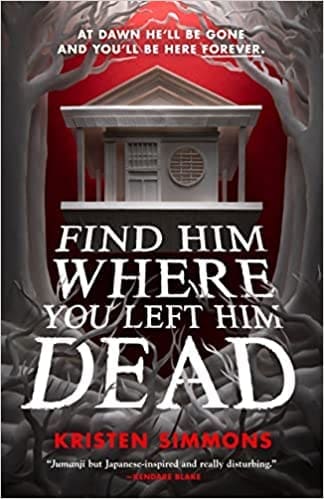 Title: Find Him Where You Left Him Dead 
Author: Kristen Simmons
Publisher: Tor Teen
Genre: Horror
Release date: September 2023
Synopsis: Four years ago, five kids started a game. Not all of them survived.
Now, at the end of their senior year of high school, the survivors―Owen, Madeline, Emerson, and Dax―have reunited for one strange and terrible reason: they've been summoned by the ghost of Ian, the friend they left for dead.
Together they return to the place where their friendship ended with one goal: find Ian and bring him home. So they restart the deadly game they never finished―an innocent card-matching challenge called Meido. A game without instructions.
As soon as they begin, they're dragged out of their reality and into an eerie hellscape of Japanese underworlds, more horrifying than even the darkest folktales that Owen's grandmother told him. There, they meet Shinigami, an old wise woman who explains the rules:
They have one night to complete seven challenges or they'll all be stuck in this world forever.
Once inseparable, the survivors now can't stand each other, but the challenges demand they work together, think quickly, and make sacrifices―blood, clothes, secrets, memories, and worse.
And once again, not everyone will make it out alive.
I enjoy horror that's fun, fast paced and campy. There is a place for slow burn, but sometimes I want a book to hit the ground running and not let up until the end. Simmons' book gives me that. A cover quote describes it as "Jumanji but Japanese-inspired" and it's hard to think of a more perfect encapsulation. Four friends, Madeleine, Emerson, Dax, and Owen are called by the spectre of their lost friend to finish a game that they started four years earlier. Like Jumanji, each move in the game unleashes a fresh danger, but the only way out is through. They must finish the game before dawn or they are trapped inside forever.
Originally a group of five, they began the game when they were thirteen years old, almost by accident. While exploring a cave, they found mysterious cards and attempted to turn them into a charades-style matching game without realizing this would unlock a portal to another dimension full of demons and dangers. When things went terribly awry, four of them fled, but one, Ian, was left behind. 
The POV rotates through the four characters in turn and while each one has unique development and characteristics, their narrative styles are quite similar and I sometimes had to remind myself whose POV it was. I think this is mainly a consequence of how action-packed each scene is because in the rare moments when things do slow down, there is deep introspection that lets us get to know the characters better. We have Dax the troubled musician, Owen the inspiring actor, Madeleine the overachiever, and Emerson the gamer. They use their skills and abilities to reason through the puzzles and traps of the game and solve its wider mystery. The narration may have blended together, but the events of the game do not. Every encounter is dynamic and hard to predict.
I enjoyed the Japanese mythology that fills these pages—it was a change from what I normally read. I was unable to guess the mystery and the upcoming game elements. I'm not sure if someone who is well-versed in Japanese mythology would be as surprised as I was. But any story that has me guessing and leads me to a "surprising but inevitable" conclusion works for me.
Simmons offers more than a simple horror-thriller. After Ian died, the remaining friends fragmented and part of the story is how they come back together. Torn apart by guilt, grief, and their diverse backgrounds and identities, the four of them must get to know each other and become friends all over again.
This is a thrilling adventure story, but ultimately a tale of friendship and love that I would recommend to anyone.

/5
About the Author
Latest Posts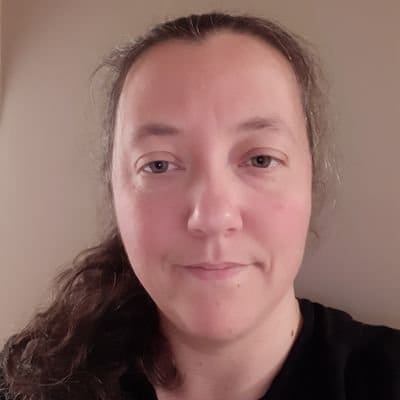 Melody lives in Ontario, Canada and writes short, dark fiction. She has been published in several anthologies and online publications. In university, she studied Ancient Greek and Roman Studies and often infuses her work with elements of Greek mythology. She also loves reading, embroidery, and martial arts.
Homepage: https://www.blog.melodyemcintyre.com/MelodyEMcintyre.com
Twitter: @evamarie41.