Disclosure:
Our reviews may contain affiliate links. If you purchase something through the links in this article we may receive a small commission or referral fee. This happens without any additional cost to you.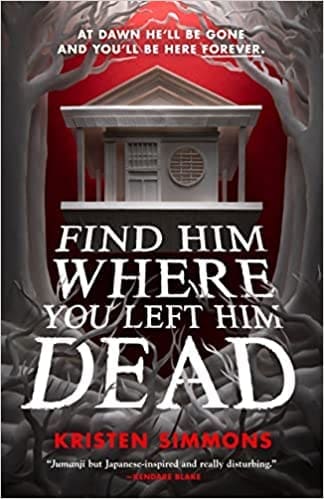 Title: Find Him Where You Left Him Dead 
Author: Kristen Simmons
Publisher: Tor Teen
Genre: Horror
Release date: September 2023
Synopsis: Four years ago, five kids started a game. Not all of them survived.
Now, at the end of their senior year of high school, the survivors―Owen, Madeline, Emerson, and Dax―have reunited for one strange and terrible reason: they've been summoned by the ghost of Ian, the friend they left for dead.
Together they return to the place where their friendship ended with one goal: find Ian and bring him home. So they restart the deadly game they never finished―an innocent card-matching challenge called Meido. A game without instructions.
As soon as they begin, they're dragged out of their reality and into an eerie hellscape of Japanese underworlds, more horrifying than even the darkest folktales that Owen's grandmother told him. There, they meet Shinigami, an old wise woman who explains the rules:
They have one night to complete seven challenges or they'll all be stuck in this world forever.
Once inseparable, the survivors now can't stand each other, but the challenges demand they work together, think quickly, and make sacrifices―blood, clothes, secrets, memories, and worse.
And once again, not everyone will make it out alive.