Epeolatry Book Review: Downpour by Christopher Hawkins


Disclosure:
Our reviews may contain affiliate links. If you purchase something through the links in this article we may receive a small commission or referral fee. This happens without any additional cost to you.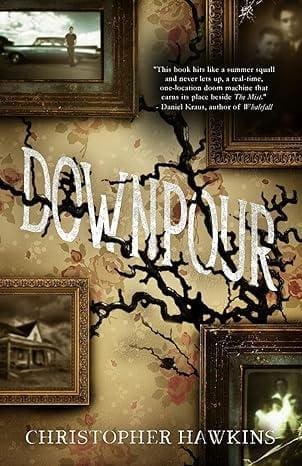 Title: Downpour
Author: Christopher Hawkins
Publisher: Coronis Publishing
Genre: American Horror, Supernatural Thrillers, American Literature
Release date: 15th September, 2023
Synopsis: A sudden storm appears above an isolated farmhouse in rural Illinois, bringing with it a relentless and unnatural rain. A rain that eats away at everything it touches. A rain that turns people into monsters.
Trapped inside his crumbling home, a father must do everything he can to keep his family from falling apart. But the rain calls to them, and not everyone wants to stay inside.
Haunted by memories of loss, he must put aside his painful past and find a way to keep them all safe. But the rain shows no signs of stopping, and time is running out.
From the award-winning author of Suburban Monsters comes a heartbreaking tale of survival and terror.
I have to warn you that I'm in danger of nominating myself as Downpour's perfect target audience. I live in rural Kansas, and everything the characters are going through in this haunting story is not only painfully relatable, it's heartbreaking just as the synopsis says.
While this book broke my heart, it also provided a much-needed comfort amidst the isolation I myself have experienced in small-town Kansas. Downpour is a frickin' beautiful, gorgeous little novel. Love seeps out of every page just as the "relentless and unnatural" rain seeps into the lives of the characters.
I not only wept, I sobbed my way practically through the entire book. And I even stayed up way past my elder-determined bedtime to finish it. But rest assured, it's as haunting and terrifying as it is beautiful. The suspenseful scenes are well-crafted, and the setting is not only evocative, it supports every chilling aspect of the story. 
(My cat liked it too…as a pillow, that is. High praise, right?)
Anyway, even if you aren't isolated like I am, I'd still recommend reading Downpour.
But you know what else I enjoyed?
Author Christopher Hawkins included not only a press release info sheet with the review copy, Hawkins tucked in a nice cover note and even inscribed a thank you sentiment in the book. I'm a sucker for little touches like that (another author I'm a fan of actually sent out holiday cards) for sure, although I'm not surprised, given the emotional depth brilliantly matched with the shiver-inducing horror in Hawkins' book.
Let the rain fall… I'm going to take refuge within the pages of Downpour just as soon as I finish this review. That is, if my cat will relinquish his pillow.

/5
About the Author
Latest Posts